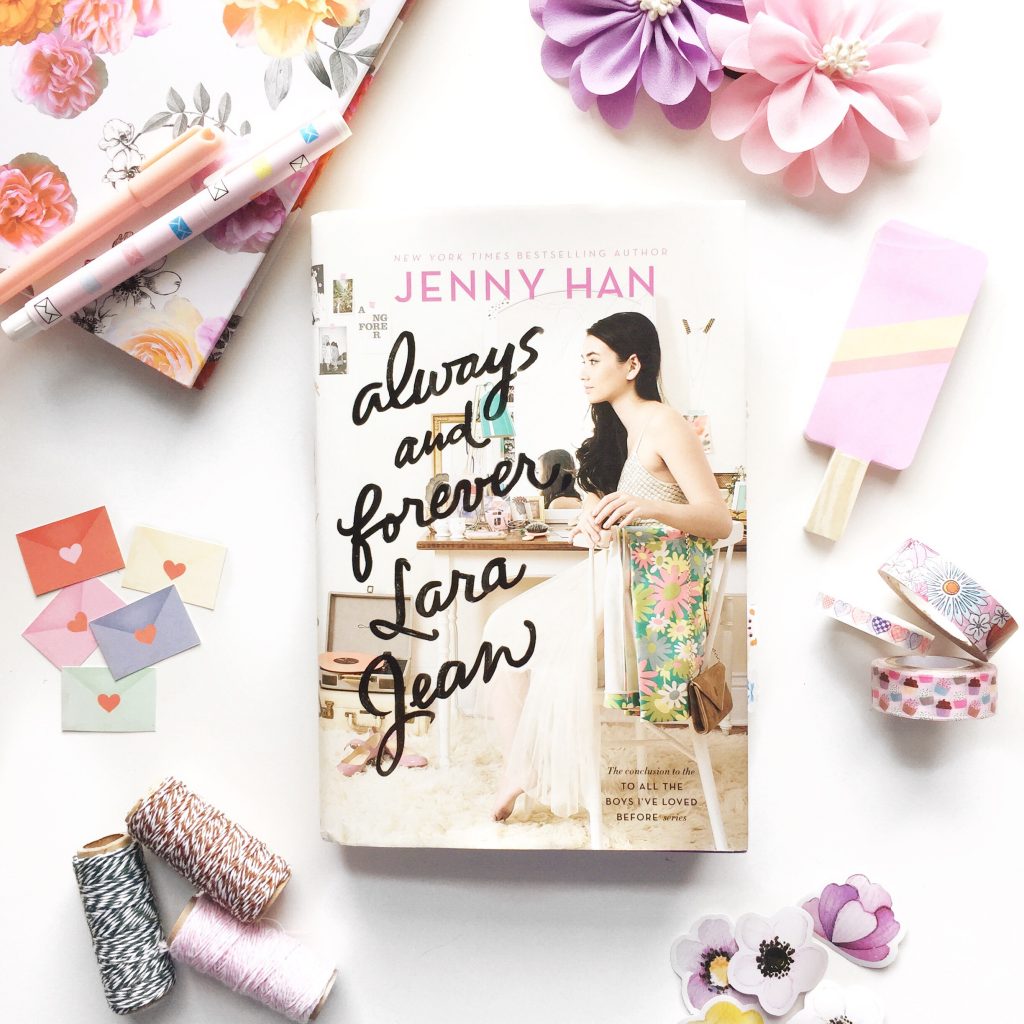 Always and Forever, Lara Jean by Jenny Han, out now.
Everyone was surprised when Jenny Han announced that her Lara Jean duology would become a trilogy, even Jenny herself. But she made a really good decision when she started typing up Lara Jean's life again, providing a conclusion readers (and herself included) could be satisfied with. I'm satisfied, as P.S. I Still Love You never quite felt like an ending to me, and it gave me another few days with the delightful Covey/Song family. When Jenny was recently in Toronto on her book tour, she said how writing this book felt like getting another round of drinks (or desserts), like she was having that last sweet taste, and then saying goodbye, and that she's happy with the way things went.
Always and Forever, Lara Jean brings our charming protagonist into a cycle she's been familiar with as an observer. Now she's experiencing it first hand. In the first book, To All the Boys I've Loved Before, Lara Jean watches as her big sister Margot breaks up with her long-term boyfriend Josh when she goes away to university. The girls' late mother had always told them, 'don't be the girl that goes to college with a boyfriend.' Which is kind of harsh, but it does have some truth to it. Lara Jean couldn't understand why Margot would cut ties with the one she loved, but never really thought about what she would do in the same situation. Which is where we are for book three: Lara Jean is inches away from university, but her and Peter are closer than they've ever been. Lara Jean and Peter have planned that they would both go to UVA, and life would be grand, full of pastel colours and sunshine and wind through their hair. But something happens, and those plans are turned into painful dreams. Lara Jean's faced with difficult decisions for the future.
Lara Jean doesn't really ask for help when her normally strict composure unravels. She distances herself, tormenting herself with uncomfortable thoughts, and doesn't talk it through with those who could provide advice. Instead she takes her stress out on baking and hyper-planning her dad's wedding to their neighbour Trina. There are times when she doesn't listen to what her sister, dad, and Trina have to say about cooling off (because they can at least tell something is wrong) and it's frustrating to read, because we've all been there. I know I've been that stubborn teen who doesn't know how to process stress or take advice without being a brat about it. Lara Jean can be immature and selfish, she makes mistakes, and she doesn't think clearly. These are the kinds of characteristics that could bug you about a main character in a book, but with Lara Jean it feels just fine, because it's so real, it's endearing. I appreciated the way that Jenny made sure Lara Jean wouldn't be the picture of perfection, and have her face some true tough choices.
Peter and Kitty are back in their wonderful characteristic forms, sweet and sassy respectively, and we get to see more of Margot, which is nice. We also see the introduction of Trina into the family, and how the Covey/Songs handle such a big change. This book carries along the awesome sisterly dynamic that Han's readers enjoy so much. I was interested to see how things would develop with Peter, and how the relationship could be tested. Lara Jean has these moments where she sort of looks at Peter as if she's in the future, and she assumes a lot about how he acts or will react, which if you've ever been in a relationship, you know that can cause some problems! But overall, I had lots of swoons over their cute and loving interactions, and how sweet Peter was to Lara Jean. They've definitely come a long way since the first book!
Since it's been a while since P.S. I Still Love You came out, I have had a hard time remembering most of the first two books. While I know I really liked them, only the big plot points stuck. So I felt a little fuzzy going into this book, even though there were lots of references of 'remember when this happened?' Which were probably there for exactly this reason. This didn't hinder me at all but I think I would have enjoyed it more if I read it closer to the others, or had time to re-read them. This book was meant to be a conclusion, and it's obvious. Sometimes it reads slow and other times, too rushed, as it feels like it's being fast-forwarded through the school year to get to what has to happen. Lara Jean's life isn't as exciting as lots of other YA protagonists, but that's okay. It's quieter, so sometimes it feels like not much is happening. But then I remind myself that again, this is more realistic.
The Lara Jean Covey books also mean having more books with Asian girls, and with their representation on the cover, something Jenny was really conscious about. She was also conscious that so many books that have to do with a teen's race have to do with their racial struggle, but she didn't want to do that. It's not that she's not interested in speaking up about that stuff – she definitely does do that on her own – but I'm thinking it's just as influential for teens to see representations of themselves having normal teenage experiences in love, family, and going to university. She mentioned on her book tour that the first book was the first YA contemporary book to have an Asian girl on the cover in North America (or at least I think that's what she said, feel free to correct me).
While I'm sad we won't get any more Lara Jean Covey books, I feel a warmth in how the series came full circle, and they have a special touch as this cute set all tied up in a pretty bow. Lara Jean has so intricately woven her way into so many readers' hearts, and will continue to do so, so really, she's not going anywhere.
Thank you to Simon & Schuster Canada for providing a copy of the book in exchange for an honest review.