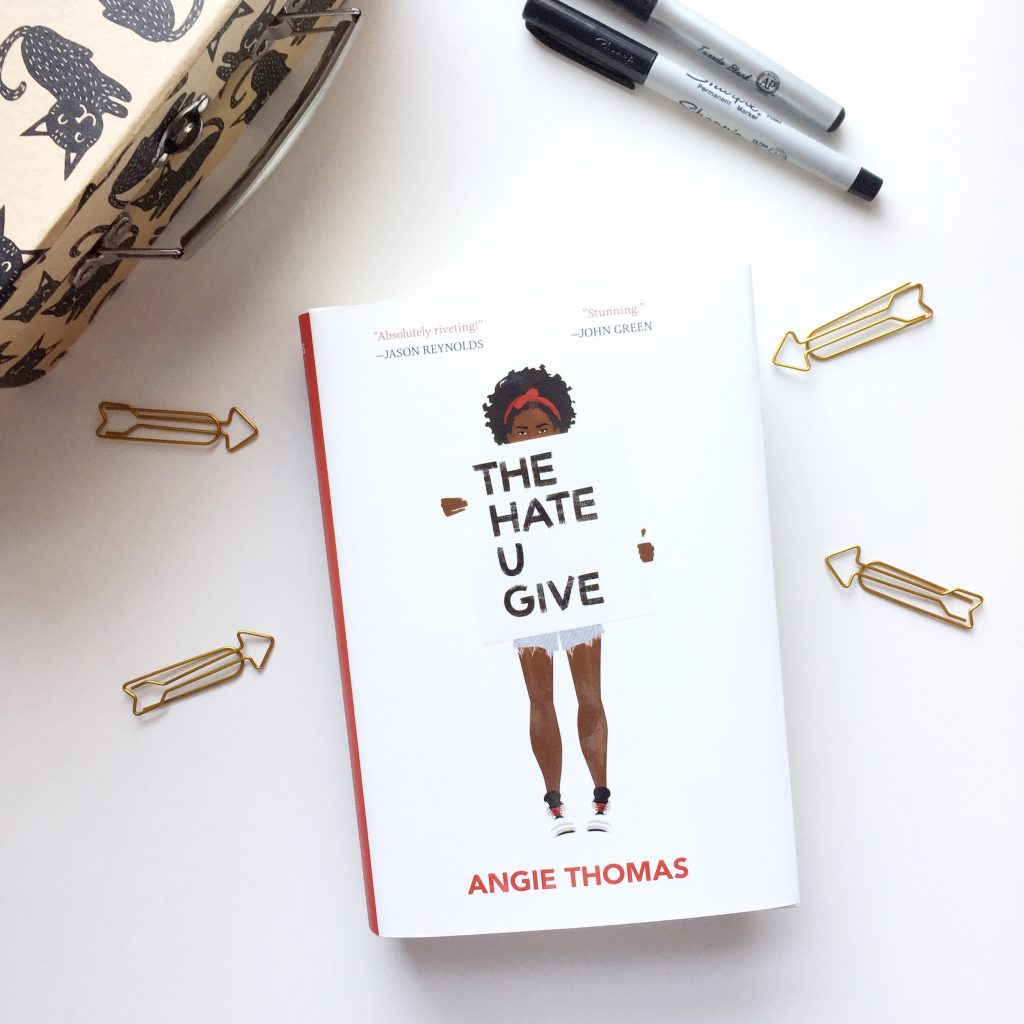 The Hate U Give, by Angie Thomas, via Balzer + Bray, out now.
You've probably seen this book everywhere on the internet in the last few weeks, maybe even months. Good. It's an incredibly important book. I wouldn't say it's the first YA book on Black Lives Matter (just because I don't have anything to back that up, but I haven't seen anything else) but it definitely is the first to make such a big impact. And a good thing is there are more books like this coming in the next few years, at least, such as Nic Stone's Dear Martin. The Hate U Give was in such high demand that the publisher pushed its pub date up by half a year, also having it come out on the last day of Black History Month, and five years since Trayvon Martin's death, marking the start of the Black Lives Matter movement. I think that was a good idea, because the hunger for this book was REAL, and the book itself honours these important moments in history. And now we get to wait for the movie!
I loved The Hate U Give. I gave it 5 stars. I have a good feeling it'll end up on my end-of-year list. There's so much about this book that gives it strength. There's the fact that it's a YA book about Black Lives Matter, obviously. The main character, a sixteen-year-old girl named Starr, is so loveable and her family dynamics are heartwarming. You'll be missing them once you're done reading. I finished the book a month or two ago and I still miss them. And Angie Thomas definitely shines as a debut writer who's going to have a huge following awaiting for her next book! She wrote with such emotion, pure love, and power.
Here's a quick plot gist: Starr is on her way home from a party with an old friend, Kamil, when they get pulled over by a cop, who says their tail light is broken. When he doesn't like the way Kamil answers him, who really is just asking for the cop to give him his ticket, he makes Kamil stand outside the car, and not to move. When the cop turns his back, Kamil shifts to check on Starr, and that's when he's shot. He dies, looking at Starr, stunned. Starr is then jolted into a part of life she wants no part of. Her parents shield her from the press and the public from finding out that she was the witness for as long as they can. Starr's in more danger than she would have thought. But eventually, someone needs to speak up, someone needs to be there for Kamil, someone needs to acknowledge what happened. Starr has to find her voice, her place in the world, and closure over such a horrible death … it's a lot for a teenage girl.
I feel like I don't need to say much else to convince you to read one of the biggest YA books of 2017. It may look big, but you'll speed through it. You may cry when Starr's friend Kamil is shot. You will feel Starr's anger as she is left to cope with the uprising, riots, and ignorance that follows. You will feel her confusion as she is fast-forwarded into the real world. You will feel protective over her and her family, just as they do. And still, you'll be able to laugh, because Starr has her way of making things brighter.
[I received an advanced reading copy of this book from HarperCollins Canada in exchange for an honest review; this did not affect my opinion of the book whatsoever.]