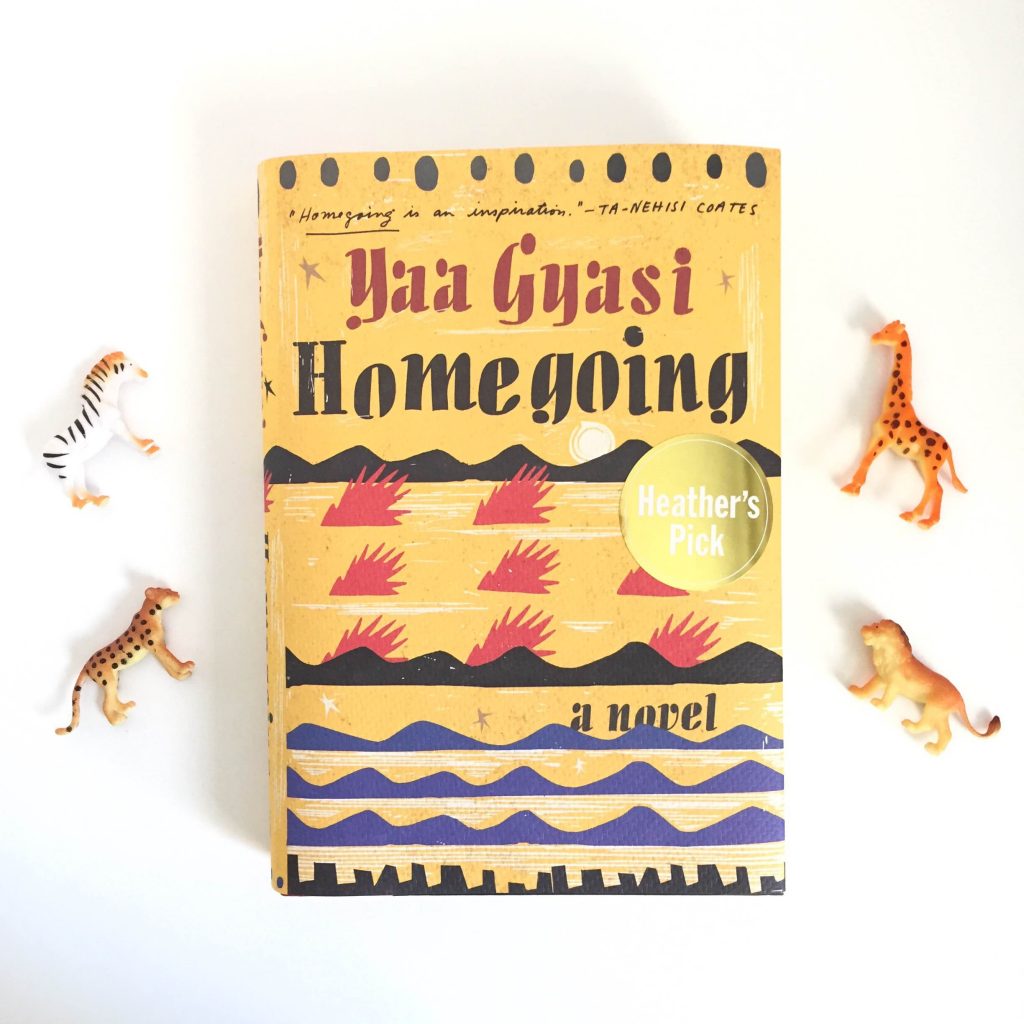 Homegoing by Yaa Gyasi, via Bond Street Books, out now.
[I received this book from Penguin Random House Canada in exchange for an honest review; this did not affect my opinion of the book whatsoever.]
Reading Homegoing is a substantial experience – you can feel the weight of generations of two different families as they live through slavery and segregation in Africa and the US. You will not emerge from this book a ray of sunshine. You will emerge having felt a lot of feelings and thought a lot of thoughts. It is especially a significant read for the kind of world we are living in these days.
Each chapter is a different family member between the late 1700s until about the 1980s or 90s. That is a lot of ground to cover. 14 characters, in fact. We start with Effia and then Esi in Africa. The two are sisters but they will never know that or each other. Effia grows up as the most beautiful girl in Fanteland, she is promised to the soon-to-be leader, but her stepmother Baaba devises a plan to protect her, but Effia doesn't know why. Effia ends up being taken to the Cape Coast Castle by a rich white soldier to be his secret black wife, which is what Baaba wanted, to keep Effia safe from harm between warring villages. Meanwhile Esi, who grew up in neighbouring Asanteland, one of those villages, is taken hostage as a slave to live in filth and dismay in the dungeon below Cape Coast Castle. The sisters would never cross paths. Esi is raped by a soldier.
Hell was a place of remembering, each beautiful moment passed through the mind's eye until it fell to the ground like a rotten mango, perfectly useless, uselessly perfect.
Those are the stories that start this harrowing journey. Along it goes from Effia's son Quey to Esi's daughter Ness, and it goes and it goes and it goes. Each character's story feels like a short story that has fingers in others. Sometimes I felt sad that I couldn't stick with some characters for longer, but they lived on in other ways. As each family member gets their turn, your heart will feel heavier and heavier. It feels unfair that we can now breeze through a story like this but for them it was literally centuries, centuries that are still going. It is fascinating to read through such a history to see how it very slowly gets a bit better, but I cannot stress enough how much time it takes for them. Gyasi's writing is beautiful and deserving of its great critical acclaim – I forsee Homegoing collecting accolades over the next year. When things are so terrible in the world, especially for black lives, Homegoing serves as an important reminder, path to empathy and educational resource (though technically fictional). It's something I'd love to see on high school or university English curriculum. It has the power to start and continue conversations. Each character is so special and crucial to the story – you will be captivated by every one. This book truly shows you why black lives matter.
I am running a contest to win a copy of Homegoing, courtesy of Chapters Indigo! Head on over to my Instagram page to find out how to enter. (Canada only.)