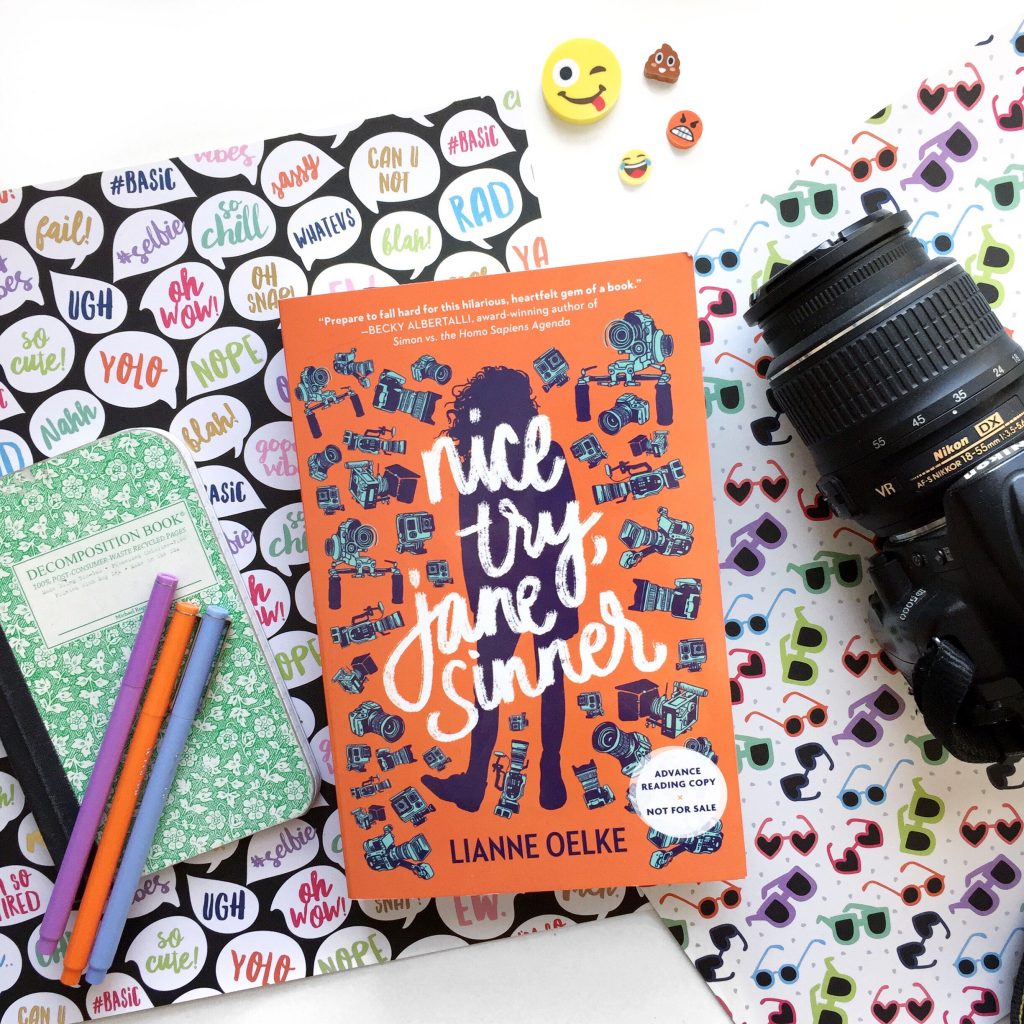 Nice Try, Jane Sinner by Lianne Oelke, out January 9.
Thanks to Raincoast Books, I'm kicking off the Nice Try, Jane Sinner blog tour, along with Trisha Jenn Reads! Check out my review of the book, plus a Q&A with author Lianne Oelke below.
I love a good sassy protagonist who is (to a degree) self-aware, driven, and smart. I got exactly what I wanted out of Jane Sinner. In this YA novel written like a diary, Lianne gives a voice that commands to be heard.
Jane has just dropped out of high school due to something bad that happened (which she does not reveal right away but I will say has something to do with mental health), but she knows she can't go on just living in her religious parents' house doing nothing. Jane wants to go somewhere where people don't know her as the girl who did a thing; she wants to reinvent herself.
"…I've racked my brain trying to answer the question Well, what else are you going to do with yourself, Jane? and I've got nothing. Just restlessness and understimulation and this constant hum in my body from energy wasted on Netflix. I need to run a marathon or something. I hate living in limbo."
Things fall into place once Jane discovers she can finish her high school credits at a local community college. When brainstorming what to do about her living situation, she finds out that her college is looking for participants to live in a house together for a new web reality series, House of Orange. She applies (lying about her age), and gets in. Talk about reinvention! Though blending in and being on a reality show don't exactly go hand-in-hand.
Jane keeps her diary that detail the hijinks, drama, and tribulations of throwing oneself into a new world on camera, and she does so with so much wit. She plays out dialogue like a screenplay, including her imaginary conversations with a shrink. She works her way around things that happen with her family and cast mates. And because it's a diary, it also includes gems like this:
"What is ridiculous: how many different scented products a girl could use in one morning. Shampoo, conditioner, body wash, shaving cream, face wash, hand soap, hand lotion, body lotion, facial moisturizer, lip balm, toothpaste, body spray, hair gel, hair spray, and deodorant. So I could, in theory, smell like tropical coconut, pomegranate, zesty lemon, raving razz-berry, apricot, peppermint, orange, green tea, chocolate strawberry, vanilla Coke, spearmint, Hawaiian ginger, cherry secret, and rainstorm ALL AT ONCE. Which is, of course, exactly what I want."
Jane starts to fall for one of her cast mates, Robbie, but when you're competing against one another (for a used car, because college students), trust is always a foggy cloud cover. Robbie is the first person who she's comfortable enough to confide in about her situation, and he seems to be on the same wavelength as her. Lately I've been hyper-aware of all the YA books that are about strong female characters who are doing something interesting, but then they meet someone and that's the story. So I was happy to see that Robbie didn't turn into the main plot of this book, he didn't really change Jane, he didn't distract her from her goals, or anything like that. He just happened to be a guy she became interested in and has to compete against, so ha ha tension. There is growth between them through the novel, but that's not what the novel was about, which I really respected.
I also enjoyed the rest of the cast of characters, from the other cast mates Chaunt'Elle and Mark, to Jane's sister Carol, to the producer of the show AP. The scenes of their challenges and confrontations whilst in front of cameras were a lot of fun. That van scene will be burned into my memory for a while. The dynamic between the odd professor/guide Mr. Dubs and Jane gave me strong Greendale/Britta vibes a la Community. (Two words: McNugz Club.) The peppering of Canadianisms (it takes place in Calgary!) was entertaining for me, though I don't know if anyone outside of the country will understand the goofiness that is a Don Cherry bobblehead. But it still feels like a win to have that.
I liked how through her diary, Jane learns more about herself and who she wants to be. Her biggest concern is what she's going to do with her life, which feels all too real. She opens up more about her mental health, she learns how to make new friends, and she finds comfort in her family again. You can really feel like you're seeing her grow up. And again, what I valued the most about this was the emphasis put on how it's her growing up into a person on her own.
Now for my question to Lianne! As I'm a big fan of her hilarious tweets/references about her cat, I knew I had to fit that in somehow, so…
Q: The book is well-known for being funny even if the subject matter is darker. Did you test out jokes on your cat? If so, how'd that go?
A: Yes, I did. She never laughed. Alley Cat supports me emotionally in other ways, though. I didn't set out to write a funny book– I just wrote down anything I personally found hilarious. I wrote Nice Try, Jane Sinner in secret, partially because I would have been devastated to find out that I was terribly unfunny after all. It was almost claustrophobic at times, keeping everything to myself. I didn't have any perspective, so I had to trust in my own, weird, dry sense of humor. I'm somewhat surprised that it translated so well!
~~ It definitely did, Lianne. Thank you for such a well-rounded book! That's all for my blog tour stop, now head on over to Trisha and see what she has to say about Jane Sinner. And make sure to keep up with the rest of the awesome Canadian book bloggers this week!