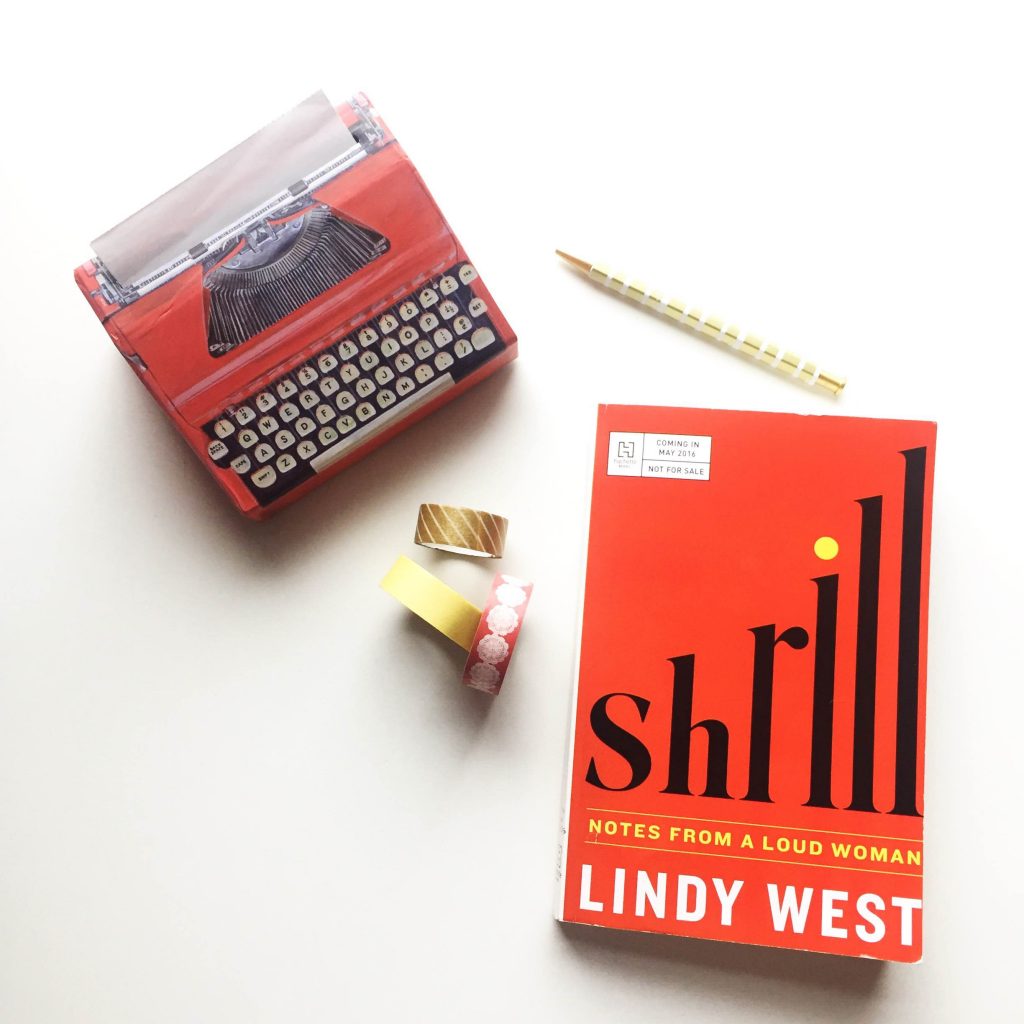 Shrill: Notes from a Loud Woman by Lindy West, via Hachette Book Group, out now.
I didn't know Lindy West's work well before I started reading Shrill. I knew she was the woman who wrote an awesome article about being fat at her wedding for the Guardian, and when I heard about the book, I just knew I wanted to read it. I'm really glad I did. Shrill: Notes from a Loud Woman is Lindy's (who is a freelance journalist and comedian) way of singling out things about society in relation to feminism that need to change (and along the way, some people, too). In this book, her essays tackle stand up comedy, men who troll women online, abortion, society's reaction to a woman getting her period and how people's bodies are perceived. She says a lot of things that many other people can't, and she makes it funny in a comfortable way. It's a genuine charm to her writing. You feel like she's just telling you this stuff over a pint at the bar and you're eagerly nodding at her as she talks like "Yes! Yes!"
I imagined Lindy's fingers on fire as she typed out this book. It's not that she comes across as angry, it's just that she has important things to say and she just has to say them.
My body limits my job prospects, access to medical care and fair trials, and – the one thing Hollywood movies and Internet trolls most agree on – my ability to be loved. So the subtext, when a thin person asks a fat person, "Where do you get your confidence?" is, "You must be some sort of alien because if I looked like you, I would definitely throw myself into the sea."
I took comfort in her essays about her body; I wished that I had something like this to read when I was younger. She wrote about her body in relation to her work, to being on an airplane, to falling in love, to trying to defend feminism in a way that needed no explanation of her body type.
My body, I realized, was an opportunity. It was political. It moved the world just by existing. What a gift.
Read this excerpt from the essay "Bones."
I was excited when I got to "How to Stop Being Shy in Eighteen Easy Steps" but it turned out to be not so generally helpful, but more 18 embarrassing life situations she's had. Though that didn't stop it from making me laugh – "You know what's a liberating thing to figure out? Everyone's butt looks basically how you think it looks."
I think a good handful of her essays were extensions of or in relation to pieces she's published elsewhere like Jezebel and the Guardian, which is normal for this kind of book, but I think some of them could have used more backup. For example, towards the end, the book starts to run out of a bit of steam and she addresses her wedding, but in a very brief essay. I think it would have been better if it included more of that article or reflection about it, so people who don't really know her writing get more context.
One discussion that she did spend a good amount of time on – in two essays – is on rape jokes and male comedians. I read this book over the last month an essay at a time while reading other books, and this is what stuck with me the most. Lindy described how some male comedians tackled rape jokes in stand up comedy a few years ago. It's always been a thing, but when Daniel Tosh verbally attacked a woman at one of his shows, it unleashed a much-needed debate. The typical male response has been "oh well comedy should tackle everything," but Lindy's argument is that okay, maybe you can tackle rape, but you can do it in good ways and you can do it in very bad ways. She described a lot of bad ways. She described the backlash she got from big male comedians like Jim Norton and Patton Oswalt and their slew of man-troll fans.
Feminists don't single out rape jokes because rape is "worse" than other crimes – we single them out because we live in a culture that actively strives to shrink the definition of sexual assault.
The main gist is: when you make a joke about rape, there is probably a rape survivor sitting near you who may be struggling with what happened, wondering if they should report it, or severely traumatized. Do you think that's funny? It was upsetting to read how easily men could charge at her about that opinion and sexualize her in the process, but not surprising. Lindy goes on to expand the argument to how this makes women feel unsafe in comedy. How people listen to men ("Nobody cared about Bill Cosby's accusers until Hannibal Buress repeated their stories onstage with his veneer of male authority").
Shrill is a good book to read if you want to feel good about where feminism is headed. If you want to savour important work by a great writer. If you want to laugh and get angry at the same time. If you are a woman who has ever felt jilted by society. The list goes on and on. I highly recommend this book – I thoroughly enjoyed reading it and I think it carved itself a great big notch in the modern feminist essay genre. I now want to follow Lindy's work, and I think a lot of people will too. I don't doubt this book will be on a lot of people's year end lists! Lindy West is a force to be reckoned with – her voice will be loud for a very long time to come.
(Thank you to Chapters Indigo and Hachette Books Canada for an advanced reading copy!)