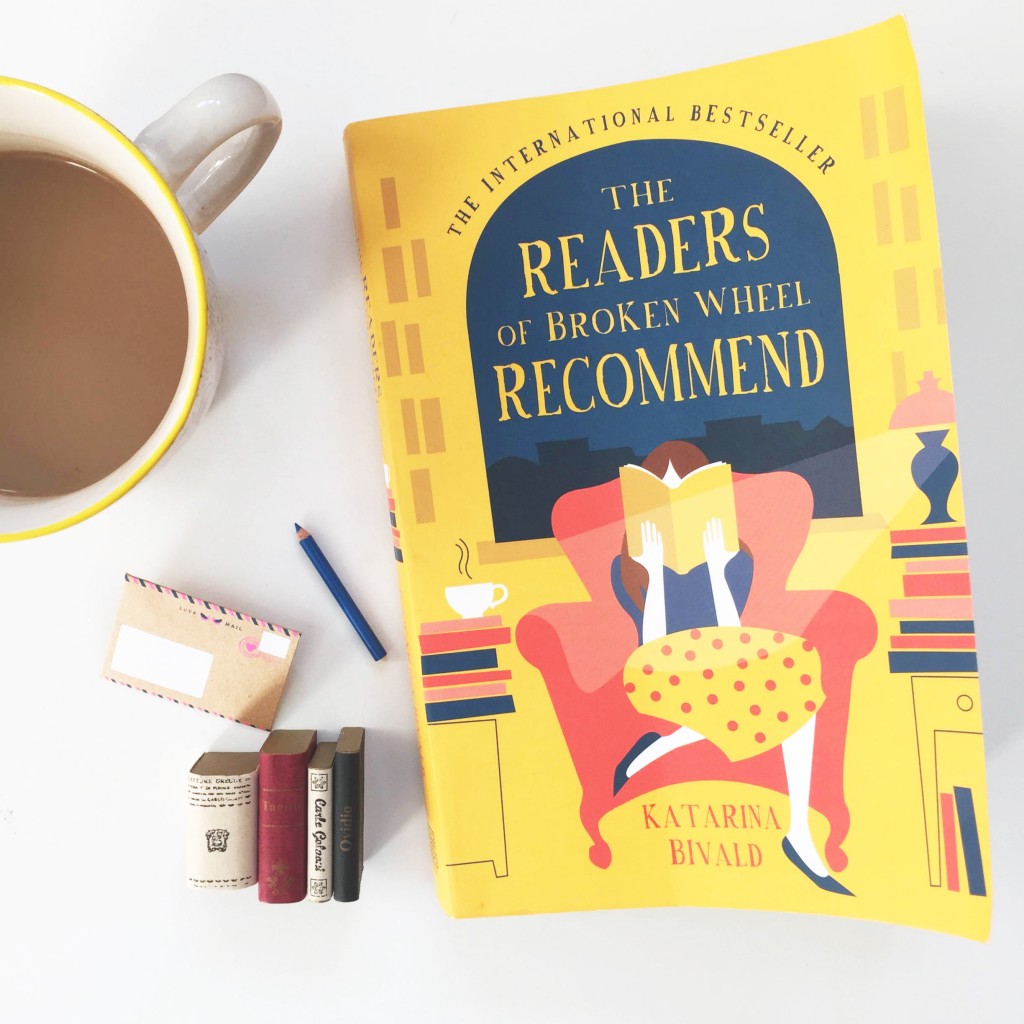 Can you smell it? The scent of new books. Unread adventures. Friends you haven't met yet, hours of magical escapism awaiting you.
The Readers of Broken Wheel Recommend by Katarina Bivald, translated from Swedish to English by Alice Menzies, via Bond Street Books/Doubleday Canada, out now.
[I received this book from Penguin Random House Canada in exchange for an honest review; this did not affect my opinion of the book whatsoever.]
Letter-writing and the love of reading come together in this cute, breezy novel in which a young bookworm from Sweden comes to small town Iowa to visit her elderly pen pal. Except when she arrives, she finds out her pen pal has died.
Sara and Amy had exchanged letters for two years – since Amy, a book collector, had been in touch with the bookshop Sara worked at in Sweden. (A little 84, Charing Cross Road nod for you.) They bonded over their intense love of books and became friends. Amy invited Sara to come to Iowa for a visit since Sara lost her job at the bookshop. Once Sara found out Amy passed away, she doesn't go back home, she stays in Amy's house, much to the persuasion of the townspeople who want to be welcoming to this strange, quiet foreigner. Sara has never felt so accepted, never had so much attention and enjoys the quiet, so of course she'd be inclined to hang around.
The Readers of Broken Wheel Recommend is more about how Sara helps a town facing bad times into a happier place than the friendship between her and Amy, though it is the base that holds it together. So being in middle-of-nowhere Iowa, Sara doesn't know what to do with herself besides get to know Amy's friends. As she immerses herself in Amy's book collection and becomes frustrated with how everyone in the town barters instead of spends money, she opens up a bookshop with Amy's books in a closed down shop space Amy had owned. Convenient! But the people in the town are as confused at the sight of books as they are to Sara's presence. Until everyone – even the handsome, quiet truck driver Tom – falls in love with her. There's a particular scene in which everyone camps out in the parking lot watching her happily read in the store through the window for hours, taking bets for how long it'll take until she looks up. A little weird, but it was cute.
I was clearly drawn to the book for the booklove and letters. Though I enjoyed the story, I was most satisfied with how bookish Sara is and how many book-loving quotes there are throughout the story. This book was definitely written for bibliophiles. Sara's enthusiasm and comfort in them – she keeps one in her pocket just in case and whispers 'books are better than people' – is enchanting. She challenges herself to find the right book for every townsperson, knowing they'll each find something within the pages.
There's always a person for every book. And a book for every person.
On that note, The Readers of Broken Wheel Recommend focuses a little too much on the townspeople's side story lines; a couple are even unnecessary to the plot, though not unbearable to read. Also, I was worried the love story part of it would be overpowering, but most of it was an entertaining back-and-forth of attitude, stubbornness (every character is so stubborn!) and sweet moments.
The Readers of Broken Wheel Recommend is great for an easy, comforting read, especially if you're the kind of person who looks lovingly at their bookshelves and thinks Fridays are best for cuddling up on the couch with tea and a book.