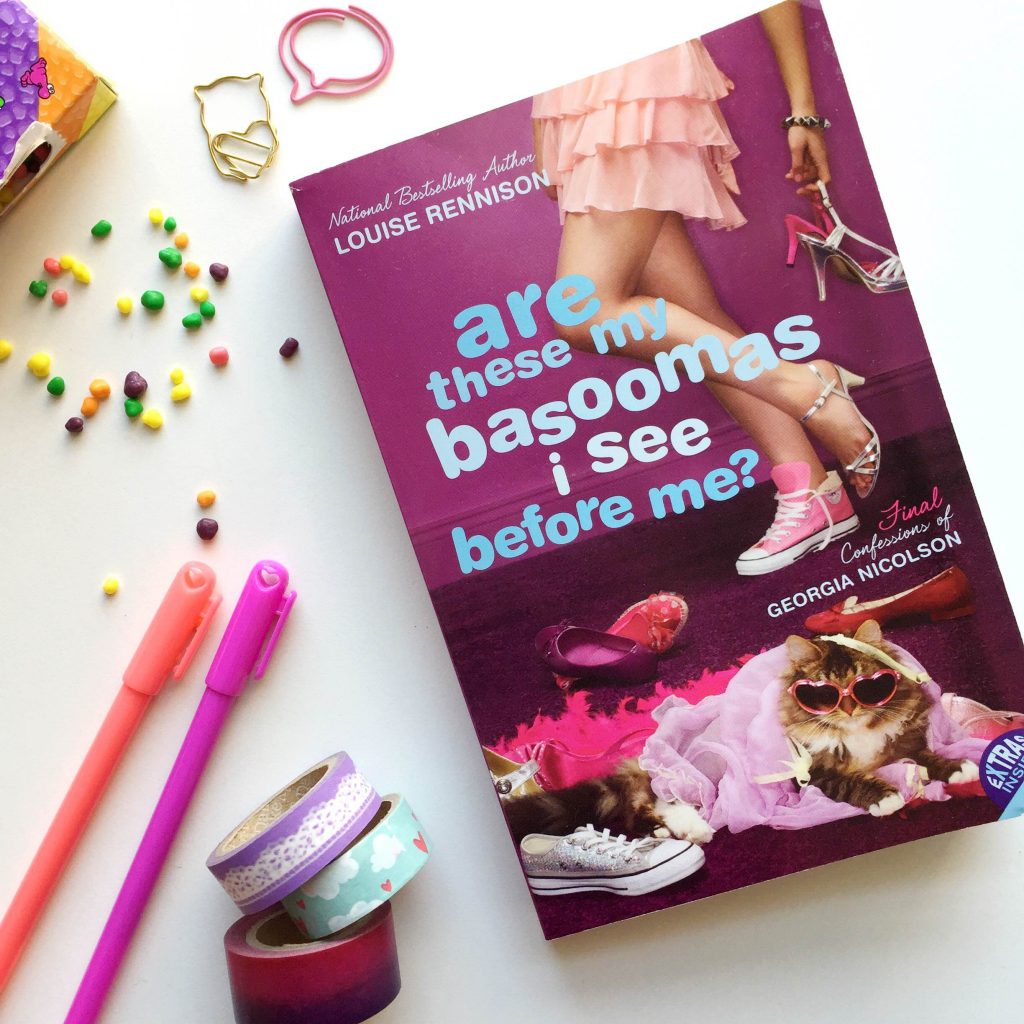 Welcome back to the Georgia Nicolson Readalong!
Quick refresher: in honour of our dearly departed Teen Queen Louise Rennison, I started a readalong so that we could read (or re-read) her classic Georgia Nicolson series.

You can catch up with posts on Angus, Thongs and Full-Frontal Snogging, On the Bright Side, I'm Now the Girlfriend of a Sex God, Knocked Out By My Nunga-Nungas, Dancing in My Nuddy Pants, Away Laughing on a Fast Camel, Then He Ate My Boy Entrancers, Startled by his Furry Shorts, Love is a Many Trousered Thing and Stop in the Name of Pants!
Please note that if you haven't read this book yet and intend to, there are spoilers!
---
I can't believe we've reached the end of the readalong!! We did it!
Ten books of Georgia Nicolson – the quirky boy-crazy British teen gal who diaries her bonkers conversations with her friends and family and her ongoing love triangles. We went from the iconic first few books and movie – the ones people really fell in love with – through to the very end.
We've learned our lesson that maybe we should leave the things we used to love in the past rather than experience them in a whole new unflattering light now. We've seen how books can really not stand the test of time, though it has been a bit interesting (but cringeworthy) to think about how things we find problematic now weren't seen that way in the 90s.
We've gone with Georgia from her first boyfriend Robbie (The Sex God) to a guy she used to make him jealous (Dave the Laugh) to the new Italian stud in town (Masimo) and to Dave a bunch of times in between. We've been there when Georgia and Jas had many fights, when the ace gang performed weird dances, and when Libby sang inappropriate songs. We've observed how Georgia's parents have been a weird see-saw of reality and wackiness the whole time. After reading ten of these books you will for sure feel immersed in Georgia's world!
So, the final book. We pick up from a fight that Masimo and Dave had over Georgia, and Georgia is left confused as to where she stands between them. She still firmly wants to be the girlfriend of Masimo, though, mostly for just being his girlfriend, so she waits for him to come back to her. She doesn't really try to win him back. Dave tries to tell Georgia again how he feels and is again eschewed. Not much happens throughout the book actually – a lot of just general stuff going on at home and school for Georgia and her friends like another Shakespeare play, and seeing Dave around, and fighting with Wet Lindsay, and wanting to be all sexy for Masimo. But by now it seems clear to everyone but Georgia and Masimo that the two of them barely spend any time together, barely have anything in common, and Georgia spends way more time thinking about Dave anyway and STILL NOT GETTING THAT SHE LIKES HIM. I had hoped earlier in the series that things would change, but gotta say guys, nothing did. In this last book, I was waiting and waiting and waiting (in the two hours it took me to read it) for Georgia to realize she liked Dave, dump Masimo and tell Dave how she felt, even though she's been toying with him for years. But the end was sadly the most frustrating thing of all. She never did what I'd hoped – they do end up together but only because Masimo decides to move to London with the band. So Georgia never really did any growing up, she never stepped up to do something about her situation herself, only turned to Dave once Masimo was gone, so it just sort of seemed like a 'well I guess I'm single now because Masimo left, so, hey.' What kind of message would that send to young readers??? I was pretty disappointed. Do you guys remember reading it when you were younger? What did you think?
I will say though that these ten books all had jokes that had me cracking up, so I will look back fondly upon that.
in the lounge in my jimjams

Vati came in with a pork pie. Taking his health seriously then.

He said, "What's the matter with you?"

Not that he cares.

I said, "I'm depressed actually."

He said, "Depressed at your age? You'll be saying you're bored next."

"That is what I was going to say next."
I want to thank Kaley of Books Etc. for reading and blogging along with me. That's been fun! And she's kept a much more level head about all this teenage drama than I have 😉 And to any others who have been reading along, or just following along, thank you for your patience :p We will now resume regularly scheduled blogging!