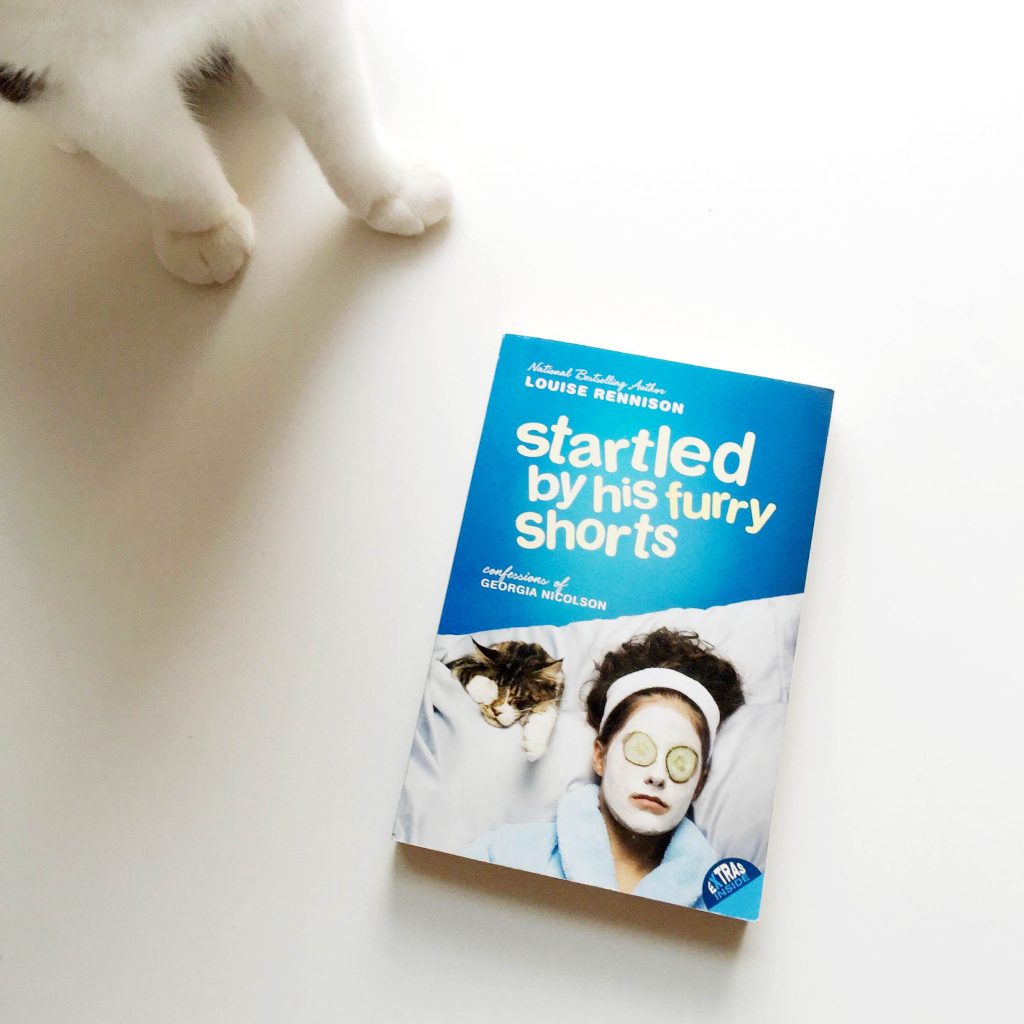 Welcome back to the Georgia Nicolson Readalong!
Quick refresher: in honour of our dearly departed Teen Queen Louise Rennison, I started a readalong so that we could read (or re-read) her classic Georgia Nicolson series. Every three weeks we'll post about the next book in the series. You're invited to join in at any time!

You can catch up with posts on Angus, Thongs and Full-Frontal Snogging, On the Bright Side, I'm Now the Girlfriend of a Sex God, Knocked Out By My Nunga-Nungas, Dancing in My Nuddy Pants, Away Laughing on a Fast Camel and Then He Ate My Boy Entrancers.
Please note that if you haven't read this book yet and intend to, there are spoilers!
---
Hello dear readers! Sorry I've been so AWOL these days, here and on Instagram and such. I have recently been going through a big life change – I quit my job in order to do an internship at HarperCollins Canada, which has been a very busy and rewarding experience in just the last month! I am so happy that I am working with books every day, helping to get them out in the world and in the hands of loving readers.
So apologies for this post being delayed, though! I will try to figure out a better system soon 😉 I am actually doing some blogging over at The Savvy Reader now, so go check that out!
Startled By His Furry Shorts is the 7th book in the series – we only have three more after this! To be honest I'm totally okay with that – while this has been fun, re-reading this series has been an interesting trek. I've learned that these books really don't stand the test of time, unfortunately, which is kind of a bummer to think about after the author has passed away. I still 100% back that they served a super important purpose in the time frame they were published in – they were a great pinpoint of so many girls' adolescence all over the world. Girls found an awkward hero in Georgia – she made us laugh and she made us feel okay about some of our flaws.
So in this book, Georgia is left hanging after she told Masimo that he had to decide if he wanted to be her boyfriend. The jerk told her he'd take a week to decide, which like, hello, red flag. I was impressed with Georgia for doing that – it was a bit out of character because usually she's just kind of at the whim of her crushes. Of course she feels like crap after, doubting herself and waiting. So Masimo of course comes back and says no, he cannot be her boyfriend. Georgia's confused and hurt and jealous of another girl, all the while being confused by her friends-with-benefits-ship with Dave the Laugh, who has finally sort of drawn a line in between them (I am expecting this to be crossed soon!). I kind of wish Georgia could have spent more time growing as an individual rather than just totally focused on boys, but, I sure remember a lot of my adolescence being focused on boys.
Startled reads just like it plays out – like we're just waiting. It's filler until we get to a cliffhanger ending, really. I wish I could remember what I thought about these books exactly when they had come out – if I was satisfied with this kind of storytelling or not. And I think I may have stopped here or on #8, so I actually don't know what's coming next, which I am happy about!
Here are some of my favourite quotes from the book:
I can't believe I am once more on the rack of romance.

And also in the oven of luuurve.

And possibly on my way to the bakery of pain.

And maybe even going to stop along the way to get a little cake at the cakeshop of agony.

Shut up, brain, shut up.
Never have sugar on bread. It is disgusting.
"Yep, I tried the girding of the loins scenario, however my loins came ungirded. Which can be quite painful, especially if you are wearing tight jeans."
Well that's it – I don't have much else to say about this one, folks. Til next time! We will pick back up with Love is a Many Trousered Thing on August 16. All I want is for Georgia and Dave to date. THAT'S ALL I WANT. And of course that will be dragged out in proper teen drama fashion!