It's finally September, which means I am this close to soft blankets, a big mug of tea, and socks! I put on socks the other day for the first time in months and it felt so weird. It's been a scorcher in Toronto this summer, which is not my jam, so I am really looking forward to my cozy time right about now. Fall also means a slew of exciting new books to cuddle (or have my cat sit on them). I've been to a number of fall preview events in the last couple weeks, and perusing Goodreads and such, so I'd like to share what I'm looking forward to this fall so you can add them too! Then we can message each other from our couches about how much we love the books, k?
September

Run, Hide, Repeat: A Memoir of a Fugitive Childhood: by Pauline Daikin – September 5
This is a for-real thriller about how Pauline's mother moved their family around all through Canada because she thought the mob was after them. It sounds like one heck of a story! I don't read stuff like this often, because to me it sounds like it'd be better as a podcast or TV show, but I'm willing to have my mind changed.
They Both Die at the End by Adam Silvera – September 5
While I can't say I'm really a Silvera fan (sorry) I am intrigued by this story, and I do like books that give me a good cry, so I'd like to check this one out about two boys who find out they're going to die that day and decide to spend the day together.
Spinning by Tillie Walden – September 12
I've been looking forward to this one for a while. It's a graphic memoir about ice skating, coming of age, and coming out. It sounds beautiful.
Nyxia by Scott Reintgen – September 12
A new sci-fi series starts with Emmett, who has been recruited to travel to a planet called Eden to mine a substance, but finds out he's one of ten recruits, and only one gets to come home. If this satisfies my hunger post Hunger Games (heh) then I will be happy.
Moxie by Jennifer Mathieu – September 19
Sooo one of my top books of the year that I can't stop jabbering about. I even wrote an article about it for Broken Pencil mag! I plan on doing a full post soon, but lemme just say: zines, badass girls, and learning about feminism. It's amazing.
Bellevue Square by Michael Redhill – September 19
A woman finds out she has a doppelganger walking the streets of Toronto's Kensington Market, so she enlists market regulars to keep an eye out. But then they start disappearing. The weirdo in me mostly wants to read this because I used to live near there, but also, this sounds unique enough of a thriller aside from all the griplits that have been coming out lately.
Riot Days by Maria Alyokhina – September 26
Maria Alyokhina from Pussy Riot has put her story to pages and just the thought of that is thrilling!
Brother by David Chariandy – September 26
A novel that explores masculinity, race, identity, and family from a Scarborough (Toronto outskirts) housing complex in 1991. I know this author comes highly recommended, and it's different from what I normally read, so I'd like to try it out.
October

Earth Hates Me: True Confessions from a Teenage Girl by Ruby Karp – October 3
I am intrigued by this concept as I'm pretty aware of how the teenagers of YA lit don't really sound like the teenagers of real life (as evidenced by conversations I overhear on the bus), so I'm always looking for a real connection (since I only know like one teenager). I feel old. A teenager wrote a book!!
Ringer by Lauren Oliver – October 3
The part two to last year's Replica, which I thoroughly enjoyed. I'm excited to find out where the story goes about these lost clones and how they came into existence.
Top Ten by Katie Cotugno – October 3
I have yet to read any Katie Cotugno books, as they haven't really sounded like my style, but I'm intrigued by this one about a girl and a guy counting their top ten moments of their friendship as high school ends.
The Nowhere Girls by Amy Reed – October 10
Based on my love of Moxie, I am rarin to read this one! Three misfits band together to avenge the rape of their friend and in doing so, evoke a change in the misogynist culture of their high school. Hell yes.
This Darkness Mine by Mindy McGinnis – October 10
Ok so I have read this one already and it is MESSED UP and AWESOME. If you were to hear 'so this book is about a girl who absorbed her twin in the womb and things are starting to go weird' you'd be like ummm what, but since it's Mindy McGinnis know that girl's got you. It is freaky and scary and yet funny and heartwarming at the same time. It's a great read.
The 57 Bus by Dashka Slater – October 17
A non-fiction story of a black 16-year-old boy who lit an agender white teen's skirt on fire, and was tried as an adult in court. This is real! I'm really curious about this and how it looks at social justice.
Diary of a Bookseller by Shaun Bythell – October 17
Written by a guy who owns a bookshop in Scotland all about the stuff he encounters in his shop. Bound to be hilarious, I think!
Calling My Name by Liara Tamani – October 24
A girl in a conservative Black family in Texas just wants to focus on getting into college and her relationship with God, but it's hard when she feels pressured to keep up with her friends' love lives. And then she meets a boy who could change everything, oooh.
Uncommon Type by Tom Hanks – October 24
Tom Hanks! Wrote a book of short stories that have to do with typewriters! I've been excited about this one all year.
I Can't Breathe by Matt Taibbi – October 24
Matt's written all about the roots and aftermath of Eric Garner's murder in NYC in 2014 at the hands of a cop, which sparked the Black Lives Matter movement. Matt examines the crime, jury, media, protests, and cops, and I think it'll be a must read of 2017.
November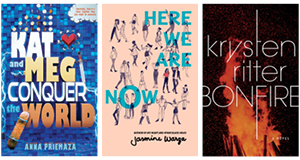 Kat and Meg Conquer the World by Anna Priemaza – November 7
Two girls are paired for a school project. One has anxiety, the other has ADHD. To me I find that to be a hilarious match (it's okay I can laugh, I have anxiety!), and it sounds like this would be a super cute story about friendship.
Here We Are Now by Jasmine Warga – November 7
For indie music lovers! Talia has been writing Julian Oliver letters ever since she was 13, because hello, rock god. But then one day he shows up on her doorstep saying he's her father, and he wants her to come with him to meet her grandfather, who is on his death bed. Exciting! I liked My Heart and Other Black Holes so I'm looking forward to this.
Bonfire by Krysten Ritter – November 9
Yes it's that Krysten Ritter. The Jessica Jones Krysten Ritter has written a thriller about a tough and sexy lawyer who has to go back to her hometown that she's worked so hard to forget in order to investigate a big case, which turns super suspicious and in fact has ties to her past… dun dun duuun.
December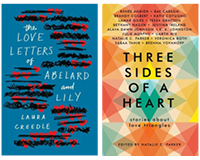 Three Sides of a Heart edited by Natalie C. Parker – December 19
An anthology of short stories by YA authors about love triangles! This sounds like a lot of fun, and apparently it crosses over multiple genres, so it'll have something for everyone. Includes writing from Julie Murphy, Katie Cotugno, Sabaa Tahir, Veronica Roth and many more.
The Love Letters of Abelard and Lily by Laura Creedle – December 26
First off, a book coming out a day before my birthday, woot! A girl with ADHD ends up in detention with a boy with Asperger's. They discover they have a mutual affinity for love letters. Squeeing ensues.
That's all for now! I'll be super impressed if I get to all of these this fall. Follow along with me on Goodreads!
What are you guys looking forward to reading in your big blanket forts?