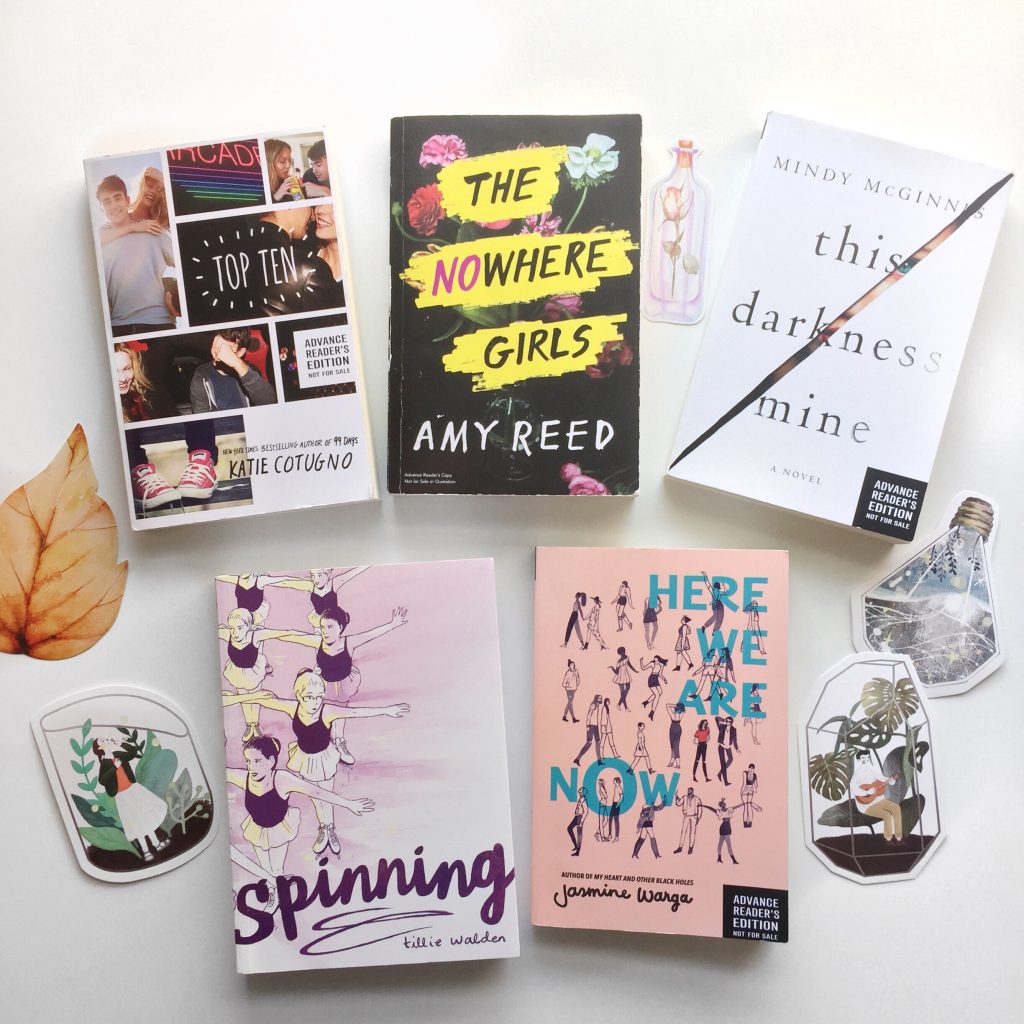 I've got another round-up of a pile of books I've read recently! Here we have The Nowhere Girls by Amy Reed, Spinning by Tillie Walden, Here We Are Now by Jasmine Warga, This Darkness Mine by Mindy McGinnis, and Top Ten by Katie Cotugno, which all feature young female protagonists. That's kinda my genre, if you haven't noticed!
This Darkness Mine by Mindy McGinnis
I fell for Mindy McGinnis' contemporary writing with last year's The Female of the Species, so I was super excited to get my hands on her next dark story. Sasha Stone is an over-achiever, the straight-laced it girl at her school. But when the resident bad boy starts acting like he's been dating her for a while, Sasha senses something's off. Around the same time, she discovers a secret her family has kept from her: she had an identical twin that she absorbed in the womb. Things click and Sasha realizes she's being taken over by her scorned sister, and things get super disturbing from there. I was not disappointed with the story – I was hooked by Mindy's storytelling and Sasha's detached yet earnest voice. I can't say much else without giving it away, but I can say you might raise your eyebrows at the 'she absorbed her twin in the womb and now that twin is getting revenge' thing, but just go with it. If you're looking for a good YA psychological thriller this fall, check this one out.
The Nowhere Girls by Amy Reed
This one took me longer than usual to get through, purely because I was reading it around the time the Harvey Weinstein allegations came out. It was so real, I needed to take it at a slower pace lest I really bum myself out. If you love Moxie, you'll love The Nowhere Girls — it's about a group of girls that decide to take justice into their own hands for a girl who was gang-raped and bullied out of town for speaking up about it. They call themselves the Nowhere Girls and anonymously invite girls from school to form this feminist task force to show the school administration and the boys that they can't put up with the abuse they've all had anymore. Amy does a good job at showing us many of the girls throughout the school besides our three protagonists (I loved them all by the way – one overweight girl goes from being put down to gaining her strength, one Hispanic lesbian punk fights with her family for freedom, and one girl with Asperger's faces her darkest moments and learns how to be vulnerable to caring again) – I found it jarring to read at first but once I figured it out, I fell into it. I wanted to be in the Nowhere Girls, I wanted to fight stupid boys next to them. I wanted to punch their school principal in the face. She also does a good job in showing how people can learn how to be feminist and how they've been conditioned to be otherwise. This is a fantastic, necessary read, though tough, so take that as you will. I'm so glad this book came out.
Spinning by Tillie Walden
I haven't really read a graphic novel in a while, so I was excited to check this out, especially because it's categorized as YA. It's a graphic memoir, actually — Tillie crafted Spinning to show how her coming-of-age story spins between being a hardcore figure skater, coming out as gay, and finding a new love in making art. I liked the book, and really like her artwork, especially the more single panel detailed pages. I found the story to be a bit jumbled, but when it comes to a real story, it's rare that someone's life pans out in a smooth way. There wasn't as much in there about becoming an artist as I'd hoped, and I was left with wonder and concern when she touches on some serious abuse stuff but doesn't go into it. But overall, I like what the book represents, and how it can pave the way for similar books in the genre in the future.
Top Ten by Katie Cotugno
As I've mentioned before, this was my first Katie Cotugno read and I felt pretty meh about it. I know people who are hardcore fans of hers, though none of her stories have ever appealed to me. I liked the concept of this one – a guy and a girl go through ten big moments of their high school years together, and the big question of can they just be friends or will they fall into something more? And I gotta say I was disappointed with how it played out. The memories are all out of order in the book, so it got kind of confusing, and felt pretty unnecessary to the story. There were times that I'd have to go back and re-read parts to make sure I was remembering things right. I also found the characters pretty annoying, mostly the girl (Gabby) – she was kiiind of a jerk. I am all for real characters in fiction, but she got on my nerves. I was here for the portrayal of her bisexuality, but I was put off by the portrayal of her anxiety, though there's not much I can say to that as I have my own anxiety and the author has hers, everyone is different. But Gabby was that person who uses her anxiety to make excuses. And Ryan is just stubborn and lost. Honestly, it's been a few weeks since I've read this one and I don't remember much besides these points, but hey, I tried! I feel like if you're already a KC fan, you'll probably like this one, but it doesn't fit into my preferences.
Here We Are Now by Jasmine Warga
I remember liking My Heart and other Black Holes when it came out, so I was interested in checking out Jasmine Warga's next book about a girl who finds out her father is a famous rock star. One day Taliah's father shows up on her doorstep to say hey and oh yeah your grandpa's dying, so you should come meet him before he passes away. She goes and has a father-daughter bonding experience. I liked the concept, but it fell flat for me and I don't think I can really explain why.. I think I expected more from it and didn't get enough or something. I'm also pretty over reading books about people who write music, because it's always so painful to read, haha. I can see people liking the book, but it didn't end up being one for me.
What have you guys been reading lately?