What: Bizzy B's Stamp and Scrap, a scrapbooking / crafters paradise
Where: 2100 Bloor Street West (High Park neighbourhood)
When: Monday 10-8, Tuesday 10-7, Wednesday – Friday 10-8, Saturday 10-6, Sunday 12-5
I didn't know about Bizzy B's until this past summer. I don't know how that happened, but it did. But that meant I got to have a great experience excitedly going to the store. It's a haven of goodies – mostly things you'd find at Michael's, but we won't have a downtown Michael's until next year. But this is much more personal and adorable. B's clientele is more of the older generation of paper lovers (there is a bowl of Werther's at the cash register, tee hee), which is totally awesome. Younger crafters go there too! I'm so glad a place like this exists. They have a big area with a huge table for events – and they host lots of different kind of crafty classes! I dream of teaching one someday on mail art or zines.
Painted like a bee and covered in products, you'll want to set aside some time to enter this place. There's lots to look through to make sure you haven't missed anything. Plus you can grab materials for many different kinds of projects, or you'll come up with ideas for projects once you're there! I like going to B's for the scrapbook paper – there's really no other place downtown where I can find such – because I love making envelopes, bunting and other crafts out of that kind of paper. I visited when I needed paper to make bunting for a friend's wedding and was pleased with the selection they had! This is also where I picked up the Martha Stewart envelope board, which I adore.
The owners are friendly, fun and creative. They really understand their niche!
Look at this gorgeous view as soon as you enter.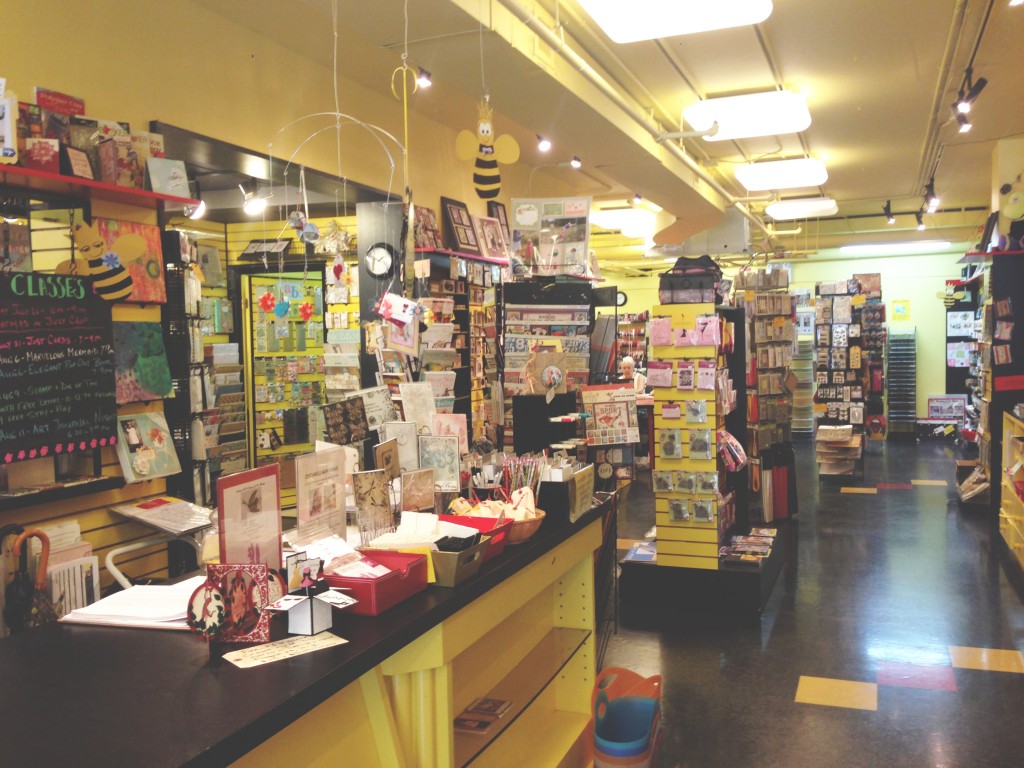 SO MANY STAMPS!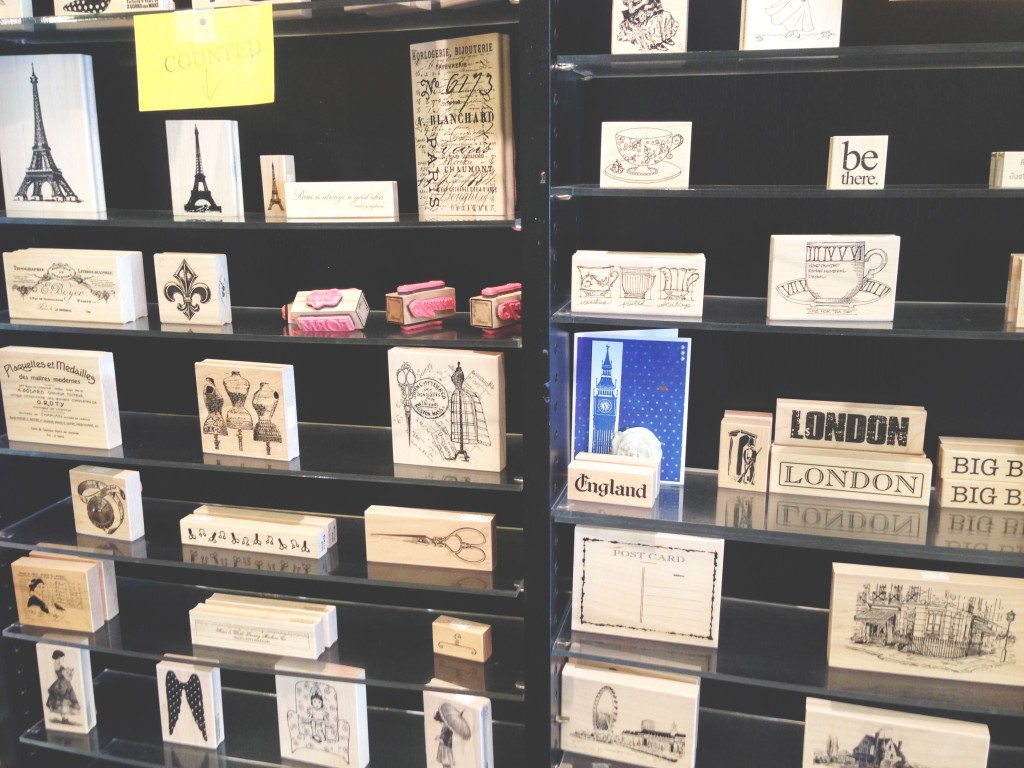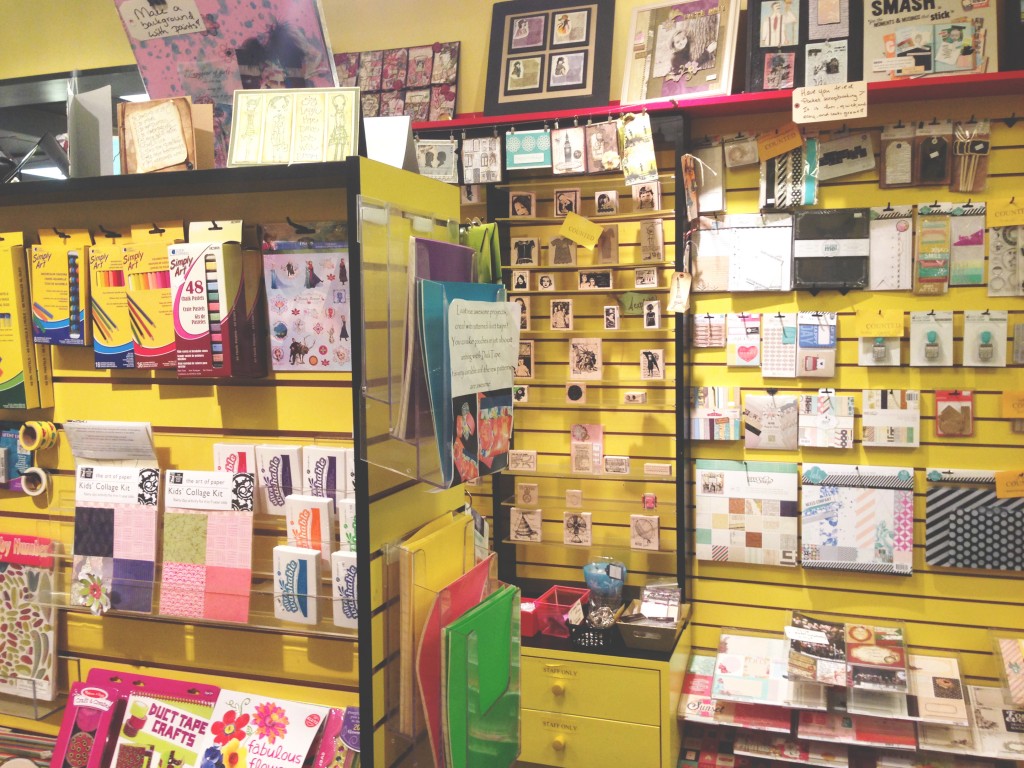 Loads of templates for tracing designs for any kind of project.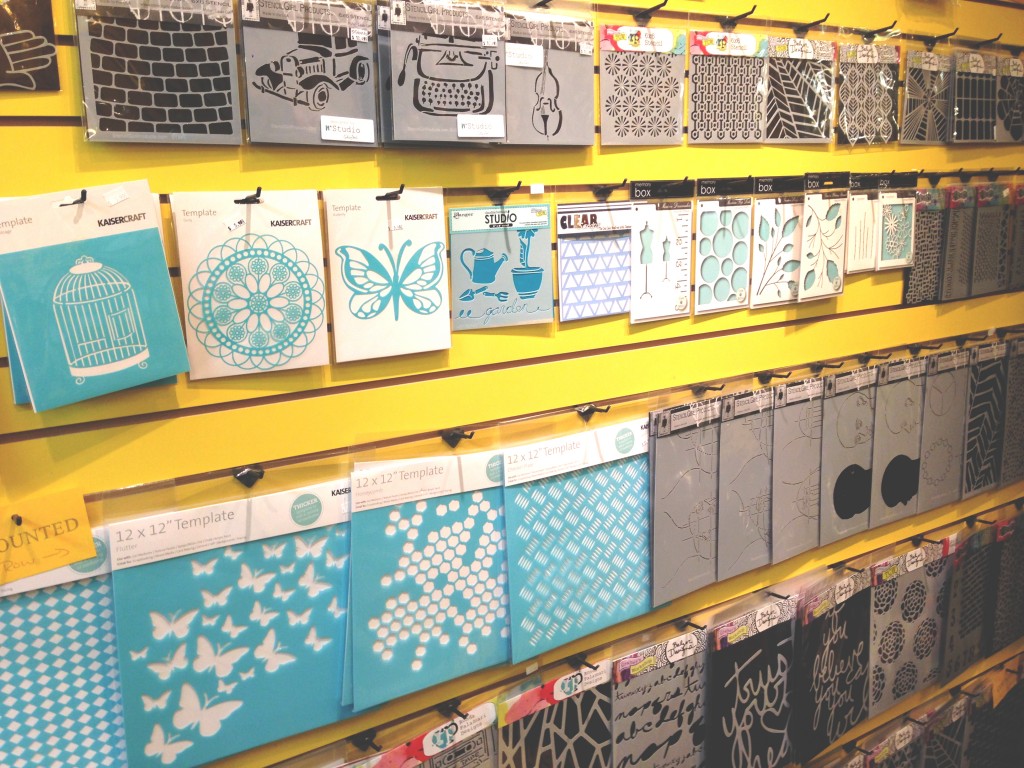 Paint corner!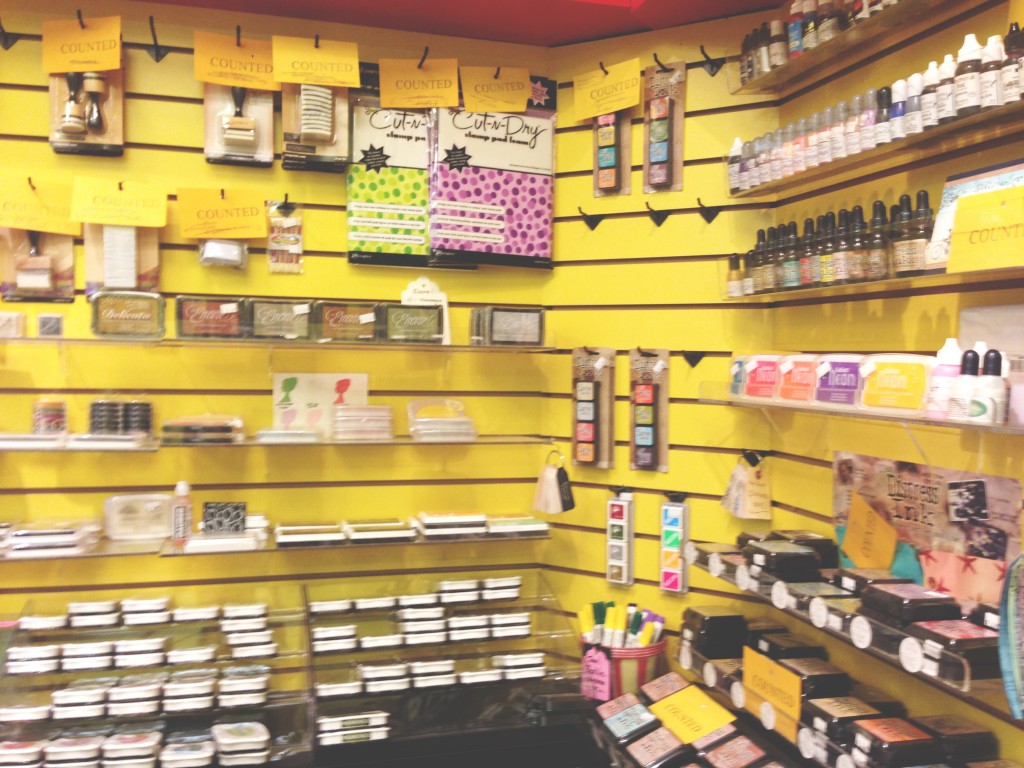 Embellishments and smaller paper… two of my favourite things…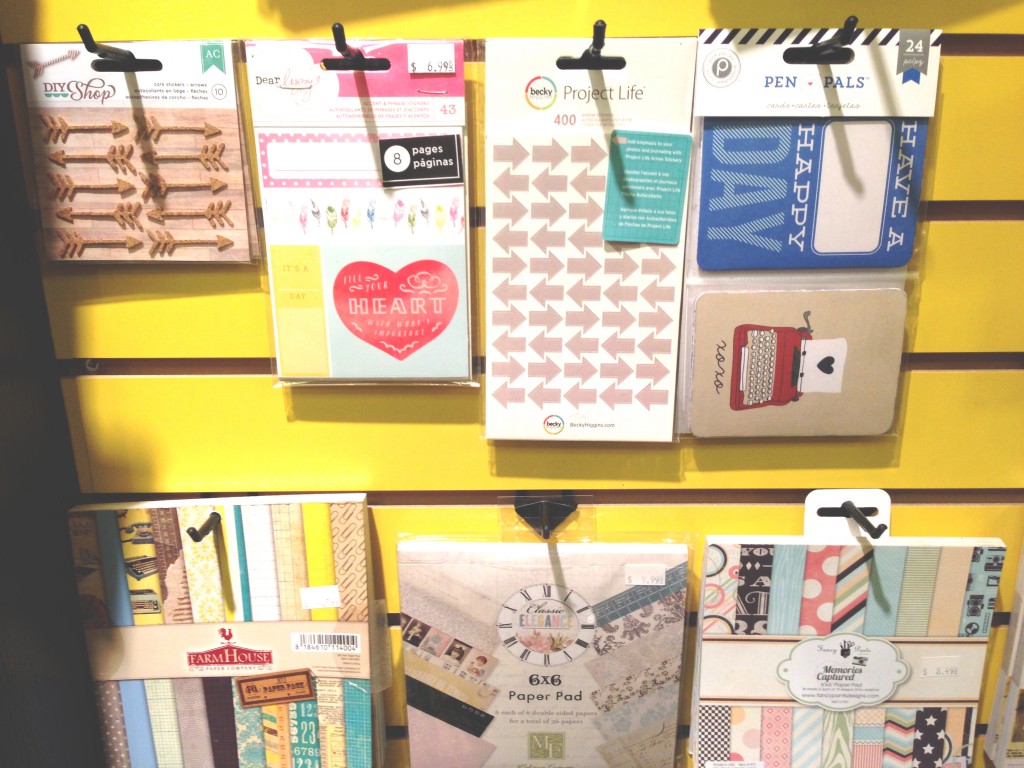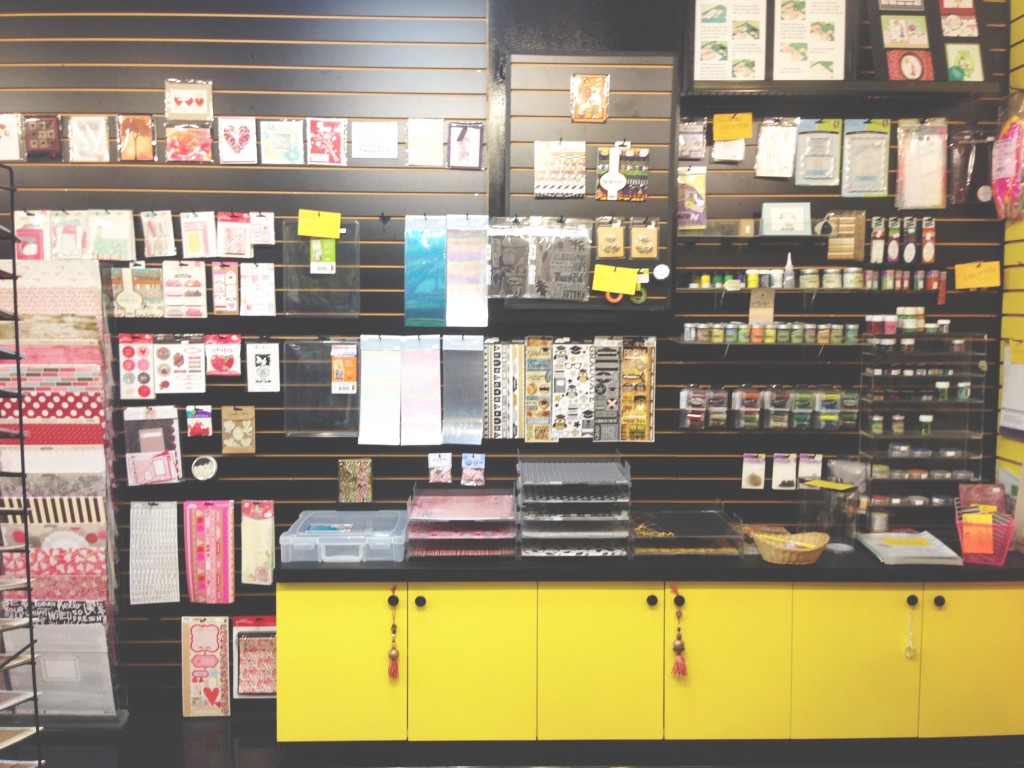 Look at all these scissors and punches. LOOK AT THEM!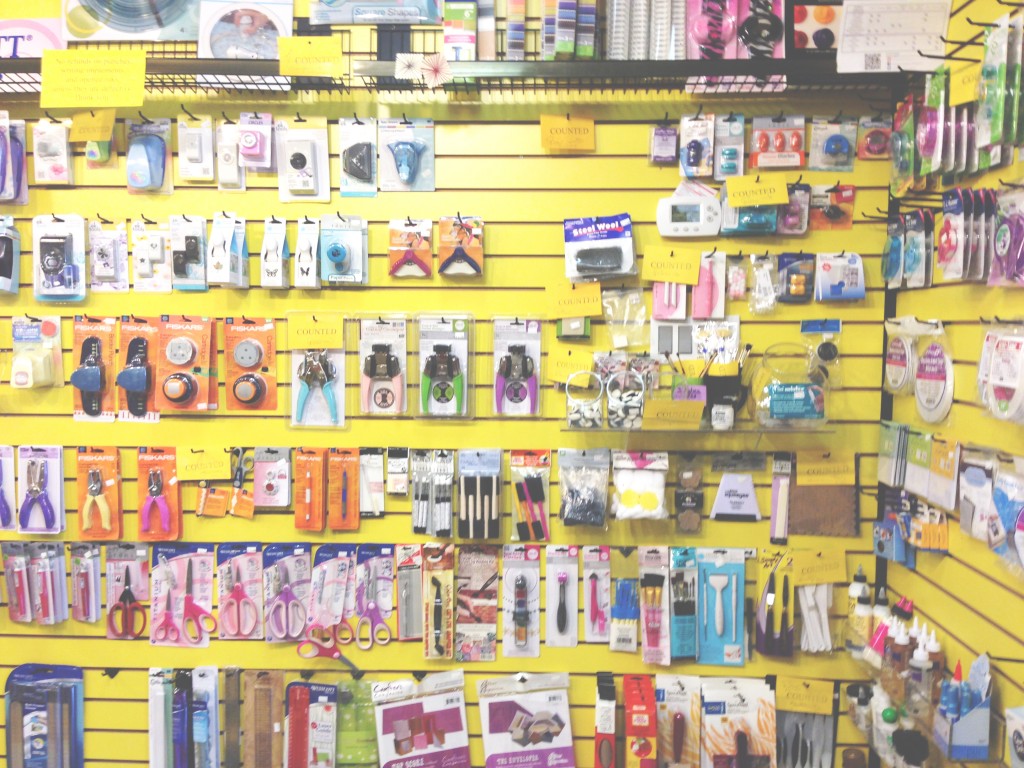 *angels sing at the paper rainbow*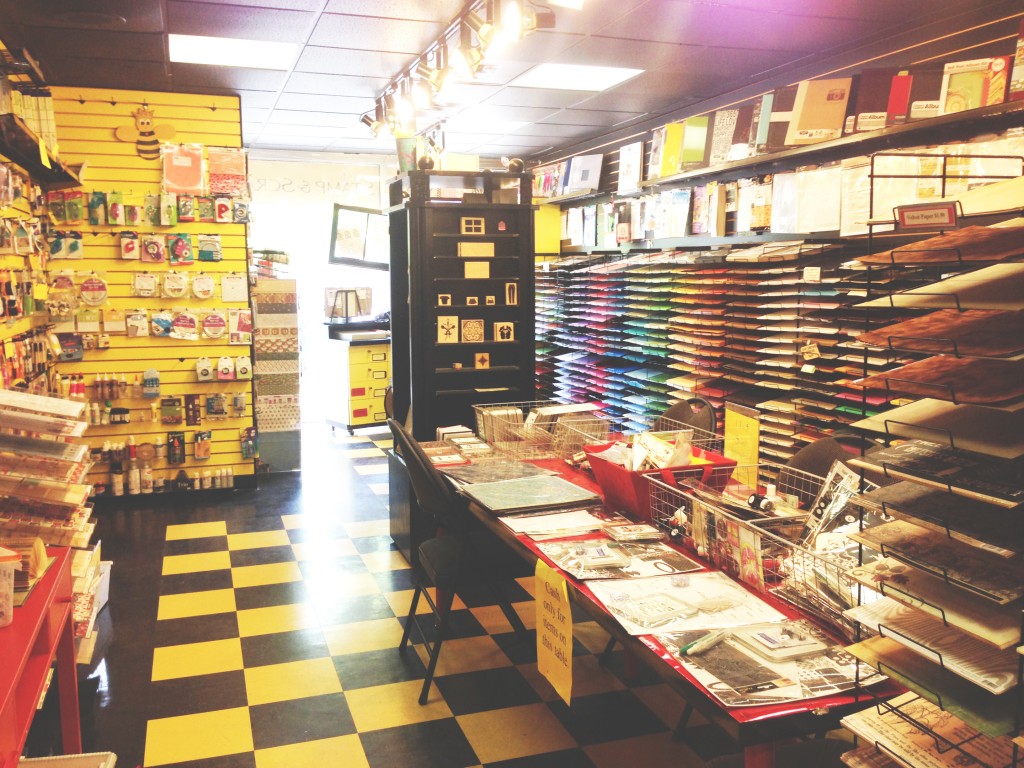 I wish I lived closer to this mecca, but it's probably for the best that I don't. Although as I write this post, I've come up with loads of excuses to go back. I hope this store lasts for a long time. They're reasonably priced, have their own little rewards system and really adore their classes. Guaranteed every time you go in there, there will be people working on their crafts in the back. On this particular visit, I saw women making gorgeous die cut cards.
I recommend them for: Big crafty projects, classes to learn a new hobby, scrapbooking