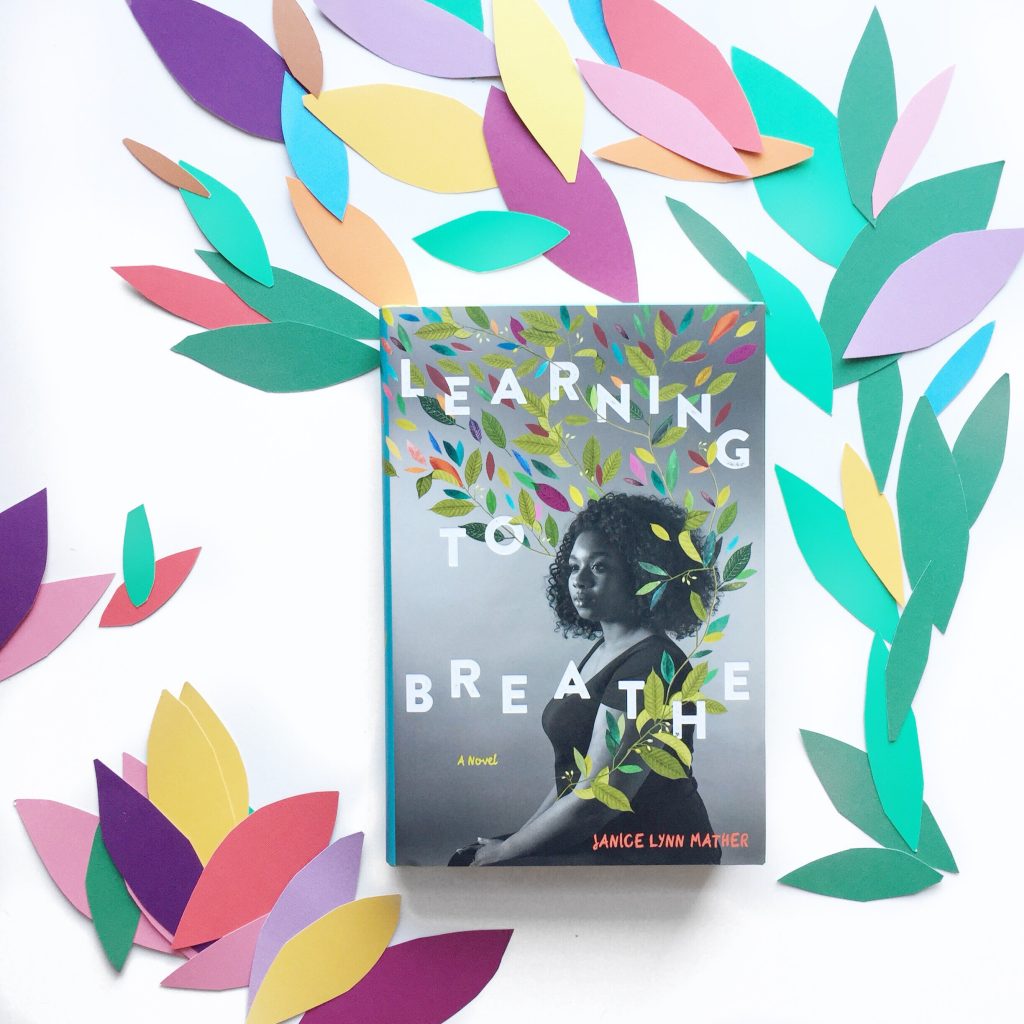 Learning to Breathe by Janice Lynn Mather, out now
Welcome to my stop on the blog tour for Learning to Breathe! I'm excited to be a part of this as I treasure this precious novel. If you haven't yet, check out my touring buddies posts on That Reading Wraith, Just a Lil' Lost, Brains, Books, and Brawn, Rimpy Reads, and Padfoots Library!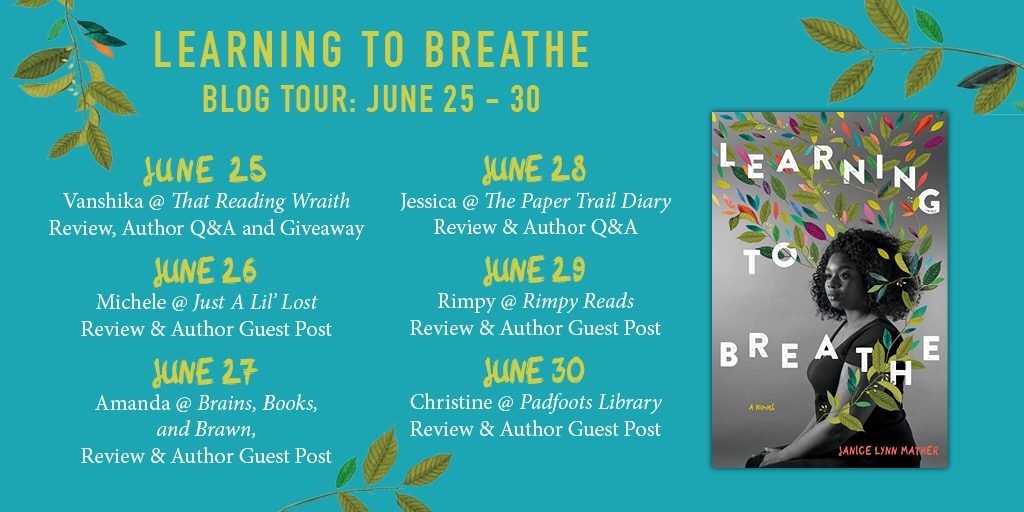 In Learning to Breathe, sixteen-year-old Indy is trapped and trying to find any sense of freedom and identity she can. She thought being seen as the continuation of her mother's reputation would have stopped once she was shipped off to her aunt and uncle in Nassau from a neighbouring island in the Caribbean, but it only got worse. The nickname "Doubles" followed her. Her cousin Gary only sees Indy's body as his for the taking, and now Indy is pregnant. Indy tries to hide her growing belly as best she can, even when she has to duct tape bras together (and to her). She can't confide in her family, she doesn't have any friends except Churchy (a boy from her town who also moved to Nassau), and she's too busy being scared of Gary to think about much else. It's hard to run from someone who lives in the same home as you. One day in a rare act of rebelling against her environment, she jumps in the water, swims, and ends up down the island at a yoga retreat.
I kick my school shoes and socks off. At the edge of the dock, the sea bobs and laps, waiting. What I need is to not feel dirty. I need to be clean. I climb up onto one of the wooden posts, feet barely fitting on it. I teeter for a moment. Then I jump.

There is an instant, sailing through the air, when I am both moving and still. There's no room for the rush of fears and doubts in my head. My breathing stops. I can hear the poundpound of my heart. No thinking, I can just be.
It's at the yoga retreat where she will find her lifeline and people with compassion. Indy must find a way to take control of her fate, face down people's perceptions, and letting the right people in after building up so many walls. And along the way she learns some yoga, which teaches her how to take a moment to herself.
Being in Indy's world is heartbreaking, and you only want her to find the help and love she so desperately needs. She's always been trying to live her life under the radar; she doesn't want to be seen by anyone except her mother, grandmother, and friends. Janice Lynn Mather does an amazing job at putting you right there with Indy, right there with her fear. It's uncomfortable, of course, but it will not deter you from reading. Indy is in an extremely tough place but she powers through it – her voice never comes across as dark as it could, because she is learning she has strength and has to believe things will get better in order to survive. I found it interesting how Indy doesn't think about how there's actually a baby growing inside of her (she's at 5 months) – she just refers to her growing belly – because thinking about a baby acknowledges her trauma and who knows what else. There are so many times when she could just tell someone what happened, but of course to her, that's terrifying, and admitting it means surrendering to embarrassment and failure.
I also admired how the yoga retreat played into the story – it's different and a great scene for what Indy needed. It provided such a starkly different environment than everywhere else Indy goes, and it's where she finds adults who care and connect with her. While Churchy and her cousin Smiley provide their own types of support for Indy whether they realize it or not, she still feels safer at the retreat. Any time she ends up there is a breath of relief.
The pacing of the book was perfect. I was hooked immediately and wasn't unhooked until… well I still feel hooked. This is the kind of book you will want to hug. I loved it and think you will too. It's gorgeously written. It's sad but hopeful, this story of a girl who just wants a stable and safe home.
Now for my interview with Janice Lynn Mather – and I have to say, it's great! This will give you an interesting sense of backstory to the life of the book.
How would you describe your connection to yoga?
Constant. I've done yoga in some form, to some degree, since the summer of 1999. I started doing yoga somewhat by accident, and at a time when it wasn't especially stylish. I had no flowy bamboo clothes or even a yoga mat. I came across a programme on Cable TV called Yoga Zone. The episodes look incredibly cheesy now, but when I found them and started following along, it was at a really low point in my life. I was incredibly depressed, I felt out of control in so many ways, and it was one small thing that I did for myself, that helped me feel like I wasn't actually going to spin off the face of the earth and drift into space. It was grounding, it was calming, it was healing, and I did it on the floor of the dining room in my childhood home, with my parents occasionally walking between me and the TV. I probably had on some ratty old shorts and a not too nice shirt, and I used this beat up old beach towel I'd had for as long as I can remember. There was absolutely nothing fashionable about it, and I couldn't have been more thankful to find it.
Yoga came into my life in a few different ways in the years that followed. In the UK, my sisters were also into yoga, and I wound up with a yoga mat—which I still use. The mat has got to be well over a decade old.  It really isn't pretty, and I couldn't care less, I have so many memories of toting it around the world and spreading it out on decks and beaches and tiled hotel floors and on sandy balconies all over the place. At my first real job, working as a newspaper reporter at The Nassau Guardian in the Bahamas, there was this room tucked way in the back, where an absolutely wonderful woman, Mrs. Neeley, worked as the librarian. The library was this windowless, stuffy room with filing cabinets jammed with old newspaper clippings, and it was a great place to shirk work gossip and talk politics conduct research.  I don't know how I ended up in the Y files, but I came across a bunch of fat folders marked Yoga Retreat and, to my surprise, I learned that Paradise Island—the most touristy place in all of Nassau, where many of the hotels, including Atlantis, are located—actually had housed a yoga retreat. These pictures were old—I think maybe the 70s—and black and white, and this separate, secret world that had existed under my nose my whole life was suddenly revealed. I looked it up in the phone book (because it was 2001, and that's what we did), and found they were still open. So I went there to do a story on it.
There were no roads leading to the retreat, so the only way to get to that part of Paradise Island was by boat.  Early on a Sunday morning, I got on a tiny little dingy with about six other people, and landed on the island. I unrolled my yoga mat (the same one I mentioned above; it was still new and fresh at that time) and proceeded to follow along with a two-hour hardcore traditional yoga class. It was quite an experience. They actually do teacher training at this facility, and the style of class I took was quite regimented: a long meditation at the beginning, followed by breathing exercises, followed by 12 rounds of Sun Salutations, which is like a whole-body warm-up using a particular series of poses. Then we went into standing poses, and into balances—there were unsupported headstands all over the place, which I did not attempt myself. What was really special about the class was that we had it on a deck facing a totally private and empty beach, and then beyond that, nothing but the water.
Over the years, I've done yoga in a lot of places that are less glamorous than that. More recently, my yoga practice has tended to be either on my living room floor or in a sort of dank community centre room that always smells a little funny. I like my ritzy yoga studios too, as an occasional treat, but my connection with yoga is a very everyday, sanity-maintenance sort of practice. There have been times when I've done a specific, intentional yoga practice every single day, and times when it's more spotty. But I think since starting yoga, I've incorporated some element of a practice—actual asanas or meditation or deep breathing or even just awareness of posture and mindset—into life every day. I love how I feel physically when I'm practicing asanas daily, but I also respect and value the other ways it's influenced my outlook, my mindset, and my life.
What inspired you to write this story?
The prevalence of situations like Indy's. Learning to Breathe is fictional, but what Indy's dealing with is very much a reality for many girls.
If you could pick somewhere to go for a retreat, where would you go?
Unlike Indy, though I'm from the Bahamas, I'm from Nassau, very much the city. There are quiet spots in Nassau that I love, but to really retreat, I'd head to one of the Family Islands—just about anywhere else in the Bahamas. Going to a beach destination might sound like a stereotype of the Caribbean, but for me, a quiet place by the water and far from people and noise is soul-feeding. Sometimes I just want to be able to go and dip my body in the water, let out a long sigh, and lie down in the shade.
What are some books you're loving right now?
What a delicious question.  I've had a chance to feast on a number of really delicious books recently. Over the past few months—Ibi Zoboi's American Street was stunning. I definitely had a little bit of writer's envy during the process. In terms of authors who are brand new to me, I recently read Stay With Me, by Ayobami Adebayo. I went on a bit of a book buying binge last fall, and I'm still working to catch up after all the mischief I got into there, but Stay With Me was a pure impulse buy; I saw it on display, I read the first paragraph, I had to take it home. And then, there are the fond favourites that you just come back to again and again. Right now, that's Zenzele, by J. Nozipo Maraire. Parts of it are so beautiful. I have a thing about endings that are satisfying, and the first time I read this book, the ending was just like…a moment to lean back and close my eyes and just be. I love to come back to it for the story, and for where and how it ends.
Now with your first book coming out, can you tell us more about your path to publishing? Do you have any advice for aspiring authors?
My path to publishing has been long, but worth the wait. I wrote the first draft of Learning to Breathe in a writing class in 2003/2004. It took me another four years to start sending it out to literary agents and editors in earnest. For a few years, I'd say I went in cycles of submitting it, getting rejected or receiving no response, going back to revise and refine it, setting it aside, then sending it out again.  
The real game changer came in 2015, when I took it out and polished it up for what felt like the millionth time. I submitted it in the spring to a competition held between UBC, HarperCollins Canada, and the Cooke Agency (now CookeMcDermid), then did what's always best to do when you've submitted a piece of writing—I forgot about it and went on to work on another project.  
One day in mid September, I headed to work as usual, but I forgot my phone at home, which I never, ever do. Partway through the day an email popped into my inbox. It was from a lady by the name of Rachel Letofsky, letting me know that Learning to Breathe had been shortlisted for the HarperCollinsPublishersLtd/ UBC Prize for Best New Fiction. Rachel had tried to reach me by phone (by now I was kicking myself—what a day to leave my phone languishing at home) but she was so excited to share the news that she wanted to send me an email as well. I didn't end up winning the prize that year, but being shortlisted opened all kinds of doors. A few weeks later, Rachel asked if I'd be interested in having her as my literary agent—I jumped at the chance—and about a year later, I was fortunate enough to have four amazing offers from four publishers interested in taking on Learning to Breathe.  
I signed on with Simon & Schuster, and the rest is a pretty fantastic combination of history and current events. I signed a two-book deal with Simon & Schuster, so I'm in the process of working on a second YA novel, which is expected to be released in 2020.
Advice for aspiring authors…be bold and share your story with the world. Even if it's sat in your head, or collected dust in a drawer for a year, or five, or ten, it's not too late. There's a reason you were compelled to tell that story. You owe it to your characters, the source of your inspiration, and your future audience, to let your story stand in the light of day.
Thank you to Simon & Schuster Canada for providing me with an advanced reading copy for the review and the opportunity to interview Janice. 
Find Learning to Breathe on Goodreads, Amazon, Indigo, Barnes & Noble, Book Depository, and AbeBooks.