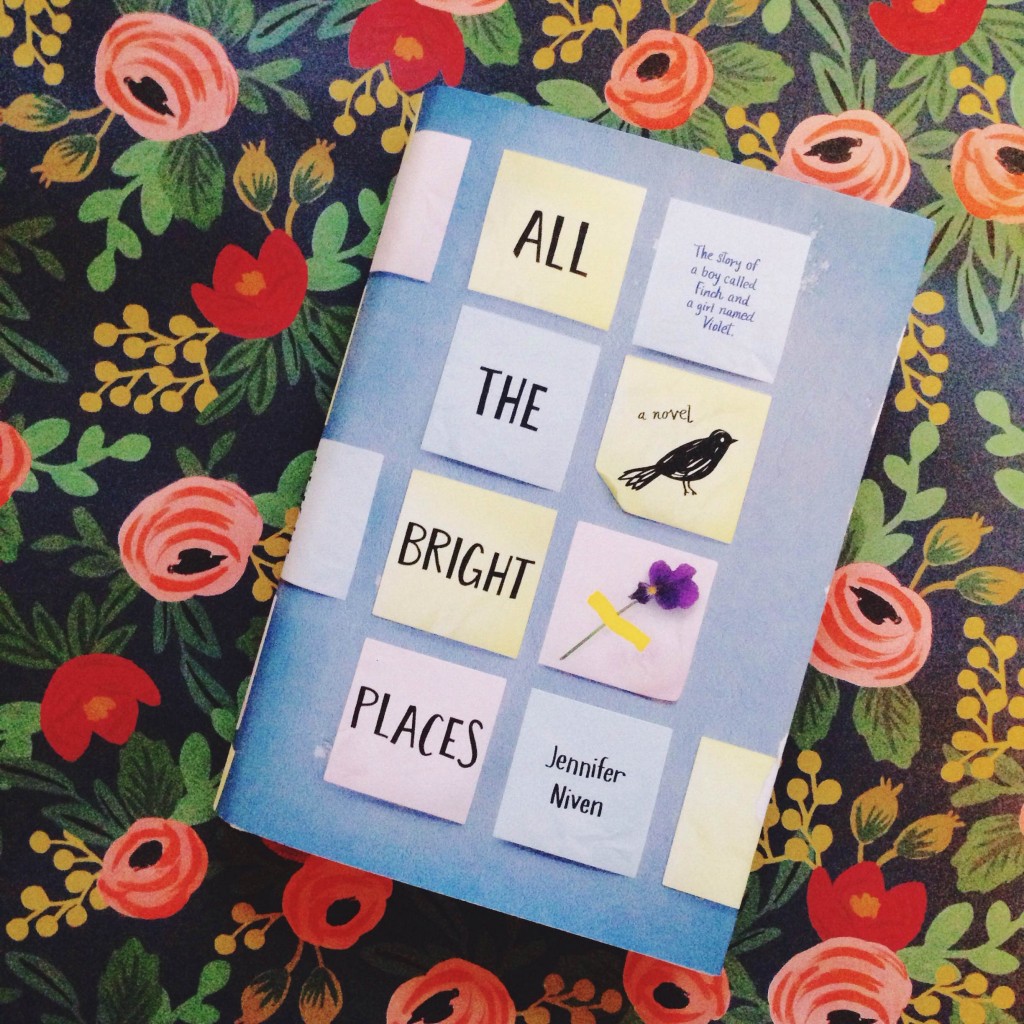 All the Bright Places by Jennifer Niven, Knopf Canada
This is a very hard review to write. All I want to talk about is the ending, but I can't give it away. But this is easy to say: if you like young adult lit about love, loss and mental health, then you will like this book.
At first the marketing reference "The Fault in Our Stars meets Eleanor and Park" was an obvious hook, and it worked on me. But by the time I finished the book, I did not want to compare this to those. That comparison notes more of a "you're going to read about the struggles in teenage love and it's sad." I'd like to note that this book is a fantastic account of mental health issues – specifically suicidal thoughts, bipolar disorder, borderline personality disorder, depression and anxiety.
Violet is a senior in high school in a small town in Indiana. The year before, her sister was driving them home from a party, and they got in an accident. Her sister, Eleanor, was killed. Violet becomes that girl who suddenly isn't the same bright-eyed popular cheerleader. She has lost motivation with all of her interests – the greatest being writing – and let the early application deadline to NYU come and go. Her teachers give her a pass on all her work, because they don't know how to treat her. She struggles silently, not wanting to upset her parents and not finding any confidants in school. She doesn't make any effort to get better, she just crosses off the days on her calendar, waiting for school to be over.
Until she meets Finch on the top of the school's bell tower, both of them looking down, lost in their fear.
Finch, also a senior, fantasizes about ways to die. He can hold his breath for a very long time. He's been in a state he calls "awake" recently after coming out of "sleep." It isn't apparent right at the beginning, but what he's going through becomes more obvious as the book goes on. Finch is a victim of abuse from his washed up hockey player father who just left his wife and kids for a "new set." Because he once divulged what he was experiencing to someone who doesn't have a clue, he's dubbed the school freak, so for the rest of his high school years, every once in a while, Finch tries out a new persona. British Finch, Rock Star Finch, etc.
When Finch meets Violet on the tower, he becomes enchanted by her. It's not that he was particularly thrown by how beautiful she was right off the bat, but he was drawn to her by something.
When Finch pairs himself with Violet for a class project – one for which they are to "wander" Indiana for remarkable things – their bond is set. The pair travel through the state visiting all sorts of amazing landmarks. It really is great tourism promotion for Indiana!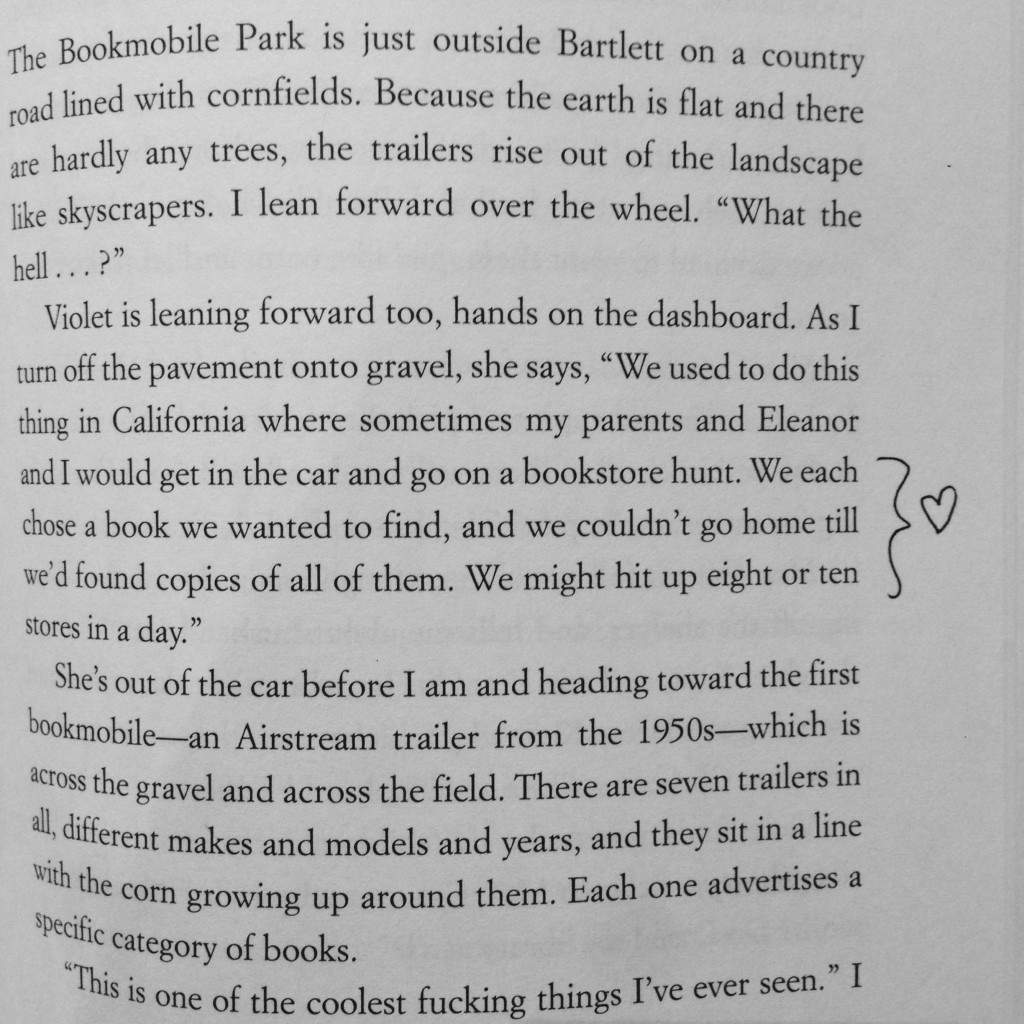 Finch gets Violet over her fear of cars and Violet inspires Finch to write songs and keep the project going even if they didn't have to anymore. They obviously fall in love – that's not going to be a surprise for you – and it is the kind of love you swoon for. In the aforementioned reference, Finch falls into the comparison of Augustus Waters from The Fault in Our Stars. He effortlessly woos Violet, is adventurous, smart and mysterious. He plays it cool (on the outside). I once saw an article calling Augustus the newest Manic Pixie Dream BOY, and though I don't love the title, it does fit for Finch, too.
This is Jennifer Niven's first young adult novel. It's loosely based off of her life, so the passion for the story is there. At first, the writing starts off a teeny bit rocky – any reference such as "if she takes her glasses off, she'd be pretty" makes my face look like I just sucked on a lemon, because even if you are speaking from a teen's point of view, sigh – so I was apprehensive. But I kept going, and I'm so glad I did. I couldn't put it down. Niven wrote in her acknowledgements that she wanted to write from a boy's point of view; I actually think her voice of Finch was stronger than Violet's, but I'm not going to say it was better. You'll fall for both characters.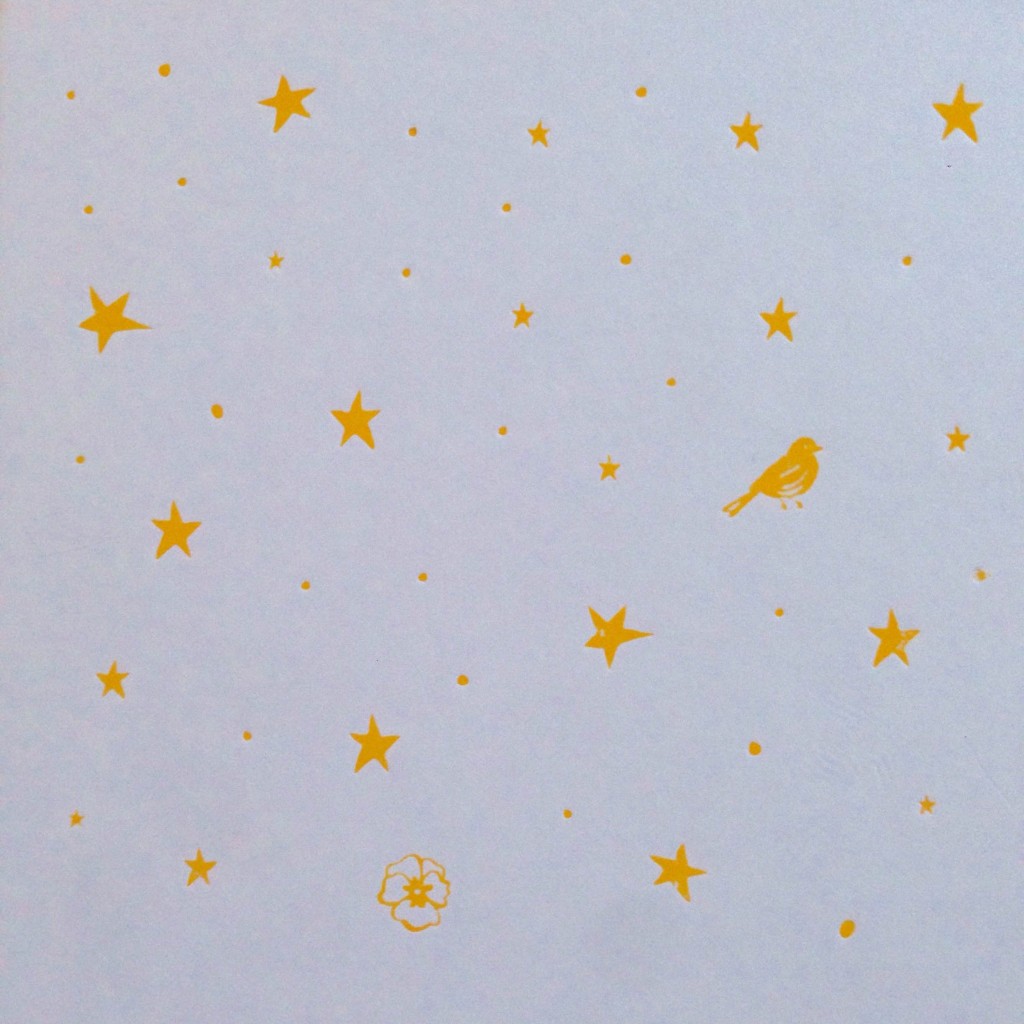 I really appreciate writing on how teenagers can deal with mental health. I am supportive of anything that involves mental health. Especially teenagers – it's when most of us start to deal with issues in our lives but don't know how. I know, I was one of them. Violet knew she was sad, but was too scared of help. She just wanted to go back to normal, but she didn't want to forget her sister. Finch knew he had issues, but refused to listen to what they could be. It goes to show how so many people can be dealing with things left unnoticed by their loved ones and even themselves. If you are feeling things that seem wrong, or off, try talking to someone, but make sure you trust them first.
I think this will be a big YA heavy-hitter (pun intended) for 2015. Niven mentioned in her acknowledgements that she has a film agent, which leads me to wonder if this will be made into a movie. (Update: Book blogger One More Page mentioned it already is, and Elle Fanning will star as Violet. I think she's a great choice.) It's got the story and the hooks, and YA is huge in movies now, but right now, I would love to preserve this story in words, as words are what are so important to Violet and Finch.
All the Bright Places is a beautiful read. By the end of the book, I was bawling like a baby, something I haven't done with a book since the last Harry Potter. So to those of you who have finished the book: let's talk.