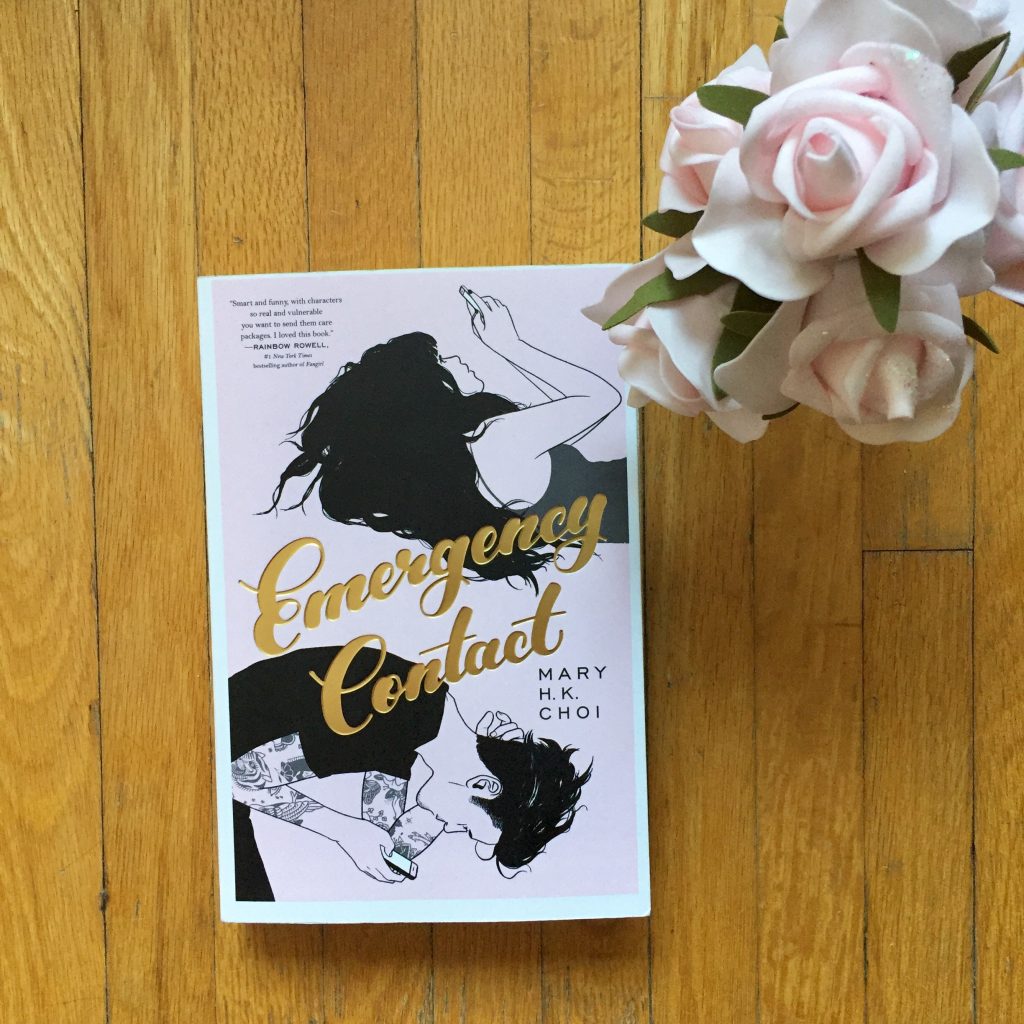 Emergency Contact by Mary H.K. Choi, out now
I must have read the description for Emergency Contact a handful of times and it never stuck. So how did it become one of my favourite books of the year so far? This was a good recurring lesson of 'don't always judge a book by its description' (though as someone who writes book descriptions as part of her job it still nags me). Then I get into the black hole of 'what if all the bad description books are actually amazing?' And things go all haywire. Anyways. A combo of things happened to get me to pick it up and buy it: blogger friends reading and saying they're loving it, seeing it everywhere, and feeling a need for a new kind of book and being in the bookstore at the right place and right time. The power of marketing! And I'm so glad all of those things came into play, because Emergency Contact was exactly what I needed and then some.
Emergency Contact falls into New Adult genre but definitely has YA crossover, as the main character Penny has just started university. I really liked that it took place in her first year at university, because a) it showed how Penny grows once she's taken out of her comfort zone and dropped in the real world and b) it includes her pursuing her passion/career. But the story is mainly an adorable love story, and I'm a sucker for a good one, no matter how much I push against the concept.
The story is told by two characters: Penny, an awkward and uncomfortable aspiring writer, and Sam, a self-aware lost pup/barista/documentary filmmaker. Now reading that might make some people chuckle, but just go with it. Penny first meets Sam when she goes to his cafe with her roommate Jude, who is Sam's former step-niece. Jude makes Penny agree she won't fall for Sam, but obviously that won't stop someone. Penny meets Sam a second time when she sees him fall over at a park while he's having a panic attack. She becomes his emergency contact as she's driving him to the hospital, and away we go on a cute but forbidden texting relationship, as these two awkward ducks find comfort in their new confidants. It starts as a simple friendship, and builds into something even more. While both going through their own very real stuffs, they need to figure out what exactly they're doing, and what their feelings are trying to tell them. Both are in desperate need of having someone who understands them in their life, and they run with it.
What made this story set itself apart from the description and the somewhat simple idea was Mary's writing. She's got a dry humour that will come out of nowhere and tap you on the forehead. It's real, weird, and silly. It had me laughing out loud on multiple occasions. Mary throws herself into Penny's and Sam's voices, giving them exactly what they need to be damaged but pure, adorable yet cringe-inducing, into each other but still focused on their lives, etc etc. Occasionally the writing would feel a little disjointed, and the ending was rushed, but it was rare and not a big deal, so I'd say this was fantastic for a fiction debut from a journalist (not knocking, I used to be one – it's very different writing styles). I very much look forward to future books by Mary.
Emergency Contact faced my challenges and still became one of my new favourite books. If you're looking for a fresh voice with a slightly more grown-up angle from YA while still getting an adorable fix, I'd highly recommend picking this up.
Add to Goodreads | Purchase on Amazon.ca | Purchase on Indigo.ca
Purchase on Barnes & Noble | Purchase on Book Depository