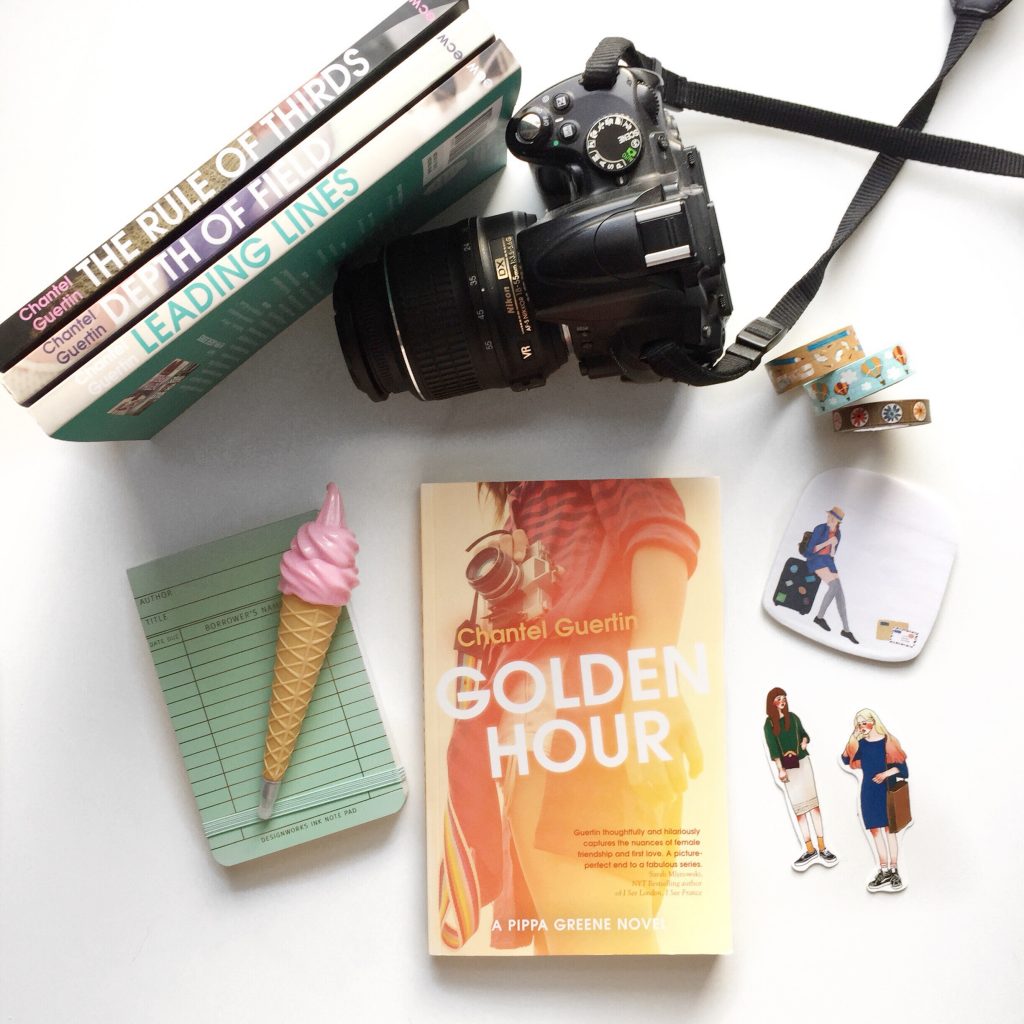 Golden Hour by Chantel Guertin, out now
The long-awaited conclusion to Chantel Guertin's Pippa Greene series is here! For fans of Jenny Han's To All the Boys I've Loved Before series, this equally driven and talented, hyper-focused, total catch of a protagonist is learning her biggest lesson yet.
I've been talking a lot about how I want to read more YA novels about characters who are more focused on working on their life's path, and Pippa Greene is definitely one of those characters. Pippa is a senior in high school who is obsessed with photography and knows with all her heart that she HAS to go to NYU's Tisch School of the Arts. In fact that's the only school she applied to. So when she finds out she's waitlisted for her dream, she hits the spiral quickly.
Pippa has always thought that in order to get into university for something like photography, you have to dedicate your life to it. She lived and breathed photography, it runs in her blood (she takes after her late father). Being waitlisted guts her, and she makes one last desperate attempt to go to NYU and meet with the program head, and it's not what she expected at all. He tells her that she sounds like every other applicant, and what they want to know is what sets her apart. What else does she like besides photography?
My insides squirmed when I read this part, because damn, I get it. I feel like the high school years push two messages at teens as they start to think about their futures: you either know what you love and you do all you can to be perfect at it or you join every club everywhere and spread yourself too thin with nothing that interesting to show for it. So Pippa's reality is a slap on the face to her and I'm sure many readers. Where was this department head guy's message about living-in-the-moment when she was at the Tisch summer camp? Where was it when she was applying? I was so frustrated for her. (But also, she applied to one school! *Dies of anxiety*) This same kind of mentality could be said for job interviews when you're older (AKA does a publishing company really want to hear how much you've loved books since you were a child?) – how do we make ourselves consciously well-rounded? Ugh I'm exhausted thinking about all of this.
Pippa takes living-in-the-moment to mean putting down the camera and following friends in their escapades, and it works enough to show her some perspective. She has her teenage rebellious phase, basically. And of course, in that, she gains a new appreciation for her passion and enough separation to take a look at her goals.
My other big takeaway from these books is her ex-boyfriend Dylan. The distant musician heartthrob first love. I was so done with him in book #3, and I remembered really liking Ben, so I was feeling all catty reading about Dylan in this book. I felt like I was a friend watching Pippa make these choices in her life, and disagreeing with them, but not saying anything about it. Bah! I also felt like his storyline here was a little meh and unnecessary, and I wanted more of Pippa figuring things out without getting back together with her ex. That's just me though.
The Pippa Greene books are short and sweet – now that the series is completed, they make a nice set that you could devour pretty quickly. For my reading experience right now, it's been three years since book #3, so I had a hard time remembering what happened before this, and sometimes found myself looking back on the other books. I know I wouldn't feel this if I read the books closer together, but it did hurt my reading experience in this case, as I didn't have time to re-read the first three books before reading this one. But I think Chantel did a pretty good job with the reminders when Pippa would recall something that happened earlier. I do like Chantel's writing a lot – it comes across so smoothly, and I'm hoping she continues to write YA! (Also, bonus points for being set somewhere near my hometown of Buffalo, NY, which I still think is hilarious.)