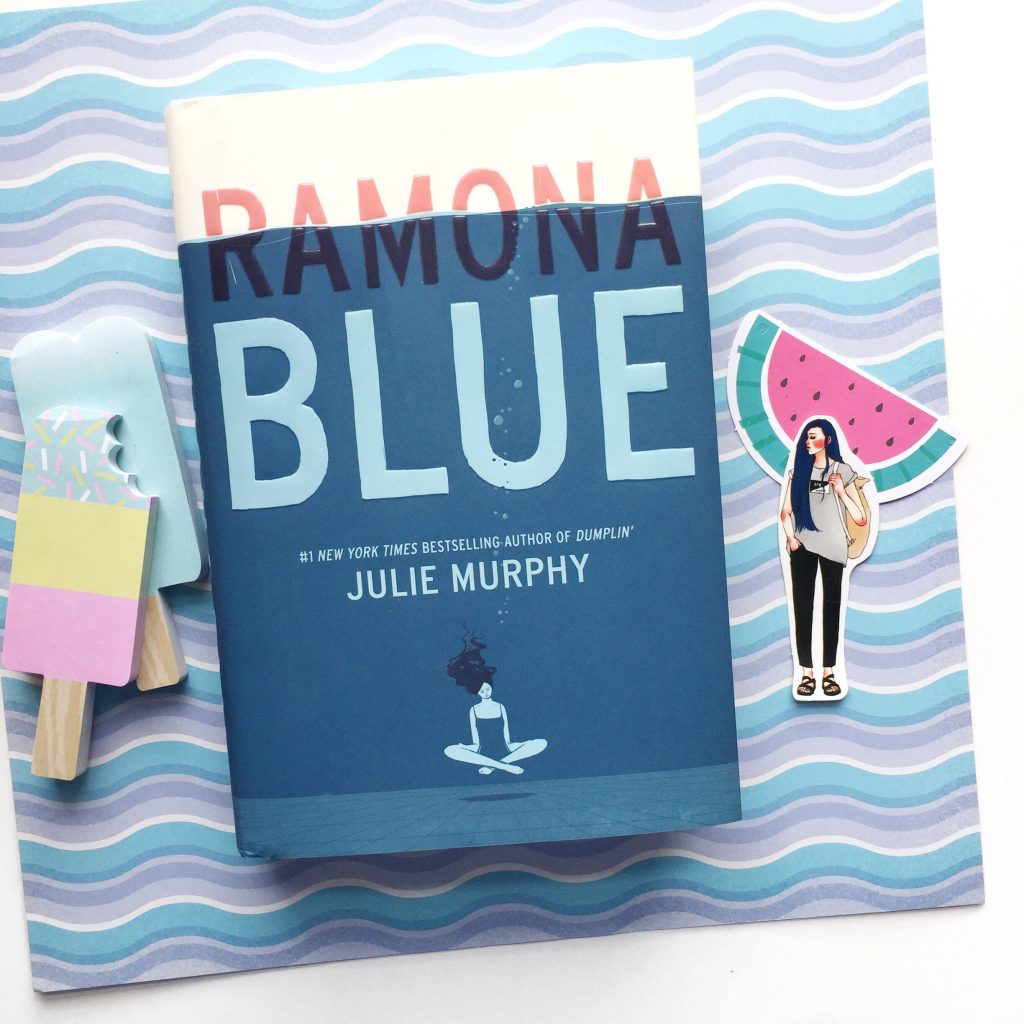 Ramona Blue, by Julie Murphy, out now, via Balzer + Bray
Ramona Blue brought me so much joy. Not only is this story an important one about a girl figuring out her sexuality, but it's also about friendship, family, race, class, and societal standards. Julie Murphy, author of Dumplin' and Side Effects May Vary, has yet again crafted a novel that will be a source of power and comfort to so many teens for many years to come. You can practically feel the sighs coming from all the adults reading Ramona Blue around the world wishing they had something like this when they were a teen.
Ramona lives in a tiny town in Mississippi in a trailer park with her sister Hattie and her dad. It's been the three of them for a while; the parents divorced, and both daughters stayed with their father. Ramona is used to taking care of her overworked dad and her sweet but dependent sister. But now Hattie is pregnant, and since the baby daddy doesn't seem like he will be in the picture forever, even though he's moved into the crowded trailer, Ramona assumes that she will have to forgo college in order to help raise the child. She works hard at her two jobs delivering newspapers and working at a restaurant. One day, on her delivery route, as she throws a paper onto a yard, she hears someone call her name, which ended up forever changing her life: it was Agnes, an old neighbour from when they lived in Baton Rouge. Ramona finds out that Agnes's grandson Freddie (of course her childhood best friend) still lives with her, and the two reconnect their friendship quickly.
The idea that I'm someone's best friend fills my rib cage with summer.
Ramona is strong and has a good sense of herself – she is completely fine with being one of the two out lesbian teens in the town, and nobody seems to bother her about it. Over the summer, she fell for a vacationer named Grace who still had a boyfriend and wouldn't come out of the closet. When Grace goes back home, Ramona is heartbroken, but not weak. Ramona finds solace in her friendship with Freddie as they spend more and more time together, and soon enough, Freddie is going through a breakup of his own. Eventually, Freddie reveals his feelings for Ramona, even though he knows she likes girls. Things get confusing for a while, as they would, but Ramona knows she feels something for Freddie, too, and it freaks her out at first because Freddie isn't a girl. When they kiss, Ramona's doubts float away, leaving her to enjoy her moment and just feeling good before the unnatural-for-her questioning of self begins.
My first thought isn't that I'm gay or that Freddie is a boy or that he's one of my best friends. His lips are lips. They're soft and they taste like pumpkin pie and whiskey.
When I first heard of the plot for this book, I figured some people would get upset, because it's a girl who likes girls, and yet now she likes a boy. (I was right, it did kind of blow up for a bit, but we're not going to put any more attention on that.) I can see how it can come across as offensive if one was to briefly read the description and not think about it for a second. But this book is not offensive. Ramona's story is very real. It's totally acceptable to worry that a book would put out the idea of a girl not being gay 'anymore,' but also, bi-erasure is a thing, and bisexuality is something that the young adult community is trying very hard to put more attention on these days. This kind of situation has happened to many people. And in this case, just because Ramona gets with a guy after thinking she was a lesbian doesn't mean she'll never like girls again. And because she labeled herself as a lesbian in the past doesn't mean she must forever call herself a lesbian. In fact, Julie has been vocal about how she identifies with Ramona as a bisexual person and that she put a lot of herself into Ramona. While Julie labels herself, Ramona does not, and I admire both of their decisions. It means the reader can't label Ramona either, that Ramona is still figuring things out but knows it doesn't have to happen right away, that acknowledges that you know what, she doesn't need a label.
Life isn't written in the stars. Fate is ours to pen. I choose guys. I choose girls. I choose people. But most of all: I choose.
I did really like Ramona and Freddie together. They had a good jive, and yes, those make-out scenes were hot! But they also just understood each other, and Freddie never pressured Ramona to label herself or their relationship. I enjoyed reading their dynamic. I also must note that Ramona's friends – the queer brother and sister duo Saul and Ruth – were great secondary characters, and though flawed, I liked reading of Ramona's relationship with her sister. One thing that I thought was a bit odd was that it's mentioned a couple times that Ramona and her family moved after Hurricane Katrina. I thought this would factor into the story more, but it barely did. I don't think that's wrong, but it kind of felt like 'why mention it, then.' There's an opportunity to write about a family that escaped a terrible hurricane, but that went nowhere in the story, which is just as well, because the plot would probably feel crowded.
Here are three of my other favourite quotes from the book. Oh Julie, I love your dreamy style.
"I hate this idea that boys are thinking about sex nonstop and girls are thinking about – what? Stationery and garden gnomes? No."
"Because just the feeling of being touched – being held – is the release of a pent-up sigh."
"I feel like I've sprouted a magic seed, causing flowers to sprout up in my belly, and now they're swelling against my rib cage."
An advance review copy of the book was provided by HarperCollins Canada in exchange for an honest review.