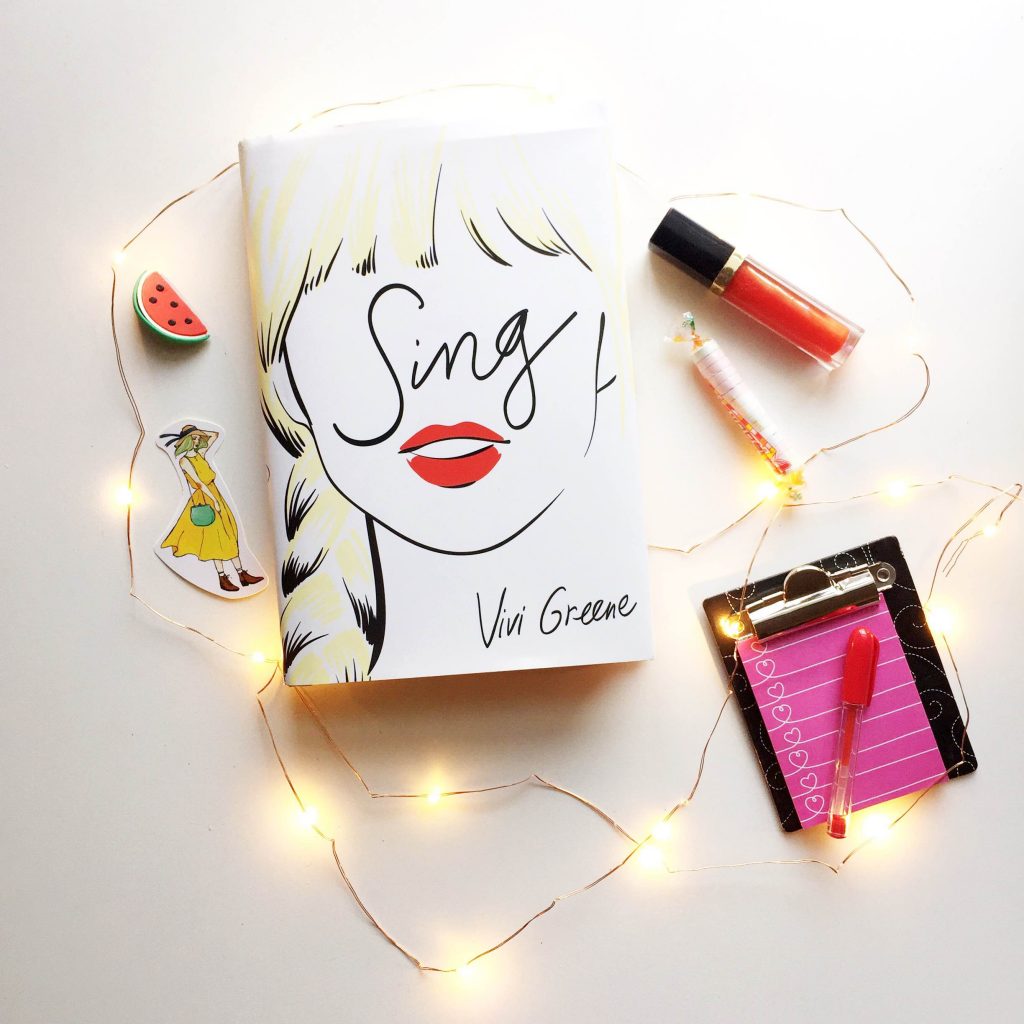 Sing by Vivi Greene, via HarperTeen, out now.
[I received this book from HarperCollins Canada in exchange for an honest review; this did not affect my opinion of the book whatsoever. Disclaimer: I am now an intern there (weee!), but received this book before I started!]
Lily Ross is the world's biggest pop star who wears her heart on her sleeve, and she's going through yet another breakup in front of everyone. Sound familiar? It should, because this book is basically a fictionalized Taylor Swift story, which I totally gobbled right up.
In the summer months before she's supposed to start her massive next tour, Lily needs to unplug from life and remember what she's made of – so her and her friends Sammy and Tess go live in a cottage in Maine to chill out for a while. But of course, while Lily is trying to relax and write new songs – who would want to go sing their love songs for their ex for the next year? – she meets a cute townie named Noel, who challenges her in more ways than one.
Lily has to figure out if Noel is the spark behind her new flush of creativity or if he's taboo. She has to distance herself from her ex Jed (also a rock star). She wants her new songs to not be about a guy for once.
I grab my journal from the nightstand, my guitar from its case on the floor, and cozy up in a corner of the bed, wedging the pillows behind me.

There's so much I want to say. I could write a dozen songs in the next three hours about all the ways Jed has hurt me. But they would still be about him. Every time I write a song it feels like I'm giving little bits of myself away. And I don't want to give Jed – or any of the guys I've dated – another piece of me.
Lily's a pretty solid girl – she cares about people, she's mature, she's aware of her surroundings. She likes the business of her work and knows she does it well. She understands that almost everyone around her is there for her but tries to find the modest parts of it. And for the most part, she's quite driven (when she's not wanting to shut the world off for a day or two). But her biggest sensitivity seems to be how she gets distracted by guys and love.
I loved this quote from Lily's best friend Tess:
"This is who you are, Bird. It's the reason people who have never met you send you holiday cards, and knit your face into sweaters, and light candles for you at church. They love your music, yes, but they also love you. Like, really love you. And it's because they know you care about them. You care about everyone. You'd fall in love with a paper bag if it hung around you long enough."
Because I knew that this book was loosely based on TSwift, it made it almost impossible for me to read it as if it was anyone else. So it was a bit hard to make Lily her own character in my head. I didn't really mind, though. It was an interesting exercise for me, because I don't usually go for the retelling or fanfic kinds of stories. It was also interesting to read it just as Taylor's breakup with Calvin Harris and new 'relationship' with Tom Hiddleston (I call lies) started to play out and knowing the world is just so ready for new Taylor post-guy songs.
Lily's relationship with Noel is super sweet, he's just that quiet hometown boy who doesn't really want to be in the spotlight, so Lily has to figure out how to combine her two favourite lifestyles/circles. Reading Sing was like the equivalent of watching a Disney Channel movie (I loved that). It's a simple story with all the predictable plot points, but it's so enjoyable. It's a great light summer read – I read it within two days – and will leave you wanting to dance around your bedroom to poppy love songs.