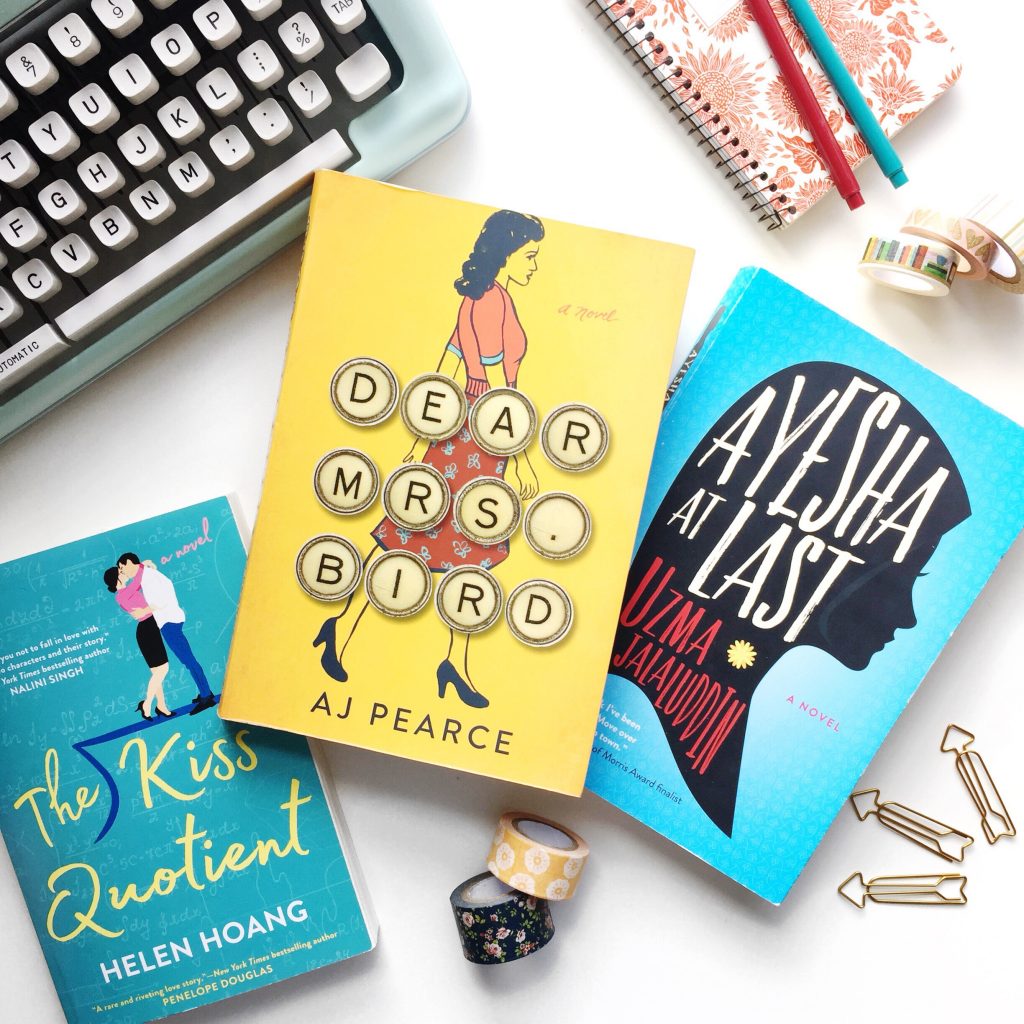 Hello hello, another disclaimer of 'yikes it's been a while,' insert here. But let's just quickly move past that, shall we? These three adult books (I know, shocker) are some of my favourite reads this year!
Dear Mrs. Bird by AJ Pearce
If you loved The Guernsey Literary and Potato Peel Pie Society, you'll love this. Set during WW2 in London, Emmy Lake is trying to figure out how to become a journalist, or as they call it, a Lady War Correspondent. She volunteers answering the phones at a fire station and adores living with her longtime best friend Bunty. When she sees an ad for a job at the London Evening Chronicle, she goes in head-first, gets the job, and then realizes that it wasn't what she thought it was. It's actually an administrative job for the partner women's magazine to the paper — Emmy has to read the letters from women coming in looking for advice and decide which are acceptable for the publisher to answer, which is no easy feat, since it was shameful for women to admit they need help while the men were off doing honourable fighting. She feels for all of these women writing letters and decides to take the answers into her own hands.
Despite its sad context, the best word to describe this book is 'delightful.' I had a grand old time reading it — I really wormed my way into Emmy's life quite easily. I loved learning more about what it was like to live in a major city during a major war (sometimes things felt eerily close to current day, though). I was so interested in the concept of the book, and how it came to be. I liked Emmy as a main character, her best friend Bunty, and her colleagues Kathleen and Mr. Collins. A lot of time while reading I was picturing this as a movie. But I wanted more letters! There wasn't as much letter-writing to the readers as I felt was promised, it was more about living in London during WW2, which is fine, but I felt misled. I also wasn't fully comfortable with the 'is Emmy a good person or bad person' sort of direction it was going with the moral ideas with the letters, and I felt the ending was rushed. Don't let this deter you, these were just things that nagged at me. I actually read this in June and I'm still thinking about it, which is the mark of a good book for me!
Add to Goodreads | Order on Amazon | Order on Indigo | Order on Book Depository
The Kiss Quotient by Helen Hoang
2018 is the year that I gave in to the fun of sexy books, and The Kiss Quotient is a big proponent in that. I'd seen this book all over all my feeds for weeks, and I finally caved at the urges of friends, and I'm so glad I did. Stella Lane is a genius with Asperger's with a whole lot of money for inventing an algorithm used for online shopping. But she is lacking in the romance department. When her parents start pestering her about having grandchildren, Stella panics at the thought of a relationship, and decides she needs practice. So she hires an escort to help her feel more comfortable with sex. She didn't expect that the escort would be a gorgeous and sweet Vietnamese-Swedish hunk named Michael Phan. Michael is equally stunned that his client isn't a middle-aged crazy-eyed mom. When he realizes her roadblocks with intimacy, he immediately adapts and tries to help her at her own pace. Stella finds herself so comfortable with him that she proposes to hire him for weeks, and then months, with not just intimacy but as a pretend boyfriend. So of course they soon fall in love while eventually having perfect sex, and they have to admit their feelings to themselves and each other before they lose one another to "reality."
This book left me with a solid hangover when I was done! Helen's writing was so good, and I adored Stella and Michael. At times Stella felt a bit like a cliche, but I was fine with that because how often have you read a romance story about a woman on the spectrum? Michael was such a good egg to her that it melted my heart. The book has been in the beginnings of becoming a movie these days and I am SO. EXCITED. And coming in 2019 is The Bride Test which focuses on a side character of the novel!
Add to Goodreads | Order on Amazon | Order on Indigo | Order on Book Depository
Ayesha at Last by Uzma Jalaluddin
I don't read a lot of retellings but this one caught my attention as it's a Pride & Prejudice story of two Muslim characters that takes place in a suburb outside of Toronto. It took me a little while to get into the book but once I did I was hooked! Ayesha is used to floating in the background of her younger cousin Hafsa's life. Hafsa gets all the attention but does none of the work for it. Ayesha is shy, with some deep-rooted anger, and is trying to make it as a substitute teacher and spoken-word poet. Khalid is traditional, conservative, and frustrated at how his appearance hinders him at work with his racist boss. He's also incredibly soft-hearted and just wants to find a partner – except in an arranged marriage. Ayesha and Khalid have two odd chance encounters in which they clash, but eventually feelings get messy and adorable! Things get even more complicated when Khalid's mother sets up an arranged marriage with Hafsa…
This was super fun and at times so ridiculous, all the while being swoony and sweet. I think there's also talk of a movie for this one, which I'd love to see. This book has everything but it's not crammed or anything like that. I'm excited for what's next to come from Uzma as well!
Add to Goodreads | Order on Amazon | Order on Indigo | Order on Book Depository
Have you read these books? Are they on your TBR/wishlist?