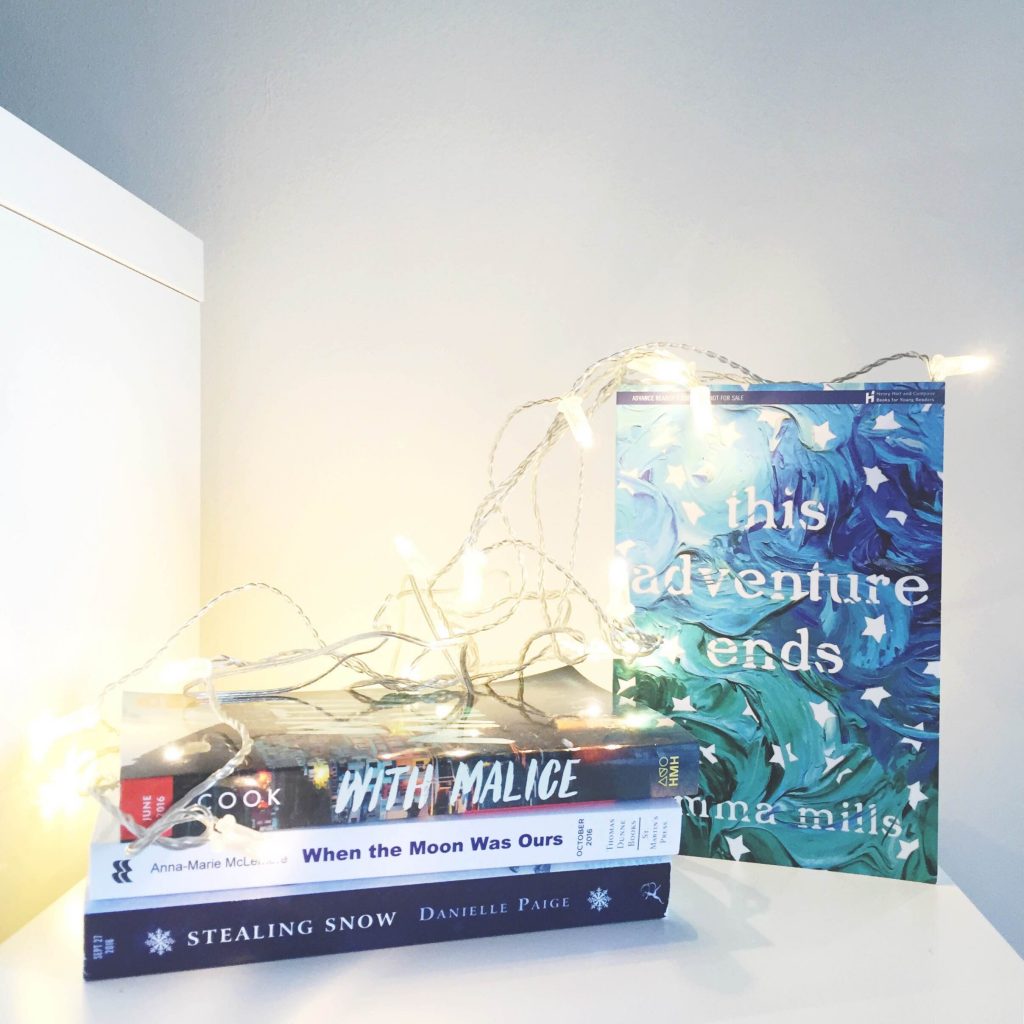 Last weekend I had the pleasure of attending Raincoast Books' fall/winter preview for YA and middle grade titles (check out the Twitter feed for lots of coverage – #TeensReadFeed). It was a fun picnic-like gathering of book bloggers, and though the event was actually in Vancouver, we got to Skype in from Toronto. Raincoast is a distributor in Canada, which means they are in charge of selling/distributing books within Canada from certain multiple publishers. The lovely team presented a lot of books, but I want to tell you about the ones that caught my interest. While I'm not into YA fantasy that much, as much as I want to be (quite the huge trend these days), there were plenty of suspense and contemporary books that I'd pick up. So here they are to mark on your to-read lists for the fall and winter! (It's coming up sooner than you think.)
Middle Grade:
Write This Down by Claudia Mills. Out September 27th via BYR.
"Twelve-year-old Autumn loves to write. She finds inspiration all around her, especially in Cameron, the dreamy boy in her journalism class who she has a major crush on. Then her older brother, Hunter, who used to watch out for her but has grown distant since he started high school, reads one of her poems about Cameron to Cameron's older brother. They make fun of it and she is devastated. Determined to show her brother how talented she really is, Autumn decides that she is going to become a published author – now! She writes an essay about her changing relationship with her brother, enters it in a contest, and wins, and her dream of publication is within reach. But if her essay is published, everyone will know her family's secrets. Is being published worth hurting those you love?"
Girls Like Me by Lola St. Vil. Out October 4th via HMH Books for Young Readers.
"Fifteen-year-old Shay Summers is trying to cope with the death of her father, being overweight, and threats from a girl bully in school.  When she falls in love with Blake, a mysterious boy online, insecure Shay doesn't want to tell him who she is. But with the help of her two best friends, as well as an assist by Kermit and Miss Piggy, ultimately Shay and Blake's love prevails."
Young Adult:
With Malice by Eileen Cook. Out June 7th via HMH Books for Young Readers. (I know it's not fall, but it's coming up, and I'll be on the blog tour in a few weeks!)
"Eighteen-year-old Jill Charron wakes up in a hospital room, leg in a cast, stitches in her face and a big blank canvas where the last 6 weeks should be. She comes to discover she was involved in a fatal accident while on a school trip in Italy three days previous but was jetted home by her affluent father in order to receive quality care. Care that includes a lawyer. And a press team. Because maybe the accident…wasn't an accident. Wondering not just what happened but what she did, Jill tries to piece together the events of the past six weeks before she loses her thin hold on her once-perfect life."
Girl on a Plane by Miriam Moss. Out September 13th via HMH Books for Young Readers.
"Jordan, 1970. After a summer spent with her family, fifteen-year-old Anna is travelling back to her English boarding school alone. But her plane never makes it home. Anna's flight is hijacked by Palestinian guerillas. They land the plane in the Jordanian desert, switch off the engines and issue their demands. If these are not met within three days, they will blow up the plane, killing all the hostages. The heat on board becomes unbearable; food and water supplies dwindle. Anna begins to face the possibility she may never see her family again. Time is running out . . . Based on true events, this is a story about ordinary people facing agonizing horror, of courage and resilience."
The Cabin by Natasha Preston. Out September 15th via Sourcebooks Fire.
"When Mackenzie treks to a secluded cabin in the woods with size friends, she expects a fun weekend of partying, drinking, and hookups. But when they wake to find two of their own dead and covered in blood, it's clear there's a killer among them. As the police try to unravel the case, Mackenzie launches her own investigation. Before long secrets start to emerge, revealing a sinister web of sins among the original seven friends. The killer is still free. Every one of them is a suspect. And Mackenzie starts to realize that no one is innocent."
Stealing Snow by Danielle Paige. Out September 27th via Bloomsbury USA Childrens.
Seventeen-year-old Snow has spent the majority of her life within the walls of the Whittaker Institute, a high security mental hospital in upstate New York. Deep down, she knows she's not crazy and doesn't belong there. When she meets a mysterious, handsome new orderly and dreams about a strange twisted tree she realizes she must escape and figure out who she really is. Using her trusting friend Bale as a distraction, Snow breaks free and races into the nearby woods. Suddenly, everything isn't what it seems, the line between reality and fantasy begins to blur, and she finds herself in icy Algid–her true home–with witches, thieves, and a strangely alluring boy named Kai, none of whom she's sure she can trust. As secret after secret is revealed, Snow discovers that she is on the run from a royal lineage she's destined to inherit, a father more powerful and ruthless than she could have imagined, and choices of the heart that could change the fate of everything… including Snow's return to the world she once knew. This breathtaking first volume begins the story of how Snow becomes a villain, a queen, and ultimately a hero."
When the Moon was Ours by Anna-Marie McLemore. Out October 4th via Thomas Dunne Books.
"When the Moon Was Ours follows two characters through a story that has multicultural elements and magical realism, but also has central LGBT themes—a transgender boy, the best friend he's falling in love with, and both of them deciding how they want to define themselves. To everyone who knows them, best friends Miel and Sam are as strange as they are inseparable. Roses grow out of Miel's wrist, and rumors say that she spilled out of a water tower when she was five. Sam is known for the moons he paints and hangs in the trees, and for how little anyone knows about his life before he and his mother moved to town. But as odd as everyone considers Miel and Sam, even they stay away from the Bonner girls, four beautiful sisters rumored to be witches. Now they want the roses that grow from Miel's skin, convinced that their scent can make anyone fall in love. And they're willing to use every secret Miel has fought to protect to make sure she gives them up."
This Adventure Ends by Emma Mills. Out October 4th via BYR.
"Sloane isn't expecting to fall in with a group of friends when she moves from New York to Florida—especially not a group of friends so intense, so in love, so all-consuming. Yet that's exactly what happens. Sloane becomes closest to Vera, a social-media star who lights up any room, and Gabe, Vera's twin brother and the most serious person Sloane's ever met. When a beloved painting by the twins' late mother goes missing, Sloane takes on the responsibility of tracking it down, a journey that takes her across state lines—and ever deeper into the twins' lives."
One Was Lost by Natalie Richards. Out October 15th via Sourcebooks Fire.
"Murder, justice, and revenge were so not a part of the plan when Sera set out on her senior camping trip. After all, hiking through the woods is supposed to be safe and uneventful. Then one morning the group wakes up groggy, confused, and with words scrawled on their wrists: Damaged. Deceptive. Dangerous. Darling. Their supplies? Destroyed. Half their group? Gone. Their chaperone? Unconscious. Worst of all, they find four dolls acting out a murder—dolls dressed just like them. Suddenly it's clear; they're being hunted. And with the only positive word on her wrist, Sera falls under suspicion…"
A Darkly Beating Heart by Lindsay Smith. Out October 25th via Roaring Brook.
"A time-travel story that alternates between modern day and 19th century Japan as one girl confronts the darkness lurking in her soul. No one knows what to do with Reiko. She is full of hatred. All she can think about is how to best hurt herself and the people closest to her. After a failed suicide attempt, Reiko's parents send her from their Seattle home to spend the summer with family in Japan to learn to control her emotions. But while visiting Kuramagi, a historic village preserved to reflect the nineteenth-century Edo period, Reiko finds herself slipping back in time into the life of Miyu, a young woman even more bent on revenge than Reiko herself. Reiko loves being Miyu, until she discovers the secret of Kuramagi village, and must face down Miyu's demons as well as her own."
The Hundred Lies of Lizzie Lovett by Chelsea Sedoti. Out January 15th, 2017 via Sourcebooks Fire.
"A teenage misfit named Hawthorn Creely inserts herself in the investigation of missing person Lizzie Lovett, who disappeared mysteriously while camping with her boyfriend. Hawthorn doesn't mean to interfere, but she has a pretty crazy theory about what happened to Lizzie. In order to prove it, she decides to immerse herself in Lizzie's life. That includes taking her job… and her boyfriend. It's a huge risk — but it's just what Hawthorn needs to find her own place in the world."