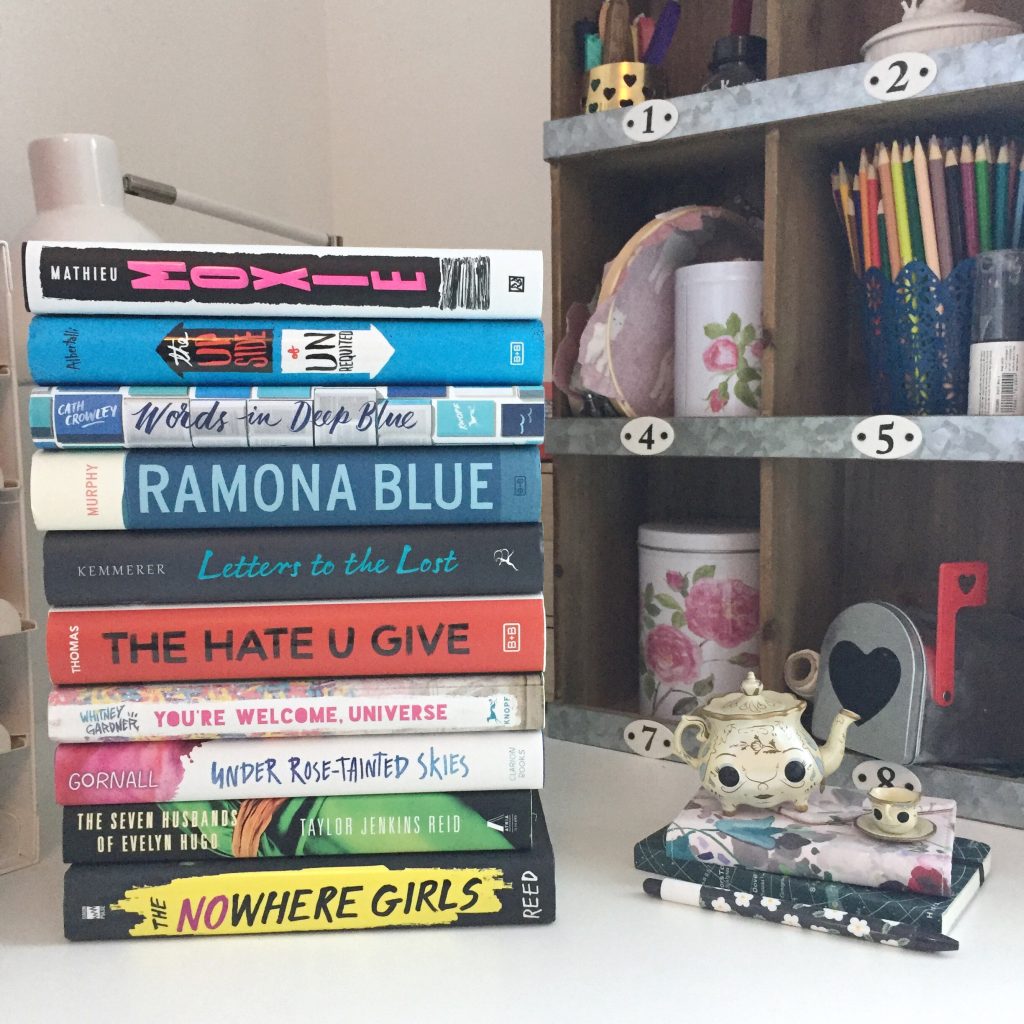 As we all breathe out a sigh of relief that 2017 is over, but breathe in a hesitant breath of oh-god-what-if-2018-is-worse-but-for-now-I'll-look-forward-to-it, whether we want to or not, it's a time of reflection. So today, I'm coming in at the very end of the year to share my favourite books of the year, to your great luck and enjoyment!
It's been tough figuring out this year's list due to being indecisive on specific placements and sitting around trying to recall how I felt after reading each book, and an important part: how much I remember about them months later. If I can remember names and details still, to me, that's huge :p I must say that my top three were rock solid in there, though. I more than loved those books, I felt them with my being. They're the ones I haven't stopped talking about, the ones that hit me to my core, the ones that were incredibly beautiful to me. While I do love all ten on this list for their own reasons, these three are just ingrained onto my heart.
So, my top ten 2017-published reads! *drumroll*:
Moxie by Jennifer Mathieu

For its protagonist who learned how to stick up for herself and others, its story of girls in a conservative Southern high school striking back, and for the zines!

The Upside of Unrequited by Becky Albertalli

For Molly Peskin Suso being the closest character to myself I've ever found, and for just the pure love that fills this book.

Words in Deep Blue by Cath Crowley

For the whole writing letters and leaving them in books in a bookstore thing, but I also had so much love for the four main characters.

Ramona Blue by Julie Murphy

For Ramona being just the best and for her story of learning she's bisexual. And for Julie's gorgeous writing.

Letters to the Lost by Brigid Kemmerer

For being so good I read it in a day, for its beautiful exploration of grief and for its lovely characters who are hilariously clueless.

The Hate U Give by Angie Thomas

For being so powerful and full of purpose, for what it's done in the book world, for Starr being the character you never want to be separated from, for Angie's storytelling.

You're Welcome, Universe by Whitney Gardner

For Julia's rage, art, and passion, and her friendship with a girl she dubs Yoga Pants.

Under Rose-Tainted Skies by Louise Gornall

For its amazing portrayal of mental health and Louise's lovely writing.

The Seven Husbands of Evelyn Hugo by Taylor Jenkins Reid

For being addictive, fascinating, and really well told.

The Nowhere Girls by Amy Reed

For making me uncomfortable and angry, for showing how so many girls face sexual harassment and abuse, for its amazing three main girls who are the last people you'd think to be the secret organizers of an anonymous feminist group.
Want to know more about these awesome books? 8/10 are linked to posts of their own on the site where I gush a lot!
Now I really like to take a look at my overall reading at the end of the year, so here are my observations:
All the books in the top 10 are written by women. 9/10 are YA. I'd say 4 are considered diverse, and I'm pretty disappointed to see that out of these 10, only one was written by a WOC. My top three are all about white girls who are straight. And I fully realize that part of why I loved those books so much was because they tied into my identity or resonated with me personally, so I definitely need to work on identifying books I love for other reasons and unpack that. Reading more diversely was something I aimed for this year, and I'd at least say out of the 83 books I read, I did better than previous years, but this is still clearly not enough at all.
Girl power was a huge theme this year, especially under Moxie and The Nowhere Girls. I took immense delight in watching how people reacted to these books online and how they were inspired. Reading these books made me feel so many feelings from empowered to angry, which means they did their job.
I set my reading goal for the year to 60, knowing that I was starting a job in publishing, thinking that would mean fewer books read for pleasure due to reading for work. Looking at my progress on Goodreads, out of the 83 books I read, 58 were books for personal enjoyment, and 25 of them were plays I read for work. While this isn't due to losing time, it's just is what it is. Fine by me! I've really enjoyed adding plays to my reading repertoire, and getting more folks to do so as well.
I feel like continuing my top list to 20, so these are what 11-20 would be:
11. Dear Martin by Nic Stone
12. You Bring the Distant Near by Mitali Perkins
13. Everything All At Once by Katrina Leno
14. Queens of Geek by Jen Wilde
15. The Lost Art of Letter Writing by Menna van Praag
16. The First Rule of Punk by Celia C. Perez
17. I Believe in a Thing Called Love by Maureen Goo
18. Eliza and Her Monsters by Francesca Zappia
19. They Both Die at the End by Adam Silvera
20. When Dimple Met Rishi by Sandhya Menon
I have slowed down on reading grip lit and series. For grip lit, I was growing tired of feeling like I was reading the same story over and over again. For series, because for all the ones I started in 2016, I kept going with one of them (and the second book was a disappointment). I find that I get cravings for series that I can binge like a show or like Hunger Games (sadly movies not the books) but I haven't found anything satisfactory yet, and I don't like waiting a year+ for the next instalment. I tried Lauren Oliver's Delirium trilogy and wasn't thrilled with it, but it did give me the binge high.
Since I've become a book blogger, almost everything I read is from the same year that I read in… which is… weird. It puts me under pressure, to always be up on the new releases, and there are SO many coming out that grab my interest, but I only catch so many. Before I was a book blogger I just read whatever book I wanted regardless of when it came out or what publisher it was from.. :p Two books I read this year that were not published in 2017 were actually two books that I loooooved. They were Rooms by Lauren Oliver and The Guernsey Literary and Potato Peel Pie Society by Mary Ann Shaffer and Annie Barrows. I absolutely adored them, and if I had a list of any books I loved from 2017 these would be on it! Next year I hope I can loosen up on this some more and be able to find a more comfortable balance between new and 'old' books.
So! I'm looking forward to all the great books I'll read in 2018.
What were your favourite books of 2017, and what do you like to observe about your reading habits?