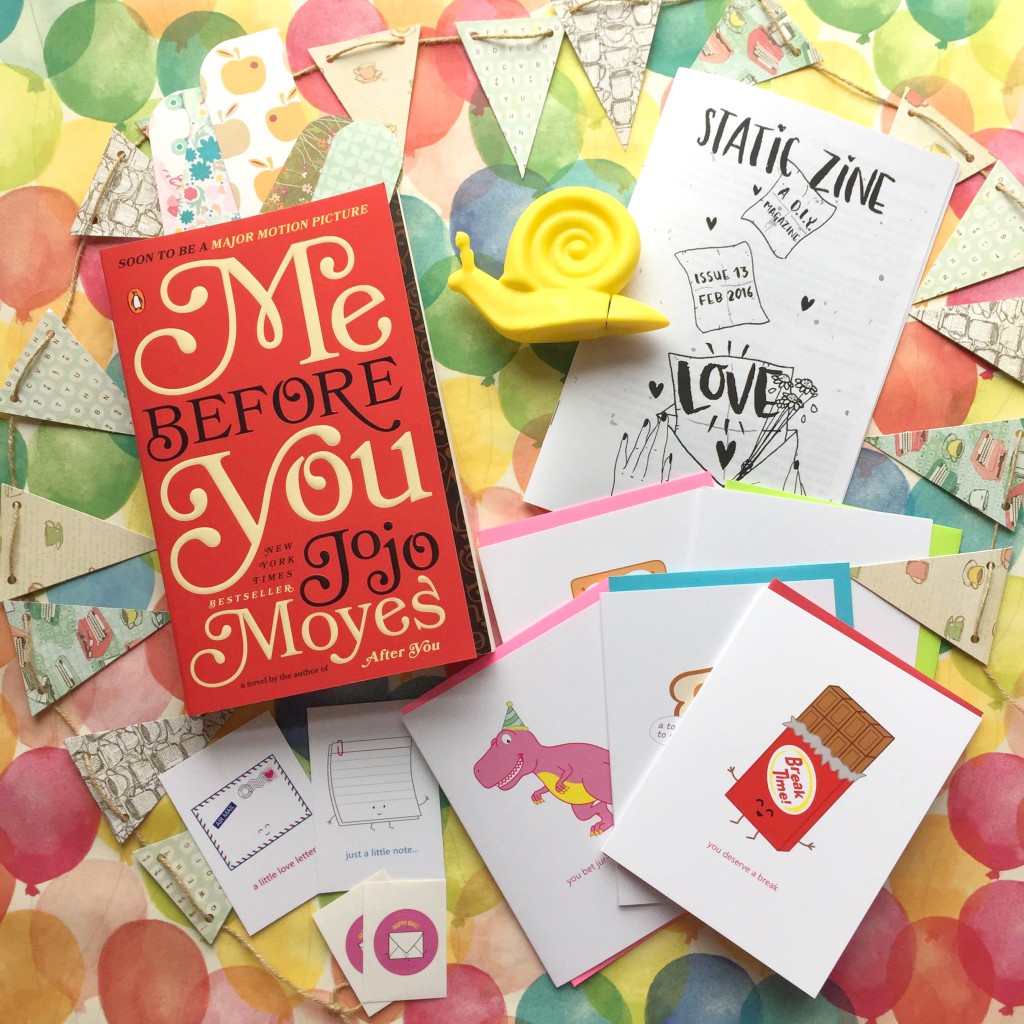 Happy birthday to The Paper Trail Diary! It's been two years since I've been writing about books, zines, snail mail and paper crafts, and I've loved every minute of it. I so enjoy being able to review books and write about mail projects. I've met so many amazing people through blog and social media connections too, which has been really valuable to me. I've started projects like The Notebook and Pen Swap and the Chain Letter Short Story Project (#2 should be coming back to me in a month or so! Ah!), have participated in events (stay tuned for news on another!), begun working on a book proposal and more. This blog has done so much for me, but only because of you guys, you lovely paper dolls, so what better way to give a shout back than to do another giveaway!
But first, here are some highlights from the past year:
10 things to learn if you wanna be a fangirl
Book Review: Snail Mail by Michelle Mackintosh
Book Review: Everything Everything by Nicola Yoon
5 things you'll relate to from I Can't Believe It's Not Better
Book/Movie Review: The Diary of a Teenage Girl
A Toronto Favourite: Paperchase
Favourite Instagrams: Snail Mail – Pen Pal Edition!
Stationery Talk: Adorable notepads and unique cards
Zine Spotlight: Winged Snail Mail
The 2015 Notebook & Pen Swap: Incoming photos!
Incoming and Outgoing: The Creative Exchange
Book Review: Gena/Finn by Hannah Moskowitz and Kat Helgeson
Check out the third Flow Book for Paper Lovers
This year's giveaway includes two packages, one for you and one for your friend.
This is what you'll get:
This is what your friend will get:
Because Instagram is the place that inspired me to start the blog, is where I've made so many friends and is where I generally do most of my blog-ness rather than the blog, that is where the contest will be!
In order to enter the contest, you must do all four of these steps:
1. Head over to this picture on Instagram.
2. Like the picture.
3. Follow me on Instagram if you aren't already.
4. Comment with a friend's handle who'd get their own package.
Fine print:
Your account must be public and not an exclusive giveaway account!
Unfortunately I have to limit this to North America because shipping prices are extremely high these days. Sorry, international friends 🙁 I have smaller giveaways often which are international!
I will chose a winner randomly Saturday (May 8) morning.
Good luck, and thank you so much for everything!