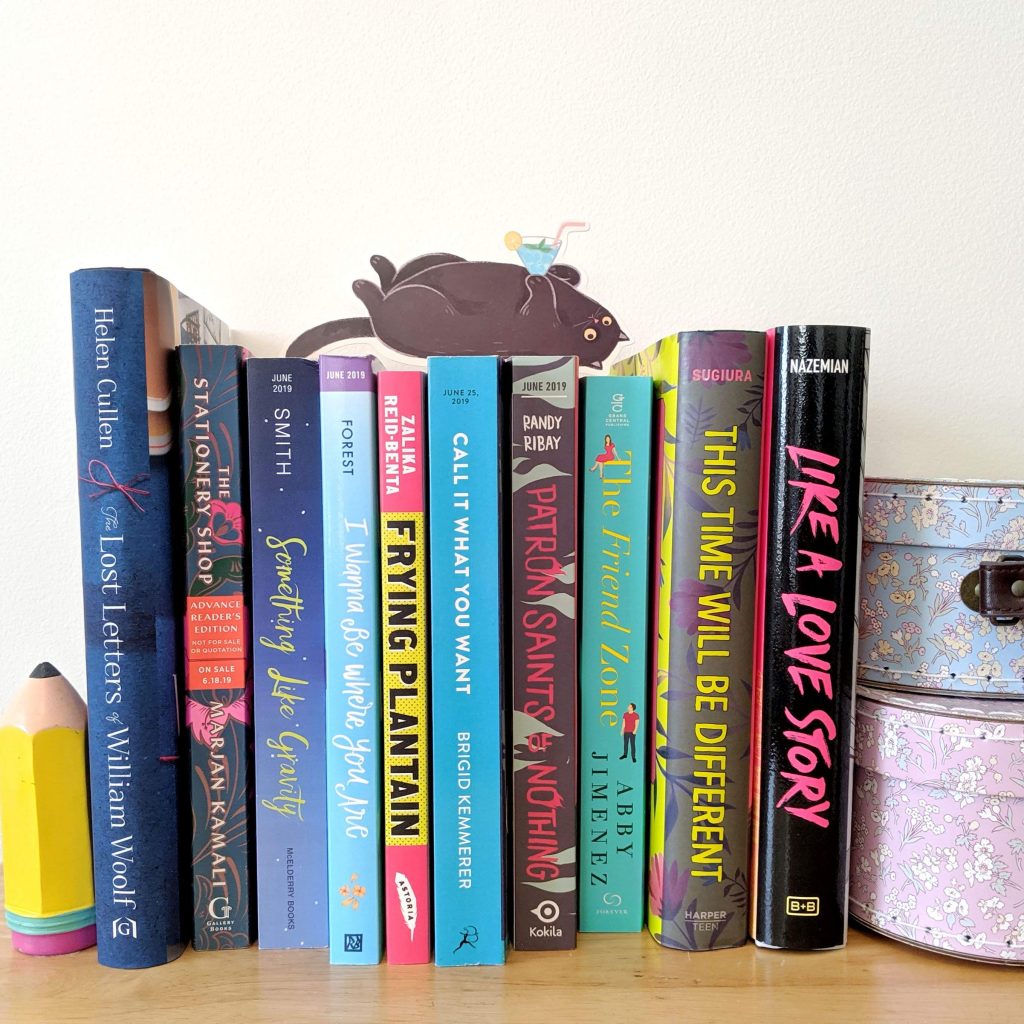 Sooo it might be more than halfway through June, but whatever. Here is my list of exciting books that are out this month! Enough to last you for the rest of the year, pretty much. Your future favourite summer read may be below:
Out now
If It Makes You Happy by Claire Kann: [YA] Winnie dreams of inheriting her family's diner but that might not happen if the diner can't stay afloat. To try and help out, she wants to enter a cooking show but her granny won't let her. So Winnie has to find a way to get around her grandma to save the family!
The Lost Letters of William Woolf by Helen Cullen: [Adult] My fellow mail lovers will squee over this one: William Woolf a "letter detective" aka a postal worker whose job it is to reunite lost letters with their owners. When letters addressed to 'My Great Love' start arriving, William finds himself on quite the journey!
Frying Plantain by Zalika Reid-Benta: [Adult] Kara is caught between her Canadian nationality and desire to be a "true" Jamaican. In twelve interconnected stories, we see Kara grow up in between worlds.
I Wanna Be Where You Are by Kristina Forest: [YA] Chloe's mom won't let her apply to the dance conservatory of her dreams, so she plots a secret road trip. But her neighbour Eli insists on coming with her (and bringing his dog), and suddenly she's in for a life-changing trip.
This Time Will Be Different by Misa Sugiura: [YA] CJ's family has always owned a flower shop, but when her mom suddenly decides to sell it – to the family who swindled CJ's grandparents when thousands of Japanese Americans were sent to internment camps during WWII – CJ takes the fight into her own hands.
Where I End and You Begin by Preston Norton: [YA] Ezra is an anxious insomniac who has been trying to work up the nerve to ask Imogen to prom for weeks. But Imogen's protective BFF Wynonna gets in between them. One day, Ezra and Wynonna wake up in each other's bodies and then it keeps happening! The two strike a deal trying to win over each other's crushes but guess how that turns out.
Virtually Yours by Sarvenaz Tash: [New Adult] NYU freshman Miriam hasn't dated anyone since her high school sweetheart Caleb broke up with her. But she decides to take advantage of a coupon to a virtual reality dating service.. except it chose Caleb as one of her matches! And the other match is her new best friend Jeremy…
Ordinary Girls by Blair Thornburgh: [YA] This Sense and Sensibility retelling follows two completely opposite sisters who discover the secrets they've been keeping make them more alike than they'd realized. When the family's finances hit a snag, the two drift apart more than ever before.
Like a Love Story by Abdi Nazemian: [YA] Three teens in 1989 find their worlds changing dramatically – Reza is gay, Iranian, and new to NYC; Judy is an aspiring fashion designer and adores her activist uncle who has AIDS; Art is the school's only out teen but has conservative parents. But at the heart of the story it's about their friendship.
Tell Me How You Really Feel by Aminah Mae Safi: [YA] This is the w4w hate-t0-love story we've all been waiting for! There's Sara, an overachiever, and Rachel, a film director looking for her next star. This story of two strong-willed young women who fall for each other despite themselves is told in alternating views and inspired by classic rom-coms.
Natalie Tan's Book of Luck and Fortune by Roselle Lim: [Adult] Natalie returns home to San Francisco after she receives news of her mother's death. They had been estranged since her mother rejected her chef career path. Natalie's shocked to find out that her city's Chinatown is fading and even more shocked to find out she inherited her grandmother's restaurant.
Rules We're Meant to Break by Natalie Williamson: [YA] Amber has created strict rules for herself to survive her mom's string of boyfriends. But after moving in with Kevin, the rules are even harder to follow. Between Kevin, his daughter, and his daughter's best friend, Amber's heart starts to open itself up.
The Exact Opposite of Okay by Laura Steven: [YA] After aspiring comedian Izzy is caught with the son of a politician, it seems everyone around her has labelled her a slut. She's certain it will blow over, but then it doesn't. She's used to laughing out of situations, but now she can't find the humour in the situation.
The Grief Keeper by Alexandra Villasante: [YA] Gabi's always wondered what it would be like to be an American, but she never expected to be someone who was "illegally" snuck over the border after her brother was murdered and her sister's life placed in jeopardy. The only way she can stay in the States is if she becomes a Grief Keeper, taking someone's grief into her own body to save a life. Plus, she never expected to fall in love (with a girl) in this kind of situation.
The Friend Zone by Abby Jimenez: [Adult] Kristen is an independent and fiercely loyal woman who is facing a risky medical procedure that will make it impossible for her to have children. Kristen's planning her best friend's wedding when she meets the best man, Josh, who is the ultimate catch. Except Josh wants a family. She tries to keep her distance, but their attraction keeps pulling them back together. This book promises to tackle the issue of infertility with both laughter and tears.
Something Like Gravity by Amber Smith: [YA] Chris and Maia have a lot pushing them together: being neighbours, a near-fatal car accident, the usual circumstances. Despite their best efforts, they can't stay away from each other. Chris has come out as transgender, but still deeply processing an assault he survived from the year before. Maia is grieving the loss of her older sister. Falling in love was the last thing on their minds.
Fake It Till You Break It by Jenn P. Nguyen: [YA] Mia and Jake have known each other their entire lives. Their mothers, who are best friends, are convinced Mia and Jake would be the perfect couple, even though they can't stand each other. The teens decide they've had enough and hatch a plan to get their moms off their backs by pretending they're dating.
All of Us With Wings by Michelle Ruiz Keil: [YA] I was sold at 'post-punk San Francisco fantasy told through the eyes of a Mexican American girl.' Xochi is running from her painful past when she meets Pallas, a precocious twelve-year-old from a rockstar family. Xochi becomes Pallas's governess who quickly finds her place among the family. But on the night of the Vernal Equinox, the pair accidentally summon a pair of ancient creatures devoted to avenging the wrongs of Xochi's existence.
The Stationery Shop by Marjan Kamali: [Adult] Roya is an idealistic teenager in 1953 Iran who heads to her local Stationery Shop (which also sells books – my dream) for comfort. There she meets the owner Mr. Fakhri and a teenaged activist Bahman who immediately captures her heart. The pair become engaged, but one day Bahman disappears. The book follows Roya until her old age until she finally finds out what happened.
Patron Saints of Nothing by Randy Ribay: [YA] Jay plans to spend his last summer before university playing video games. But when he discovers his cousin was murdered as part of President Duterte's war on drugs, Jay travels to the Philippines to find out what happened.
June 25:
Technically, You Started It by Lana Wood Johnson: [YA] Haley thinks she's texting with her crush Martin but it's actually another classmate with the same name (but she doesn't know that). Haley finds that this Martin is actually willing to listen to her weird facts and obsessions, and Martin feels like Haley is the first person to see him for who he is. You can see where the story goes from there!
Call It What You Want by Brigid Kemmerer: [YA] Rob, once a popular lacrosse player, is now a social pariah when it's discovered that his father had been embezzling money from half the town. Maegan is seen as an overachiever, but the pressure in her life comes from her older sister's pregnancy. Rob and Maegan have both built up walls to protect themselves, but once they're paired for a class project, they slowly start to find ways to open up to each other. Kemmerer is great at YA romance, so I'm excited for this!
Have you read any of these yet? What are you most looking forward to?