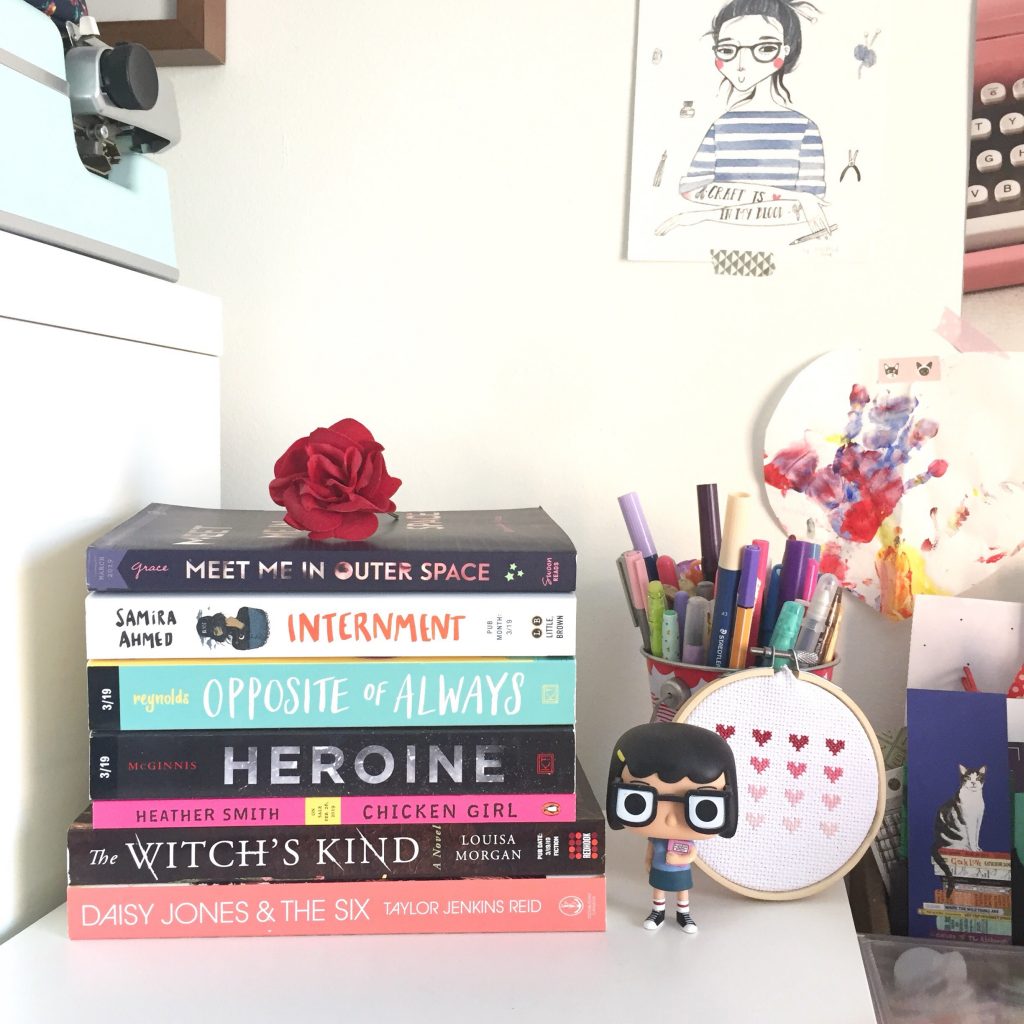 The list of books I'm excited for that are coming out this year is incredible. Last year was not like this! There are so many interesting books on their way. Here's what I'm looking forward to just this month.
Out now
Daisy Jones and the Six by Taylor Jenkins Reid: This fictional story of a band's mysterious break-up will certainly satisfy fans of Almost Famous and Behind the Music. While I'm past the point in my life of loving stories about musicians (it's a thing for me, sorry), I absolutely adored The Seven Husbands of Evelyn Hugo so I'm willing to give this a shot.
Chicken Girl by Heather Smith: After being mocked online for dressing up as Rosie the Riveter (why??), Poppy decides to change her style to that of a chicken costume and accepts a job of waving a sign outside of a restaurant. She meets six-year-old Miracle, who helps her see past her pain. Heather Smith wrote The Agony of Bun O'Keefe which I still have to read (eep) – it was beloved and has set her up as an author of really interesting characters, so I'm curious of what's in store for Poppy!
March 12:
Opposite of Always by Justin A. Reynolds: When Jack meets Kate at a party, spending all night talking, he knows he's going to fall hard. But then Kate dies. And this isn't an ordinary story – Kate's death ships Jack back in time to their meet cute – and he's stuck in a loop of trying to save her, but actions are not without consequences. I think this is an interesting take on the typical YA romance, so I'm looking forward to it!
Heroine by Mindy McGinnis: Leave it to Mindy McGinnis to tackle the opioid crisis in her beautifully disturbing brand of YA fiction. A car crash sidelines Mickey before softball season, and she's desperate to keep her spot as catcher, so she finds herself addicted to painkillers and the benefits to the new life it's brought her. I loved The Female of the Species so much, and have been looking forward to this one for a while!
If, Then by Kate Hope Day: I've actually read this one already – it was so captivating! I liked it a lot and it stuck around in my noggin for a while after reading it, which is a good sign for me. It focuses on four people who all know each other in some way and live near a volcano in Oregon – and they all have weird occurrences of seeing visions of themselves in very different circumstances. Alternate realities! It makes them paranoid and questioning their realities – leading to lots of 'what ifs.' The story is intricate, honest, and exciting – you really don't know how it's going to end. It is more of a character exploration novel than a sci-fi journey, so keep that in mind.
Meet Me in Outer Space by Melinda Grace: I've read this one already as well and had such a good time reading! I was drawn in by learning more about a character in college who has a learning disability and was kept in by the sizzling chemistry she has with her TA. The only thing is I wanted it to be much longer – this was a really quick read and I wanted more from the characters!
March 19:
The Witch's Kind by Louisa Morgan: Ever since I read The Witches of New York I've been super hungry for another great witch novel. Could this be it? The Witch's Kind is set in the Pacific Northwest in WW2, starring a young witch and her equally witchy aunt. First they find an abandoned baby with a hint of the kinds of power they have; second is the young witch's long-lost-husband reappears. *strokes chin* It's a story of the lengths we go to to protect our loved ones. Exciting!
Internment by Samira Ahmed: I'd say this is one of the most hotly anticipated books of the spring. Set in a horrifying near-future US, a 17-year-old girl named Layla and her parents are forced into an internment camps for Muslim Americans. With the help of friends on the inside, a boyfriend on the outside, and a new alliance, Layla starts a rebellion against the camp. I am excited and kind of terrified for this book, but I feel like it's going to be a necessary read.
March 26:
The Library of Lost and Found by Phaedra Patrick: Obviously this title and cover are total bait for us book lovers, but I will fall for it every time! This one sounds like a lot of fun. A librarian who prefers books to people finds a mysterious book of fairy tales on her doorstep, with a dedication inside from her dead grandmother and a clue that she might still be alive. Oooh! Now, I'm going to prepare myself that this will be more like The Bookshop of Yesterdays which is more about family secrets than books, but it still sounds real interesting.
That's it! I'm looking forward to reading these! What are you reading this month?