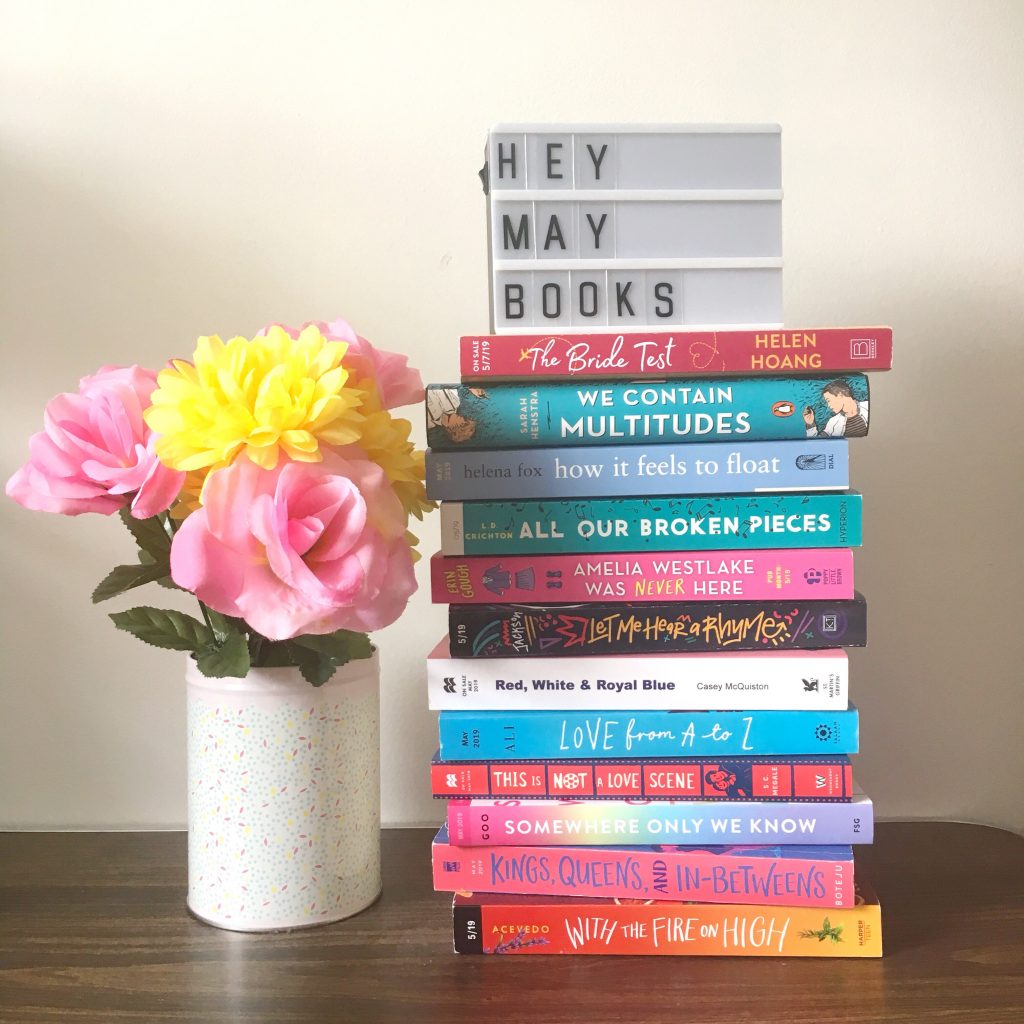 I know it's already halfway through the month but May is so full of exciting book releases (most of this list is YA)! Just you wait until June, though. That list is even longer! Anyways, holy smokes, look at these books.
I've been too busy or too tired offline (my usual story) so I'm hoping I'll still get a good few reads in this month! So while I'm pressed for time and craving sleep, I'm going to tell you about all of these books in a couple sentences.
Out now
Somewhere Only We Know by Maurene Goo: Famous K-pop star Lucky is in Hong Kong for a night before a big performance, and while out on a secret hunt for a hamburger, she bumps into a cute paparazzi boy.
The Bride Test by Helen Hoang: The much anticipated sophomore novel from the author of The Kiss Quotient is a fun love story between Khai, an autistic accountant, and Esme, who was handpicked by Khai's mom in Vietnam as her son's future bride. I read it in a day!
This Is Not a Love Scene by S.C. Meagale: 17-year-old aspiring film director Maeve has a rare form of muscular dystrophy and a monster crush on her leading man!
With the Fire on High by Elizabeth Acevedo: High school senior Emoni has a young daughter and abuela to support – she lets go of her stress in the kitchen, where she adds a bit of magic to everything she cooks.
Kings, Queens and In-Betweens by Tanya Boteju: Awkard Nima is in love with her straight best friend and still hurting from her mother's departure. She stumbles upon a drag scene in her small town and it helps her to learn more about herself.
Hope and Other Punchlines by Julie Buxbaum: A love story between a girl who grew up alongside her odd fame of being photographed near the burning twin towers on 9/11 and a boy who was also affected by the tragedy.
How It Feels to Float by Helena Fox: Biz knows she has it good between her mom, siblings, friends, and love interests… but she also sees the ghost of her father. But something happens and soon he's gone, severing Biz's sturdy tethers to her reality.
All Our Broken Pieces by L.D. Chrichton: Lennon believes in the security of the number five. And flicking light switches enough times so she can go to sleep. Kyler, the boy next door, sees these light flickers from his treehouse, where he hides from his pain and fills notebooks with lyrics.
The Printed Letter Bookshop by Katherine Reay: Another bookshop novel! I feel like those are ABUNDANT this year. Anyways — Madeline inherits a bookshop from her aunt, but it's struggling and she's gone through hell since her childhood days of love towards the shop. When she intends to sell, the store's two employees have other ideas. The book promises a story of sweet friendship.
I Wish You All the Best by Mason Deaver: This book has had all the hype from the YA twitter world, and I'm excited to check it out. When Ben comes out to their parents as non-binary, they're kicked out and forced to live with their estranged sister. Ben is struggling with anxiety from the ordeal when they meet Nathan, a charismatic student who takes Ben under his wing. And then their friendship continues to grow!
Don't Date Rosa Santos by Nina Moreno: Rosa Santos is cursed by the sea ever since her abuela and mother had epic traumatic experiences with their loved ones there, so going near a boy with a boat is bad news. But then there's Alex. And in between, Rosa is mostly concerned about feeling caught between cultures and big life choices.
Red, White, and Royal Blue by Casey McQuiston: I've seen a lot of love going around for this book about an American First Son falling in love with a Welsh prince, but they have to pretend to be best friends. Also, the First Son's mom is president. So. Yes.
We Contain Multitudes by Sarah Henstra: Jonathan and Adam are partnered in English class to write letters to each other in a weekly pen pal assignment. (!!) With each letter, their friendship grows into love.
Rules for Visiting by Jessica Francis Kane: An introverted forty-year-old university gardener gets a year off work and decides to set out to reconnect with four old friends. It's about maintaining friendships in the digital age, and it sounds very sweet.
May 21:
Going Off-Script by Jen Wilde: From the author of Queens of Geek and The Brightsiders is back with a story about a TV writer's room intern who must join forces with her crush to keep her boss from ruining a lesbian character on their show.
Symptoms of a Heartbreak by Sona Charaipotra: 16-year-old medical prodigy Saira has already graduated med school and is working with children cancer patients. Things are already complicated for Saira – battling skeptical adult doctors, working alongside her mom – but then she falls in love with one of her patients.
May 28:
These Witches Don't Burn by Isabel Sterling: Teen witch Hannah lives in Salem but has to keep her epic powers a secret. She spends her time avoiding her ex-girlfriend until dark magic starts to take over the town. What follows is badass teen witches fighting evil, and a love triangle!
I Love You So Mochi by Sarah Kuhn: Kimi longs to be a fashion designer, but her mother sees this as a distraction from her portfolio for a fine art academy. When her grandparents invite her to Kyoto for spring break, she jumps at the chance, and immediately loses herself to the wonders of Japan, and a cute med student named Akira.
When am I going to find the time to read all of these?!?!? Have you read any? What are you interested in on this list?