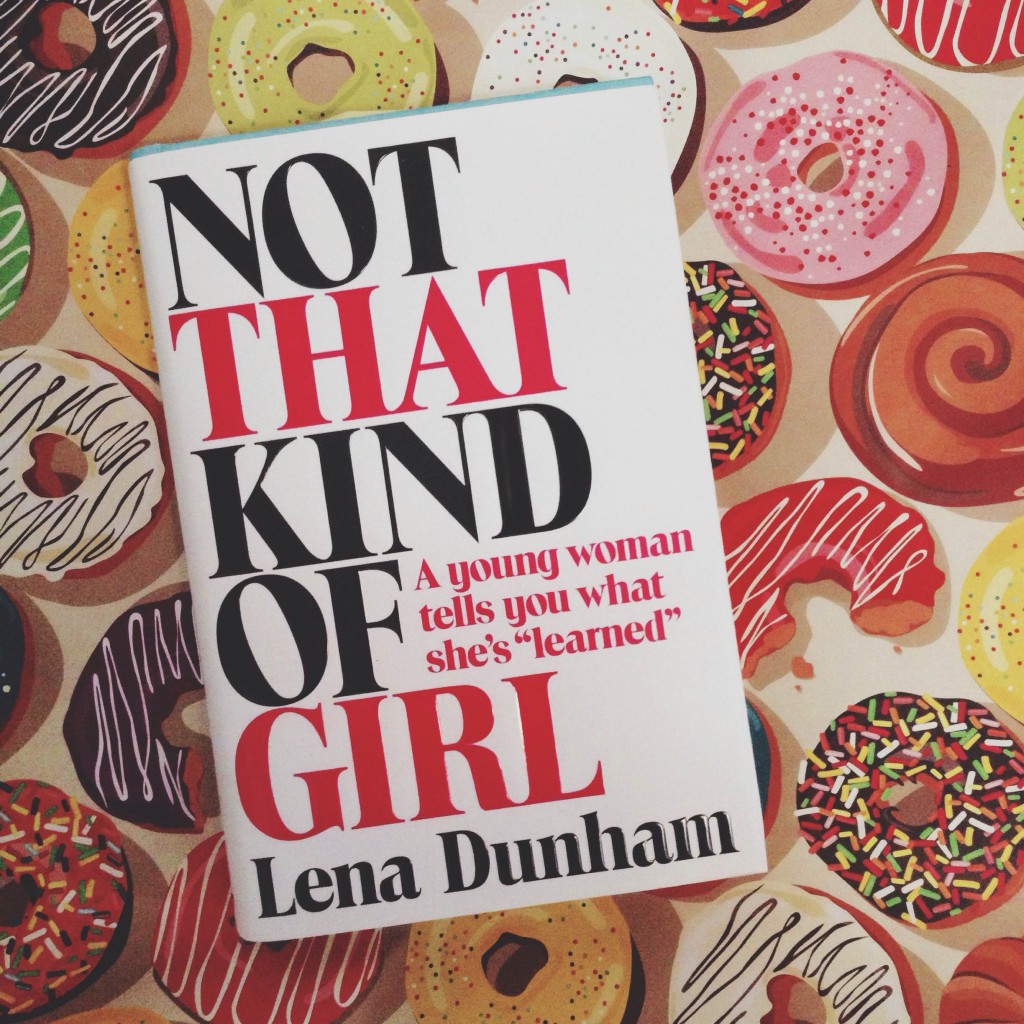 Not That Kind of Girl by Lena Dunham, published by Random House.
Lena Dunham isn't the kind of girl that you'd expect. She's not the kind of girl you see on TV, although she mostly is. She's not the kind of girl who will hide her mental health struggles anymore. She's not the kind of girl who will take your crap. She's not the kind of girl who would let life pass her by.
Lena lives her life knowing that she wants to tell its stories. And I hope Not That Kind of Girl is just the first instalment.
"You're here because she writes," Canadian writer/TV personality Elaine Liu rallied in her introduction for Lena at an event at the Toronto Reference Library last night. "…No matter how much she tells us, it's not enough."
A huge theme that came up during the event – from Elaine's introduction to Canadian film journalist Johanna Schneller's questions – was how Lena is both known and unknowable and how she is fascinated with what is known and unknowable. We feel like we know her because of Girls, even if that isn't *really* her. ("Sorry – I just want to say that you haven't actually seen my pubic hair on TV. That's my borderline.") But we want to know so much more. And that's just speaking to our appetite for celebrity culture and our assumption that we *can* know everything now because of social media.
While we waited for Lena to come on stage, I was telling my friend about how she finally gets to meet my new kitten this weekend. She made a weird face.
"Oh yeah, I forgot I haven't seen him yet. Because of Instagram I feel like I know him. You know, like lots of other cats." I laughed and said "and celebrities."
Lena really downplays life in the spotlight in Not That Kind of Girl. Any reference to her movie Tiny Furniture or Girls seems minimal in quantity and importance. The book is not to discuss those things. It's to let you into her life surrounding and leading up to those things. To introduce you to a Lena you may not have learned of yet. Sure, she talks about a crew member she dated, a fedora-wearing restaurant host she was with when she started working on her movie, the kind of work that lead into this career and the sexism she has to deal with, but she also tells you about her therapists, her sexual awakenings in university (and before), a lot about her family and her issues with food and mental health. It's a great collection.
Here's who it's not okay to share a bed with:

Anyone who makes you feel like you're invading their space. Anyone who tells you that they "just can't be alone right now." Anyone who doesn't make you feel like sharing a bed is the coziest and most sensual activity they could possibly be undertaking (unless, of course, it is one of the aforementioned relatives; in that case, they should act lovingly but also reserved/slightly annoyed).

Now, look over at the person beside you. Do they meet these criteria? If not, remove them or remove yourself. You're better off alone.

-Page 20
"Writing is a way of checking in with myself," Lena said at the event. "I can feel less alone." Can she hear all of us, excited?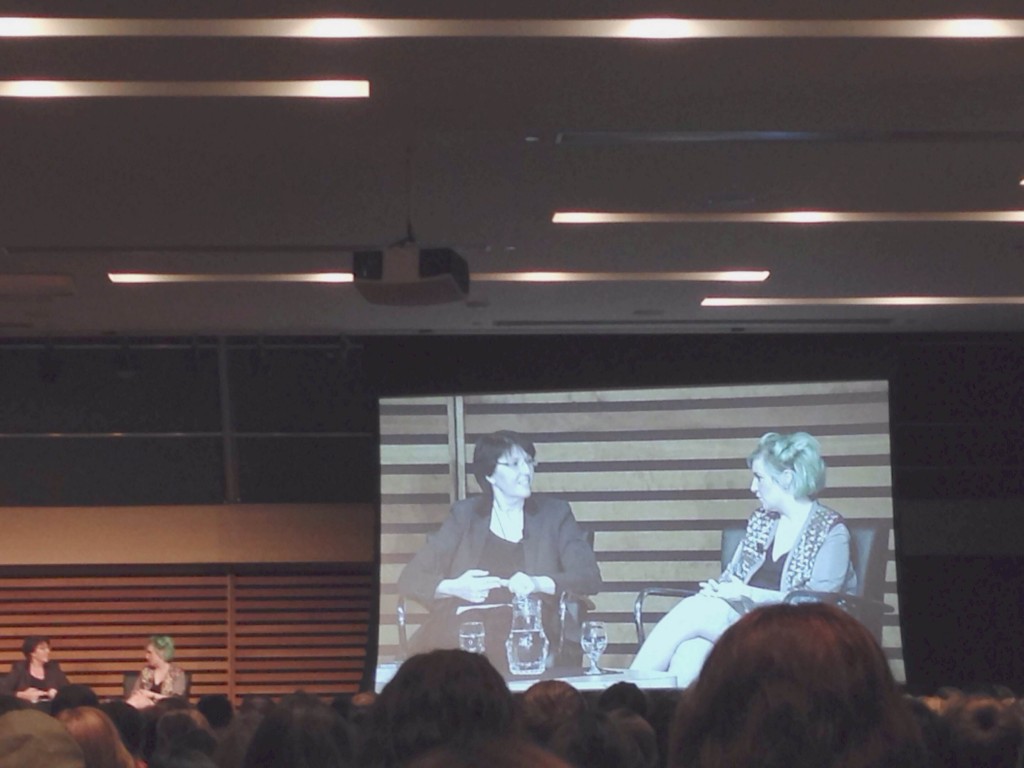 A few of my friends had said "meh" when I asked them how they found the book before I had a chance to read it. So I think I went into it with expectations lowered. It doesn't matter to me, as I really enjoyed this book. It's light, a quick read, hilarious and touching. I think my friends were expecting more along the lines of Lena's supposed celebrity life. As Johanna pointed out – Lena leaves her essays open-ended, letting you to make your own conclusions.
Lena is often faced with lots of tough, sensitive questions or topics. It was pointed out a lot about how young she is — oh my god, she's 28 and she has a TV show and a book! And yes, I was also discussing this with my friend beforehand, feeling sorry for myself, but it's not like Lena — or any hardworking young person — is a new sensation to this discussion.
That it's been six years since I graduated from college seems impossible. Older folks laugh at my naïveté, saying that six years is nothing in the scheme of life. But now I've been gone longer than I was there. Soon, my life as a student will be as far behind me as summer camp.

-Page 174
But Lena faces her questions head on. I was amazed at her quick, level and incredibly smart answers. She spoke about how she wanted to show how she's still growing, life's not perfect, and "it's not nice to talk shit about yourself all the time." Not That Kind of Girl is truly a chronicle of growing up, wanting to be a grown up, but not the kind of grown up everyone expects.
In reference to her nudity on screen, she quipped "People reacting [the way they do] lets me know I need to keep doing it." Bra-vo.
In reference to anxiety, her work and being open and realistic about the two: "I used to think anxiety and creativity had to go together but I don't know anymore. There are probably better motivations for getting things done." And then later she explained that for a creative person, it's not about losing inspiration or even worrying about losing inspiration, it's just about making sure you don't burn out.
Life is long, people change, I would never be foolish enough to think otherwise. But no matter what, nothing can ever be as it was. Everything has changed in a way that sounds trite and borderline offensive when recounted over coffee. I can never be who I was. I can simply watch her with sympathy, understanding and some measure of awe. There she goes, backpack on, headed for the subway or airport. She did her best with her eyeliner. She learned a new word she wants to try out on you. She is ambling along. She is looking for it.

-Page 78
Girls may not always be my favourite show, but Lena Dunham is the kind of girl who I want to keep reading about, that's for sure.