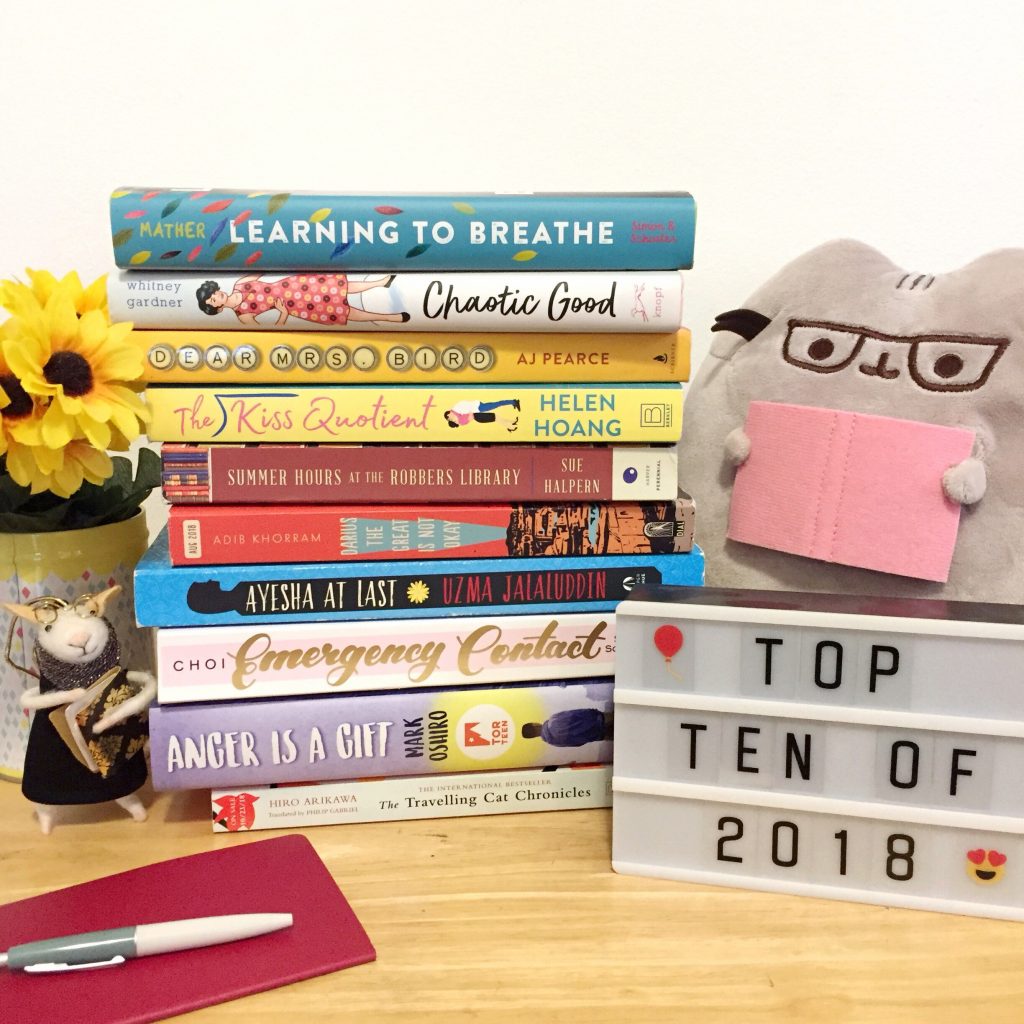 Here we are at 12:30 pm on December 31st, 2018, and I've finally decided on my top 10 books of 2018.
It's been a bit of a weird year, reading-wise, for me. Only a few books really knocked my socks off. I spent a lot more of my free time watching TV and crafting. I steered clear of really tough subject books in favour of lighter, happier stories. I did still read a ton of books (66!), but a lot of them were just alright. Still though, these top 10 stuck with me in some way and for that they made my year, personally, a good one!
Without further ado, here is my top 10 reads of 2018!
Learning to Breathe by Janice Lynn Mather 
For a pure story full of heart and a journey that had to be taken.
Chaotic Good by Whitney Gardner
For its strong female character and a quest that I could've read for many more pages.
Dear Mrs. Bird by A.J. Pearce
For just being absolutely lovely and setting the bar higher for future reading.
The Kiss Quotient by Helen Hoang
For giving me Stella and Michael and their steamy story.
Summer Hours at the Robbers Library by Sue Halpern
For knowing this feel-good story of chosen family is going to stick with me for a long time, even though I finished it an hour ago.
Darius the Great is Not Okay by Adib Khorram
For being the book I probably hugged the hardest this year, and for giving YA not only a story of a sensitive boy and a new friendship but also taking him outside of the States.
Ayesha at Last by Uzma Jalaluddin
For being ridiculous and still relatable, funny and still serious, and just lovely.
Emergency Contact by Mary H.K. Choi
For its sweetness, being set in college, and its dry humour.
Anger is a Gift by Mark Oshiro
For its supreme power, feeling like it could be a post-apocalyptic war but knowing it was all too real.
The Travelling Cat Chronicles by Hiro Arikawa, translated by Philip Gabriel
For making me blubber like a baby, snot down my face and everything, and giving a wonderful voice to the bond that is between a human and their cat.
Now, I also read a few books that I absolutely adored this year that weren't published in 2018. Those were Far From the Tree by Robin Benway, Alex, Approximately by Jenn Bennett and The House at the End of Hope Street by Menna van Praag.
I leaned into more adult women's contemporary fiction this year, searching for the stories that would leave me feeling warm, and I am A-OK with this development. Not a lot of YA excited me this year, but that doesn't worry me, seeing as 2019 is going to be ace for YA contemporary (more on that in the new year). While I still can't really get into non-fiction, I am at least happy with how many diverse stories I read this year compared to previous years.
Have you read any of these books? What did you think?
Now I must jet off to prepare for tonight's festivities – see you in 2019, paper people! <3