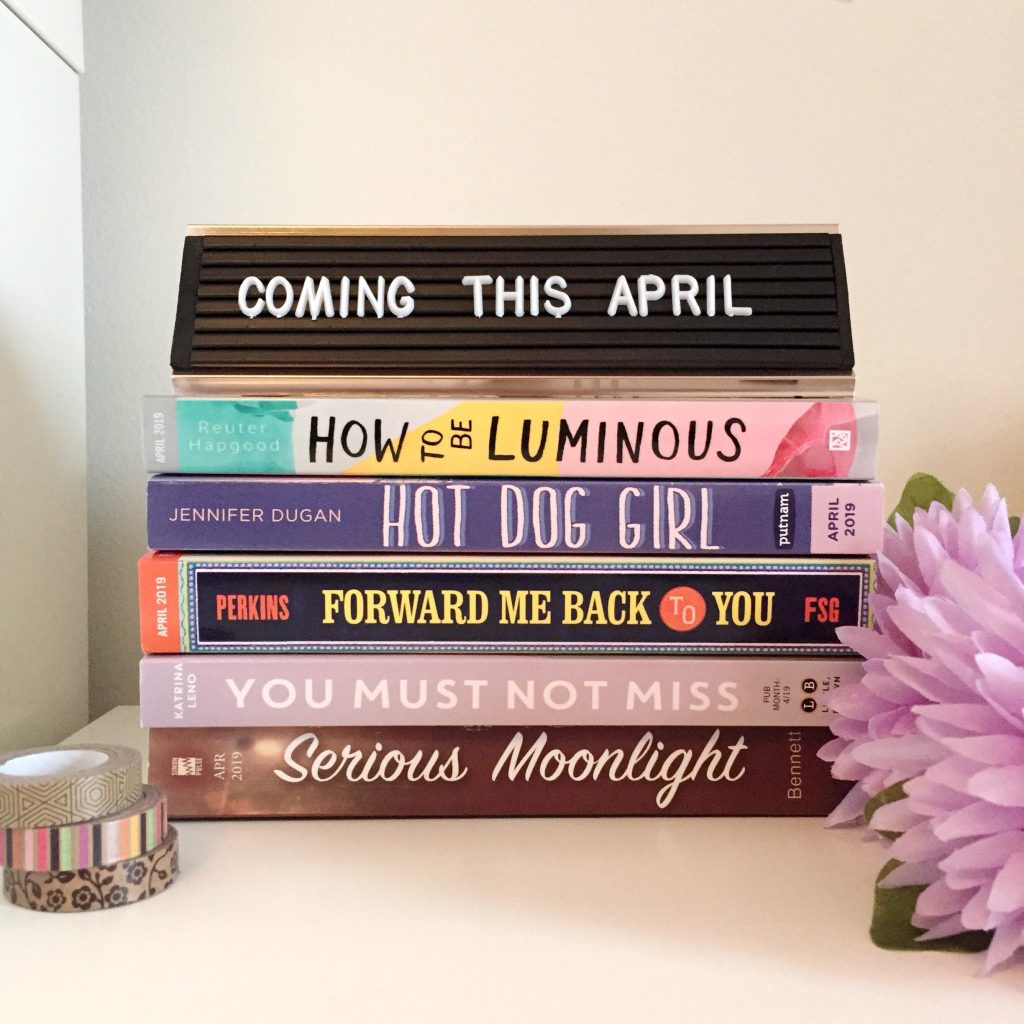 I can't believe it's already almost April! I've had a slow-ish reading March, but I did manage to read Internment which was amazing, and I'm reading Daisy Jones and the Six now, which is alright (disappointed face). Anyways, some really exciting titles coming up this month, check these out!
April 2
Forward Me Back to You by Mitali Perkins: I adored Mitali's last book You Bring the Distant Near, and this one sounds super interesting! Katina King, the reigning teen jujitsu champion of Northern California, and Robin Thornton, who was adopted from an orphanage in India, meet on a summer service trip to Kolkata to work with survivors of human trafficking. This sounds like nothing else I've read in YA yet so I'm looking forward to reading this soon.
April 9
Love and Other Curses by Michael Thomas Ford: A family has been haunted by a curse for generations – if one of them falls in love before their seventeenth birthday, the person they love dies. Sam, a young and innocent hopeful drag queen, finds himself in trouble when a new guy moves to town. This sounds silly and cute!
In the Neighborhood of True by Susan Kaplan Carlton: In 1958, Ruth and her family move from NYC to Atlanta after her father dies. Ruth figures out she can 'either be Jewish or be popular.' She decides to hide her religion, and soon finds herself hanging out at an all Christian club. But she keeps going to temple secretly. She ends up caught between two love interests, two worlds, and two religions. I'm very curious of this one, and it seems to be getting great reviews!
April 16
Serious Moonlight by Jenn Bennett: I am sooo ready for a new Jenn Bennett. Alex, Approximately was one of the best books I read last year – this author really knows how to write hate-to-love chemistry! Birdie and Daniel are forced to work together in a Seattle hotel where a famous author leads a mysterious and secluded life. So not only is there going to be some great banter but also mystery! I can't wait to get to reading this.
Normal People by Sally Rooney: This I've read already, and you guys, it's fantastic. It's as good as everybody says it is. I haven't read Conversations with Friends but I'd like to now. Anyways, this follows an on-again-off-again couple from high school through college. Connell and Marianne are very different people. Connell is too concerned about what others think of him, while Marianne is comfortable in her own skin. So much is working against these two but they're always drawn back to each other. It's melancholy in the best way. It's beautifully written. Highly recommended! This will be one of my favourites this year.
April 23
You Must Not Miss by Katrina Leno: So far, Katrina's books have been light with touches of magical realism like The Lost and Found, Everything All At Once and Summer of Salt. They're sweet. But You Must Not Miss will not be that. It's billed as for fans of One of Us Is Lying and Carrie, so. Everything changed for Magpie Lewis on the night that her sister Eryn skipped town, leaving her to fend for herself. It was the night of Brandon Phipp's party. Now Magpie is called a slut wherever she goes, and finds herself alienated besides with a group of exiled misfits. Magpie retreats to her notebook, writing of a place called Near, a perfect place. She writes it so fully that she dreams it into existence, where she can have everything she wants… even revenge. Ohboyohboyohboy I am READY. (I do hope Katrina can continue with her lighter stories in the future, but this is exciting!)
April 30
Hot Dog Girl by Jennifer Dugan: I've been hearing a lot of good things about this one so far this year. It sounds adorable! Lou Parker is determined to have the most epic summer, but a few things stand in her way. She's landed a job at an amusement park dressed as a hot dog. Her crush already has a girlfriend. Her best friend is not into Lou trying to set her up with the perfect girl. And it turns out this could be their last summer at the park, unless they can find a way to stop it from closing. This sounds like the sweetest YA romcom, and I am here for it.
How to be Luminous by Harriet Reuter Hapgood: When seventeen-year-old artist Minnie's mother disappears, so does her ability to see colour. Minnie and her sisters have already lost their fathers, so they're left to fend for themselves. Minnie worries about losing everything, even her mind. I'm hoping this is an interesting piece on mental health.
What are you looking forward to reading in April?

Also, get ready, May is going to be EPIC.